So chemo is over, and I've had a month to get ready for my surgery. It's a very strange place to be – wondering whether I've made the right decision about what operation to have, and still not believing that chemo is finally over. The side effects were slowly wearing off, and my taste was getting back to normal. Sadly, tea tasted awful, and I really missed the routine and ritual of making tea, and Dermot bringing me a cup of tea in the morning.
Here comes the sun
Dermot and I got the blessing from our oncologist to spend a week in Tenerife before the op. We'd had to cancel our summer holiday plans because of my chemo, and were both in desperate need of a break. I wanted to sit somewhere other than my sofa, in the sun, and Dermot wanted to cycle up Mount Teide again.
Trials of travel insurance
The hassle of sorting out travel insurance was a whole new challenge. Having cancer is expensive. Wanting to travel within two weeks after your last chemo session is almost impossible to get insurance for. Many specialist cancer companies wouldn't cover me because I still had to have radiotherapy and surgery. One company would cover me for breast cancer (which wouldn't give me any problems on holiday as it's just a lump in my breast) but not for chemo (which could cause me a lot of problems if my blood count dropped or I got an infection). Twitter came to the rescue again with several suggestions, and I ended up using Free Spirit. Other links to try are here and here .
It was, however, a wonderful week away. My concentration had come back and I was reading 2 books a day – like the Liz of old. I tried to run (well, jog for 250m then walk until I got my breath back – thanks, chemo!) every morning, to earn my place on the sun lounger for the rest of the day. And I didn't really give the bread at breakfast to the wee dickie birds on the ground, honest….
How difficult can it be to buy a bra?
I had decided to have a nipple-sparing mastectomy with an immediate implant reconstruction using a Strattice mesh and a sentinel node biopsy to look at my lymph nodes in my armpit, which looked negative (no obvious signs of cancer in them) on the ultrasound before I had chemotherapy. This meant that I would need to wear a bra 24 hours a day for a month. No underwires, and ideally front-opening.
I thought this would be easy. How wrong could I be? Firstly, even with VAT taken off post-op bras, they are blooming expensive. £30-60 for a bra. Now the bras are hopefully something I'll only need to wear for a month or two, until I'm healed and can go back to my normal bras. If I have to wear them all day and all night, and I'm still sweating at night with the hot flushes, I will need four to keep me going. That's a lot of money to spend on two months' of bras. And it gets even more expensive for women with larger cup sizes (E-J cups). Surely they shouldn't be penalized for having large breasts – it wasn't their decision (well, for most women, anyway!)
My own breast care nurses tell patients that M&S is the place to go, or Asda, as their bras are much cheaper. I had to buy them online from Tenerife – leaving things to the last minute, and I only had a couple of days before the op, once we flew home. Asda only had XL left on-line, so they were out. Next stop, M&S – who only start their bras from 34 upwards, and being a slender wee thing, they're too big for me. Debenhams had one own-brand bra, but it was pink (and I don't do pink). Most sports bras are out as they are crop tops that have to be pulled on over your head, and I wouldn't have that range of motion after my armpit surgery.
Twitter to the rescue
I put out a cry for help and some lovely people responded. I discovered some post-surgery bra websites that specialise in these bras, and managed to find some that did bras in sizes 30 and 32. I was amazed how small the choice is for women with these measurements. It's almost as if companies like M&S assume small women won't have mastectomies. The best bra I ended up buying was from Macom – it does up from the front, and stretches to cover our boobs, rather than having built in cups, so when the breast swells post-op, there is room for it in the bra. I then got three bras from Nicola Jane which were great – comfy, and padded. The only downside is how high they are cut, to cover a prosthesis, so they showed above a lot of my clothes, but that was a small price to pay.
What to wear
T he final thing I had to do was get some cheap clothes that buttoned up (as I don't have any shirts in my wardrobe), for easy access to the drain and again, because I initially wouldn't be able to get my arm above my head. I managed to get some cheapish flannel shirts from New Look, and my step-daughter got me a beautiful pair of PJs for hospital. I was now all set, with my bag packed – complete with my cuddly toy and iPhone charger, and some knitting just in case I was bored.
Pre-Assessment
T he final thing I had to do was be pre-assessed, to make sure that I'm fit for my op. It was a bit awkward to start with as the nurses helping knew me from when I was a registrar, and wanted to check whether I minded them being there – of course I didn't! In my hospital, it's all done by nurses, and the complicated cases are then passed on to an anaesthetist. At West Suffolk, one of the junior doctors does it and I felt so sorry for her. It really is one of the most tedious jobs in the world. Anyway, she was lovely, and after an ECG (heart tracing) and some blood tests, I was good to go. Apart from having some photos taken…
Smile for the camera (part 1)
It's really important to have pre-op and post-op photos to show patients, so they have an idea of what they might look like after surgery. I was very keen to make sure that I had photos taken, to help my surgeon and her patients in the future. The photos are taken from the neck down, so no-one knows its you, and you stand face-on to the photographer, turn a bit, then fully turn to the side, before doing it all again with your arms above your head. The medical photography studio is a bit like a broom closet with an old-fashioned screen to hide behind – it's amazing how they can make use of every available space in a hospital!
Smile for the camera (part 2)
Through the power of twitter, Dermot had come up with an amazing idea. He'd seen a tweet about a local photographer who had won a portrait competition, and wondered whether I would like a photo-shoot before the surgery. The photographer is Alex Kilbee of Muse Portrait Studios in Pakenham, Suffolk. My first reaction was "No"! Why would I want to remember what I look like when I was bald? But then I had second thoughts – this was the only time I could do it, whilst I still had no hair, and it might be fun. So we set a date, just before we went on holiday. It was one of the best things I have ever done.
Alex was amazing, and understood where I was coming from and what I wanted. He got that cancer doesn't have to be all doom and gloom, and there are positives to be found. We must have been there for a couple of hours, and it was so liberating to relax and let go. I went through a whole range of emotions, and several costume changes, and I cannot recommend this highly enough. If you, or someone you know, is going through cancer treatment or another serious or chronic illness, think of this as a gift for them.
We couldn't wait to see the photos, and Alex managed to get them ready for us to see before the operation. I was stunned at how I looked – I never thought I could look beautiful, or strong, with my bald head and portacath showing. There were also a couple showing the real fear in my eyes – fear for the future and what life holds in store for me. We're having a chemo album made, to go with our wedding album, and I'm so grateful to Dermot for suggesting in.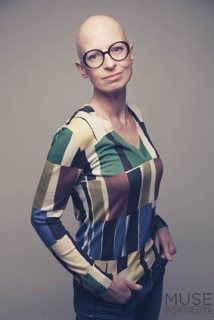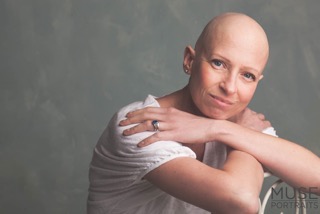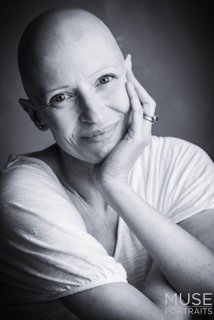 The night before surgery
I was feeling anxious, apprehensive and scared. I packed and repacked my bag – making sure I had pyjamas, slippers (so I wouldn't slip on the hospital floor), toiletries, squash to add to the lukewarm hospital water in jugs, a wallet with £20 and a card in, instead of my whole wallet, just in case someone stole it (it has been known to happen). Also, the very important iPhone charger so I could keep in touch with my family and friends, and a magazine to read, plus a dressing gown and towel that I had been told to pack. I had to take a suitcase for my overnight stay just to fit everything in! It was quite upsetting taking my engagement ring off, but I didn't want to risk leaving that in my room.
Repacking my bag is very similar to the night before a triathlon, which is apt as I'm about to start the bike bit – which should be the easy bit for me, as I was a cyclist before I got into triathlons, and I'm also a surgeon. But most athletes will recognise the paranoia of making sure they have all their kit the night before any race.
Getting ready to sat 'Thank You'
I'd also packed some thank you cards to give to everyone who had looked after me. I was thrilled when I received my first thank you card from a patient, and I know how much it means to hear that you've done a good job. I wanted to thank everyone, including the anaesthetist – as they rarely get cards from patients. I make a point of scanning and e-mailing all the cards I get to my team, including all the anaesthetists and radiologists, as they are an important part of the service that my breast unit provides.
Final thoughts
I was about to have a major operation, and was going into the unknown. My life had been very regimented up to now, with 3-weekly chemo cycles, where I (mainly) did what I was told. What would it be like after the surgery? Would it hurt? How painful would it be? How would I cope with the drain? Would I be able to sleep on my other side? Will I get lymphoedema (arm swelling)? What would my new breast feel like? Will I feel less of a woman with only one natural breast? Only one way to find out…