The two weeks I spent waiting to get my results remind me of the opening of 'The Tale of Two Cities' – It was the best of times, it was the worst of times…. Let me explain.
The worst of times…
Although I had a large dressing covering my scar to start with, I could still see my flat chest. Emotion would suddenly hit me out of the blue. Would I ever feel attractive again? I was lulled into a false sense of security thanks to a seroma which gave me a nice little A cup. Most seromas get absorbed naturally and are only a problem if the volume of fluid starts to stretch the skin, putting tension on the wound which might not heal. After the first day's efforts, my seroma stopped growing, and I was happy to wait until I next saw my surgeon to have it drained.
I was seen after a week to get my wound checked and the dressing removed, and that was a real shock – seeing a wrinkly chest wall with a nipple now pulled over towards my armpit – it wasn't pretty. I felt ugly. Like a freak. But the seroma was drained, and at least I could now shower.
That night I was really brave and let Dermot see me for the first time. I couldn't look at him because I couldn't look at myself. But, like always, he was amazing, and gave me a huge hug, said that he didn't marry me for my breasts, and that he still found me attractive. I am so lucky to have him.
However, life carries on, and one week after my op, Dermot and I did a gentle club ride with the West Suffolk Wheelers on our tandem. Why, so soon after my op? Well, I had very little pain, and my arm movement was OK, and I was meant to be doing the Maratona just under a month after my op for the third time around. It's a mountainous cycle ride in the Dolomites. I first did it 3 months' after I finished radiotherapy in 2016, and I was desperate to be able to do it again – and that's another blog…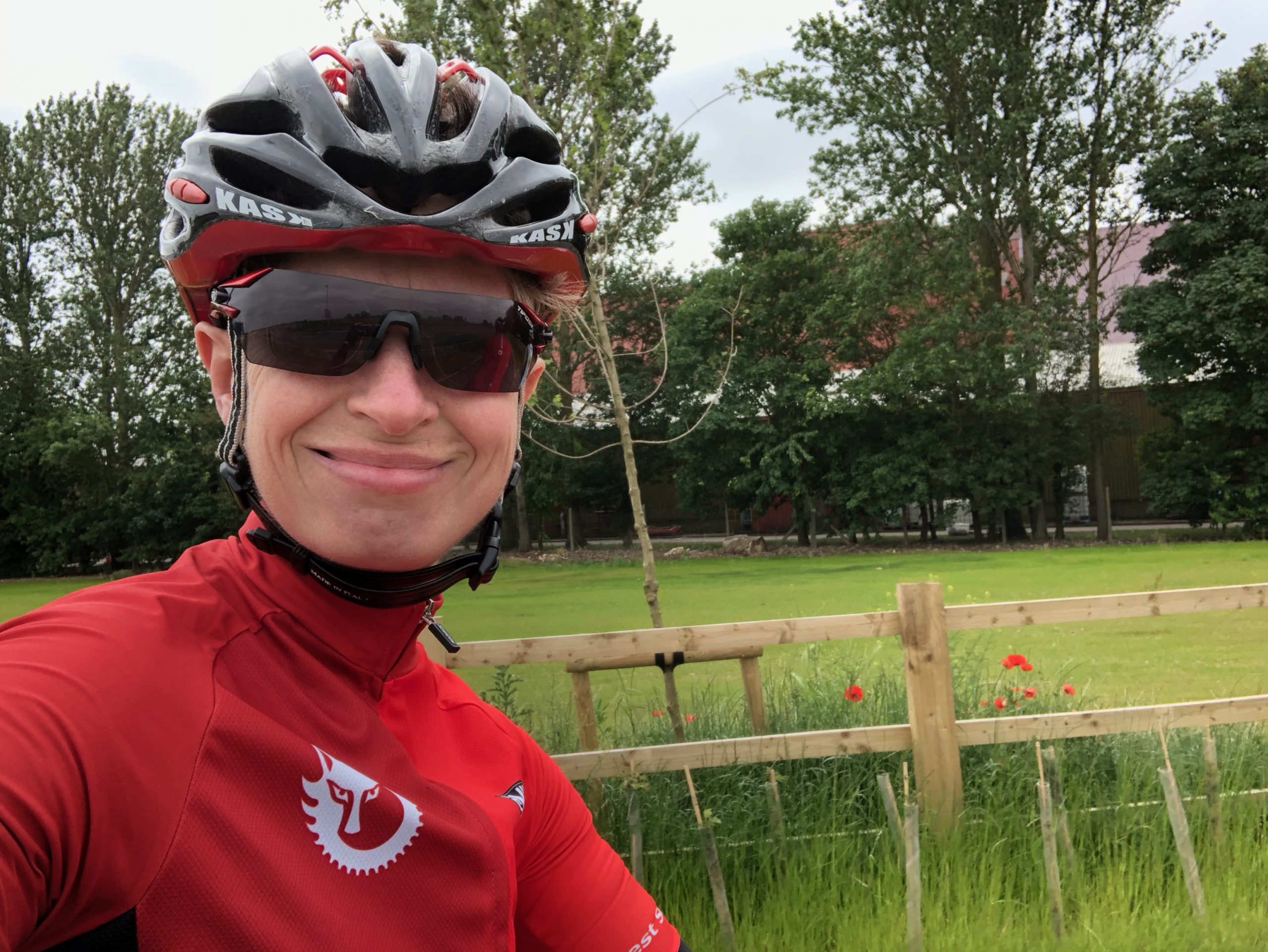 The best of times…
As most of you know, I'm a keen cyclist and have followed the rise in women's cycling over the last couple of years. There's a women's Ovo Energy Tour of Britain which I've watched in the past. Last year, Breast Cancer Care sponsored one of the jerseys, and asked patients to send in inspirational messages which were then written on pink ribbons and given to every rider. They were doing the same this year and asked me to write a quote.
Thank you for riding for every woman diagnosed with breast cancer. I was a cyclist who was diagnosed in 2015, just after riding up the Stelvio. I carried on cycling during treatment, and dream of riding up the Stelvio again. Go and smash the course for me! Liz x x
And then, when they remembered I live in Suffolk, they asked me if I'd like to present the BCC jersey to the winner of the first stage that finished in Southwold. Normally I say 'no' to things like – mainly because I think there are so many other people who are more deserving. But this time, I thought. 'Fuck it. My cancer has come back. And I love cycling'. I said Yes – but I wasn't sure whether I'd be able to travel there as it would be 10 days after my operation and I didn't know whether I'd be able to drive. So what did the amazing folks at Breast Cancer Care do? They asked if I'd like to go the VIP area at the start (which was closer to home), ride in a race car, present the jersey and they'd take me back at the end!!!
It was one of the most amazing days of my life. I got to meet some of my heroines – Marianne Vos and Dani Rowe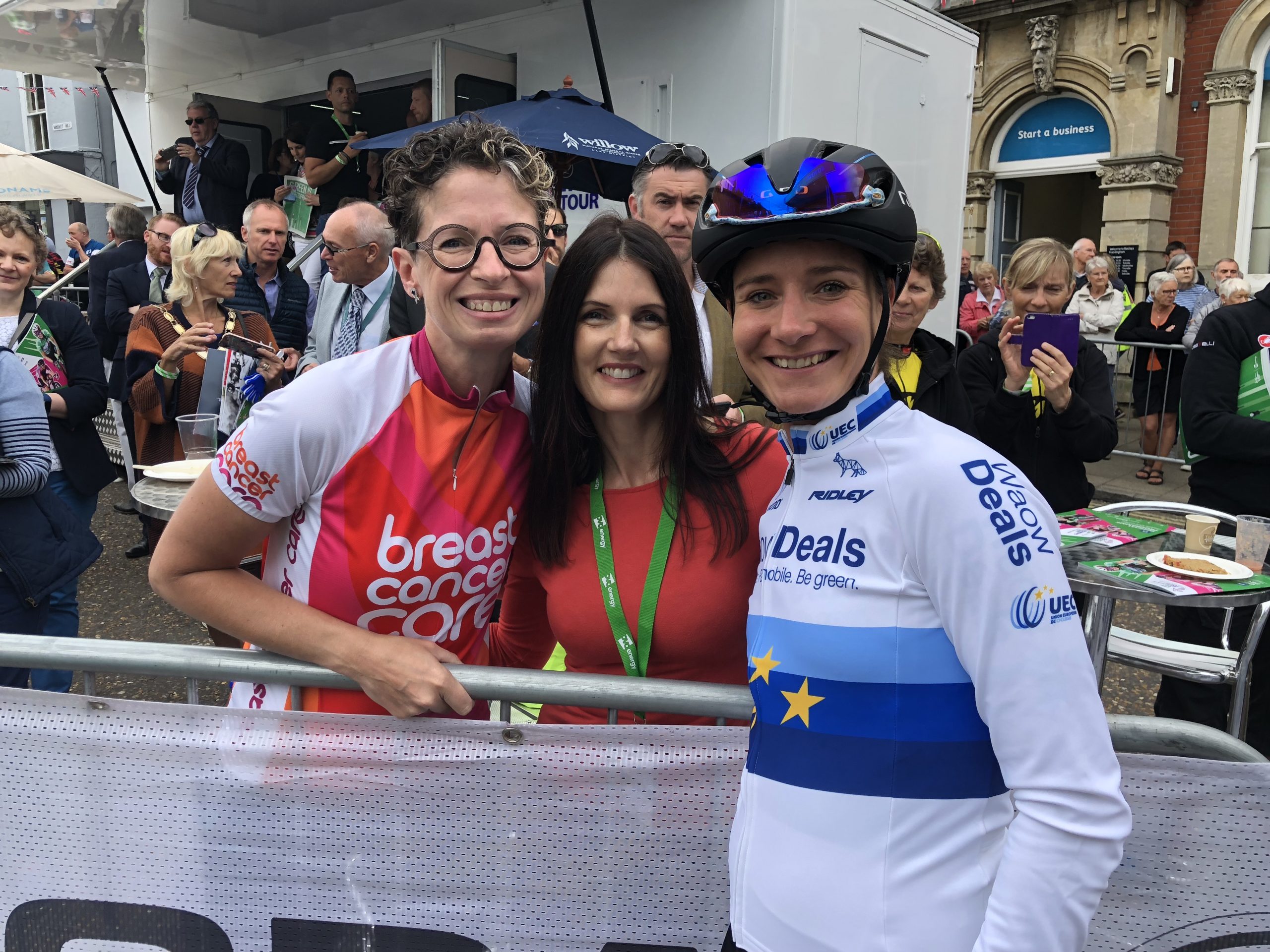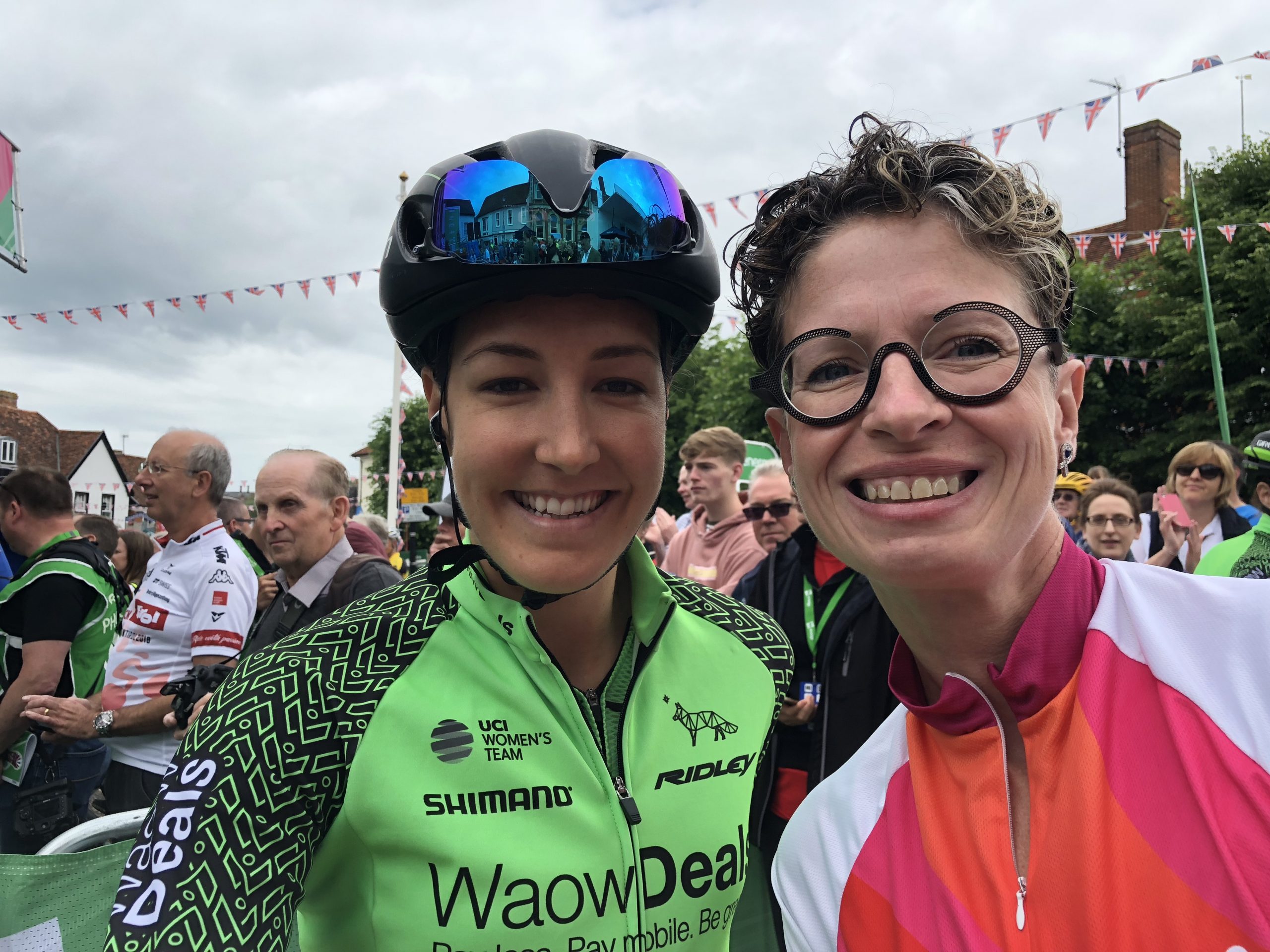 I saw the riders with the pink ribbons in their hair and got to tell them how much it meant to me.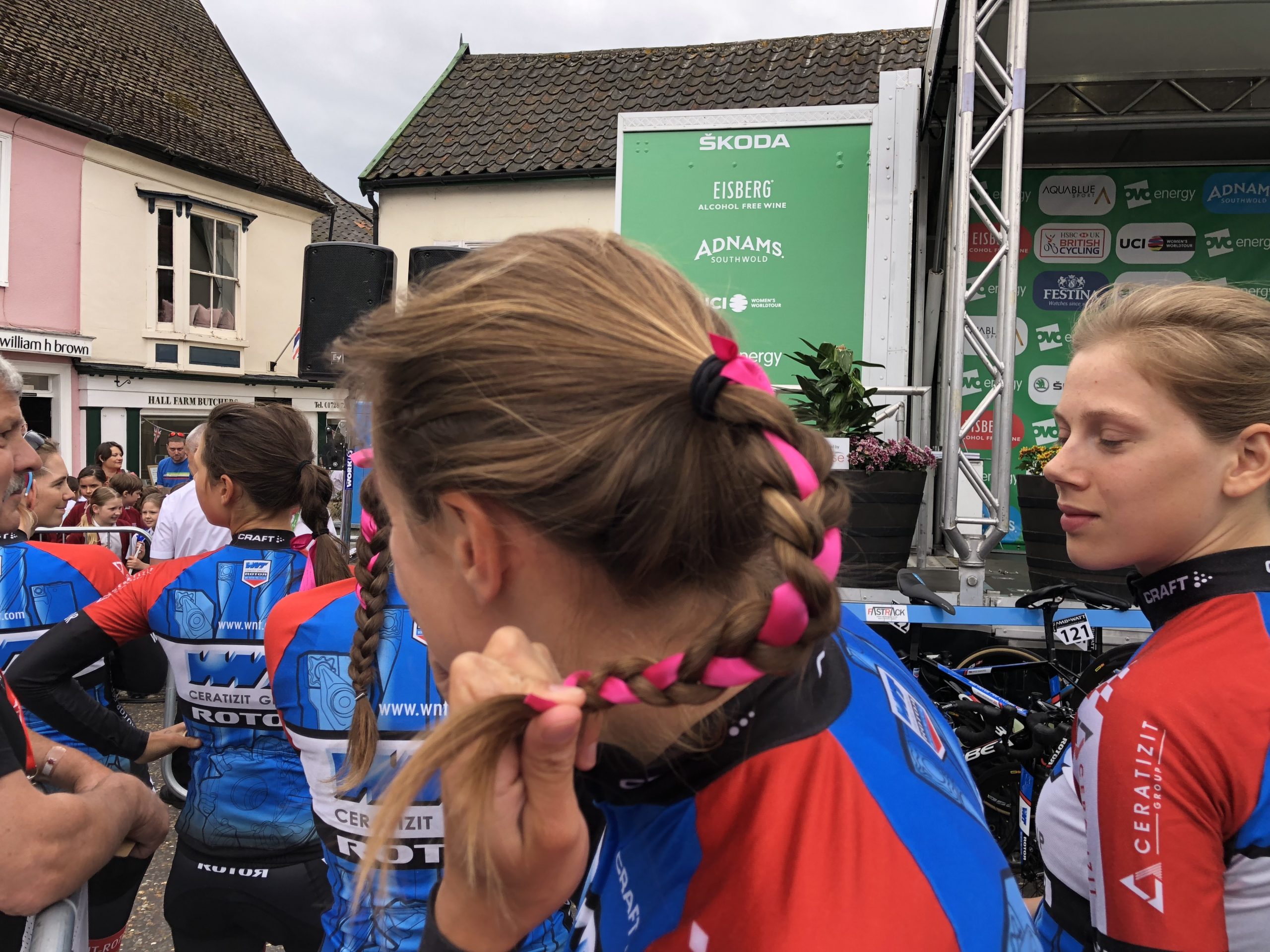 Being in the car was amazing. We were riding ahead of the race, but got to hear everything on the radio. And then, after I'd given Jolien D'Hoore her Breast Cancer Care Points jersey…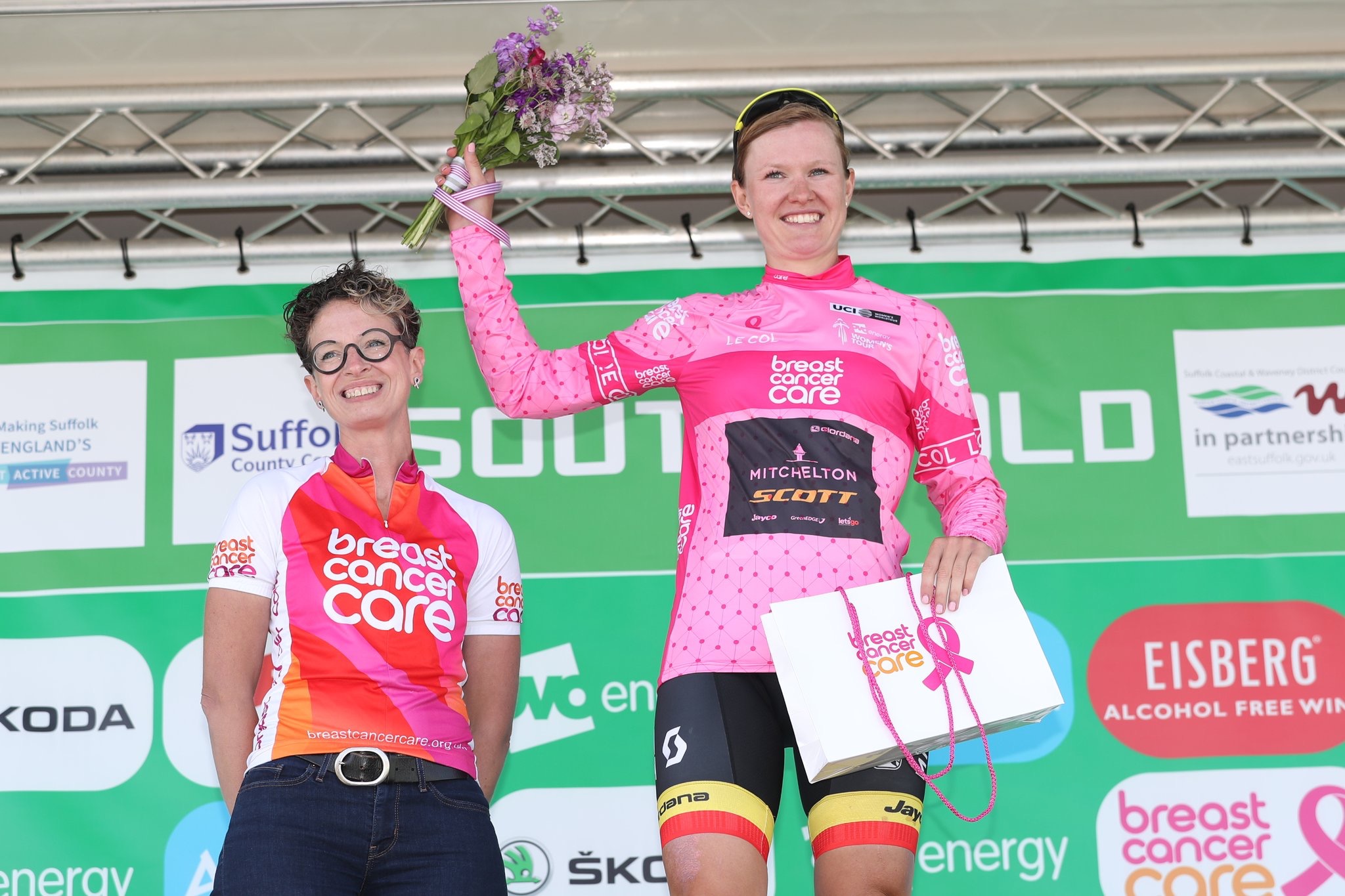 …I met the rider who won the Skoda Queen of the Mountains jersey, Christine Majerus, who was also wearing my ribbon!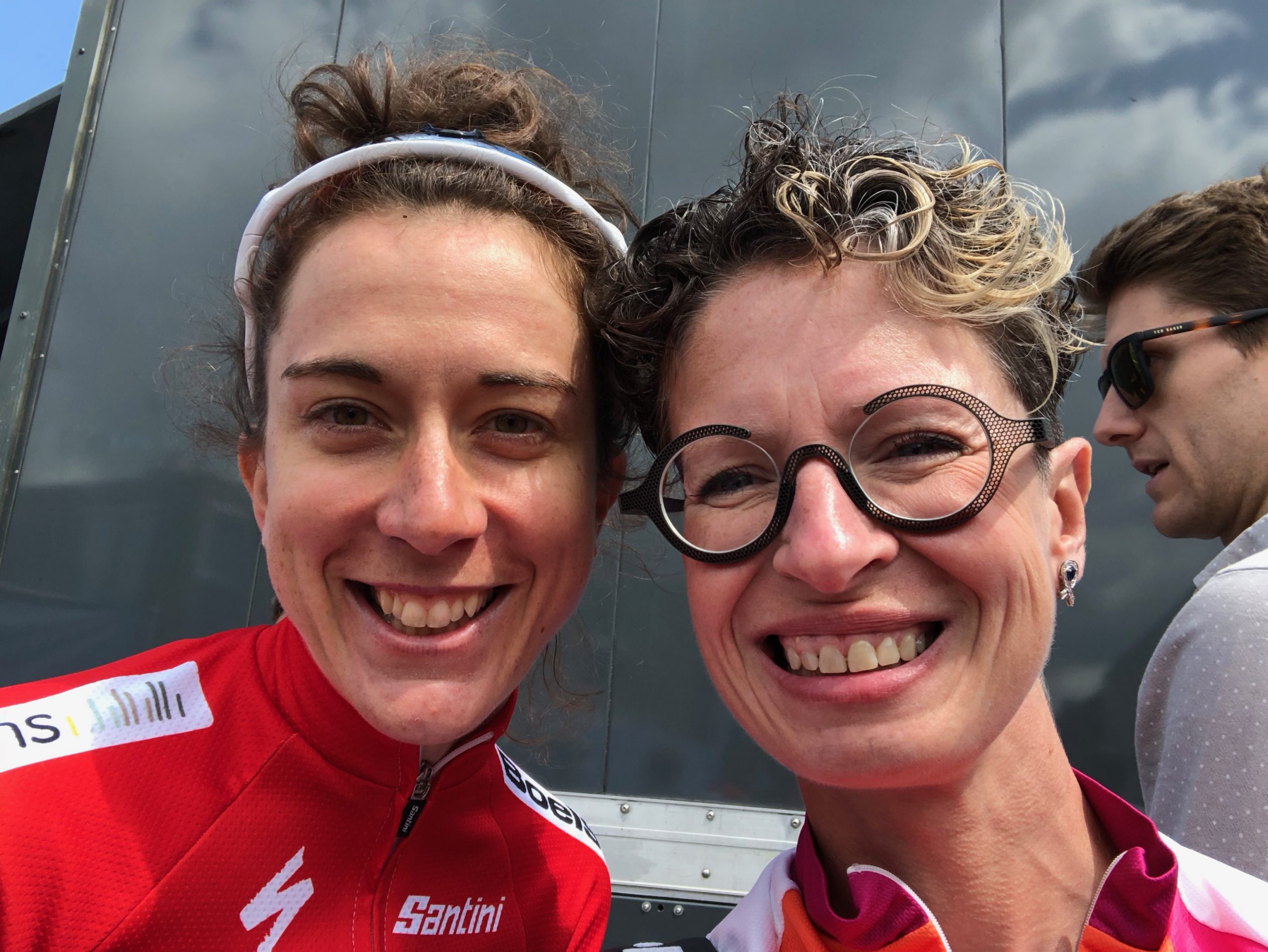 She gave me her cuddly toy, and then Dani Rowe, who won the Best British Rider jersey gave me her flowers.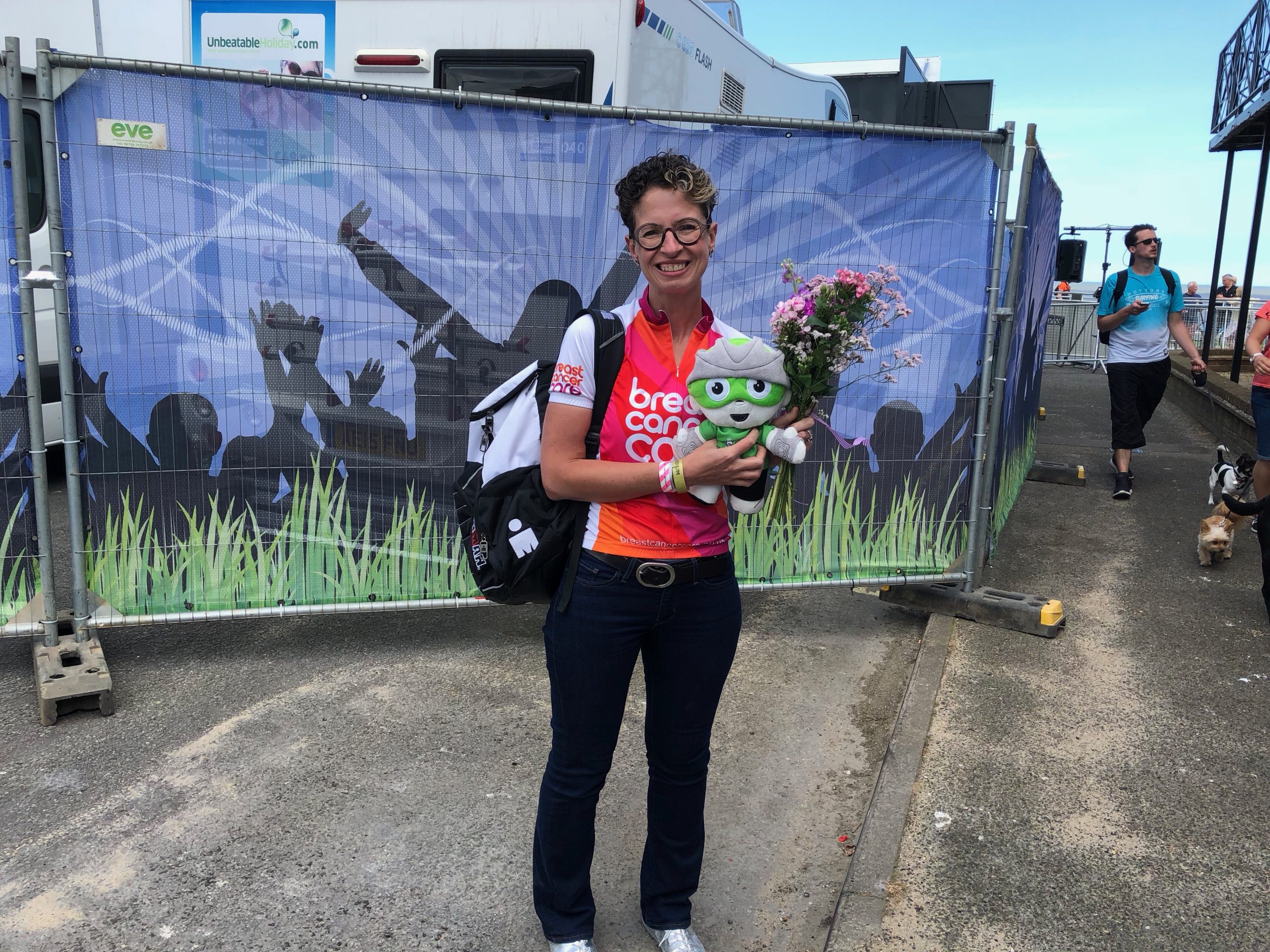 One of the best days ever! And then I found out that ITV were showing the podium presentation, and my nose is now famous.
The worst of times… (take two)
In no time at all Dermot and I were back in the breast clinic to get my results. The good news – it's all out. It was a 26mm nodule of Grade 2 mixed ductal and lobular cancer, ER+ve and HER2-ve, with peri-neural invasion. Exactly the same as last time. The bad news – the deep margin was positive. Whenever I remove a breast cancer I want to have at least a 1mm rim of normal tissue all the way around it. Even though my surgeon filleted me – there's no soft tissue left to take unless you remove the muscles on my rib cage (and I'd quite like to keep them, thank you very much), the tumour extended all the way down to those muscles.
What does that mean?
Without further treatment, there is a high chance that my cancer could come back in the same place. It now got a bit complicated as my surgeon talked through my options. I wouldn't need more chemo, thank goodness. The CALOR trial showed it only really benefits local recurrences that are triple negative, and chemo didn't work for me last time. I would need to switch from tamoxifen to Letrozole, as the cancer came back on tamoxifen. However, you can only take Letrozole if you are post-menopausal, and my blood tests showed that I'm not quite there. This means I can either have the dreaded Zoladex injection in my tummy every month until I'm definitely menopausal or have an operation to remove my ovaries – my choice. Oh yes, the CT scan showed some large 6x4cm probable ovarian cysts. Finally, I might need more radiotherapy – but the team weren't sure because I had already been fully treated. I'd have to wait to see my oncologist in a week to get all the answers. But from the sounds of it, it looks like I'll be having another triathlon of treatment.