So here we are, the penultimate chemo session, and I really didn't want to go. I know I say that every time, but it's true. I'd thought about cycling in, but it was cold and windy and I was tired – tired of life at the moment.
Distraction works
The nurses in the chemo unit were friendly and welcoming as always, and Jade did a magic trick when she put the needle in my port. It's always a little uncomfortable (OK, it hurts). She made me take a deep breath in, and then breathe out as she inserted the needle, and I didn't feel a thing. The power of distraction! I must remember to do that next time if I have a different nurse.
Soon we were off injecting again, but Jade sat to one side, so Dermot could sit on the other and we tried to play Cribbage using our phones (I'd forgotten to bring the travel set in). Hospital wifi is dodgy at the best of times, and just as we were getting really frustrated, Julie came to say Hi, and Dermot went back to his office for a bit.
Sick as a dog
I'd been given Emend to try and stop the nausea, and was sent home with my chemo party bag with more tablets for heartburn as well. And like last time, the nausea kicked in whilst I was driving home. I then spent a very flat week on the sofa. I didn't really have any physical symptoms with the FEC, unlike all the aches and pains with Docetaxel, but the nausea was unbearable. Even with the new Emend, I still felt sick all the time.
Some of my patients have eaten constantly through chemo to try and ease the nausea, but the thought of food made me worse. I basically survived drinking tonic water and eating tinned pineapple chunks in the day, and then when Dermot came home, he'd cook something from the Royal Marsden Cancer Cookbook and I'd try to eat most of it.
The other only real symptom was extreme fatigue. I was breathless at rest and would feel dizzy when I got up to walk to the loo. Chemo brain was back and I couldn't concentrate on anything. And that was my life – lying on the sofa – for 5 days. I'd read on forums that for a lot of women they snapped out of it after 3 days, but not me. The cumulative effect of the chemo was starting to take its toll. I was still walking for 30 minutes every day with my neighbour, and then walking the dogs, but that would finish me off for the rest of the day. But for anyone going through chemo, the walking really does make a massive difference to your state of mind, as well as keeping you active. I felt a real sense of achievement that I'd got out and had some fresh air before retiring to my sofa and sick blanket.
Sorry, Waitrose…
The weekend came and my brain told me that I should be feeling better. I'd forgotten, however, that I'd had chemo on Monday instead of Friday, and my body hadn't caught up yet. We went into town to do bit of shopping, and I was feeling wobbly within about 10 minutes – not surprising as I hadn't really eaten for a week and had lost 3-4kg. Cue several coffee stops and an ad-hoc brunch from one of the market vendors and I was fine. Or so I thought. We went into Waitrose and I discovered the joys of the cold food and freezer aisles when you're having a hot flush. And then the room started to spin and I knew I was going to faint. I abandoned Dermot with the trolley and somehow clawed my way back to the car to sit down and recover. Apologies to anyone I gently shoved out of my way in my rush to get to the car. I couldn't possibly faint in Waitrose…
Waiting for the final round
I slowly picked up again, but was definitely didn't bounce back as quickly as last time. The mind was active but the body was weak. The final weekend was mentally tough. I just wanted the week to disappear so I wouldn't have the agony of waiting for chemo, but I also wanted it to last forever. I didn't do the park run in the morning, which made me sad, as I hadn't had the energy to do it the week before either, but I wanted to save myself for the afternoon, as I only had the oomph for a half day of doing stuff.
I'd booked myself a treat for the Saturday – a chocolate cake / patisserie masterclass with Javier Cervantes (Divertimenti) at Cambridge Cookery School which was amazing. We cooked sponges and biscuits and mousses and sabayons and I came home with an Opera cake and a Mozart cake. They looked so professional and the junior doctors working with Dermot at the weekend told me they tasted great. My taste buds weren't up to sweet stuff, and besides, I love baking for the juniors to help them through their on-call shifts. I can't wait to go back to do another class.
For the rest of the week, I've done a bit of baking, refreshing my sourdough starter from the depths of the fridge and am in love with a cloche that I was given for my birthday – the rise and crust are amazing when I use it.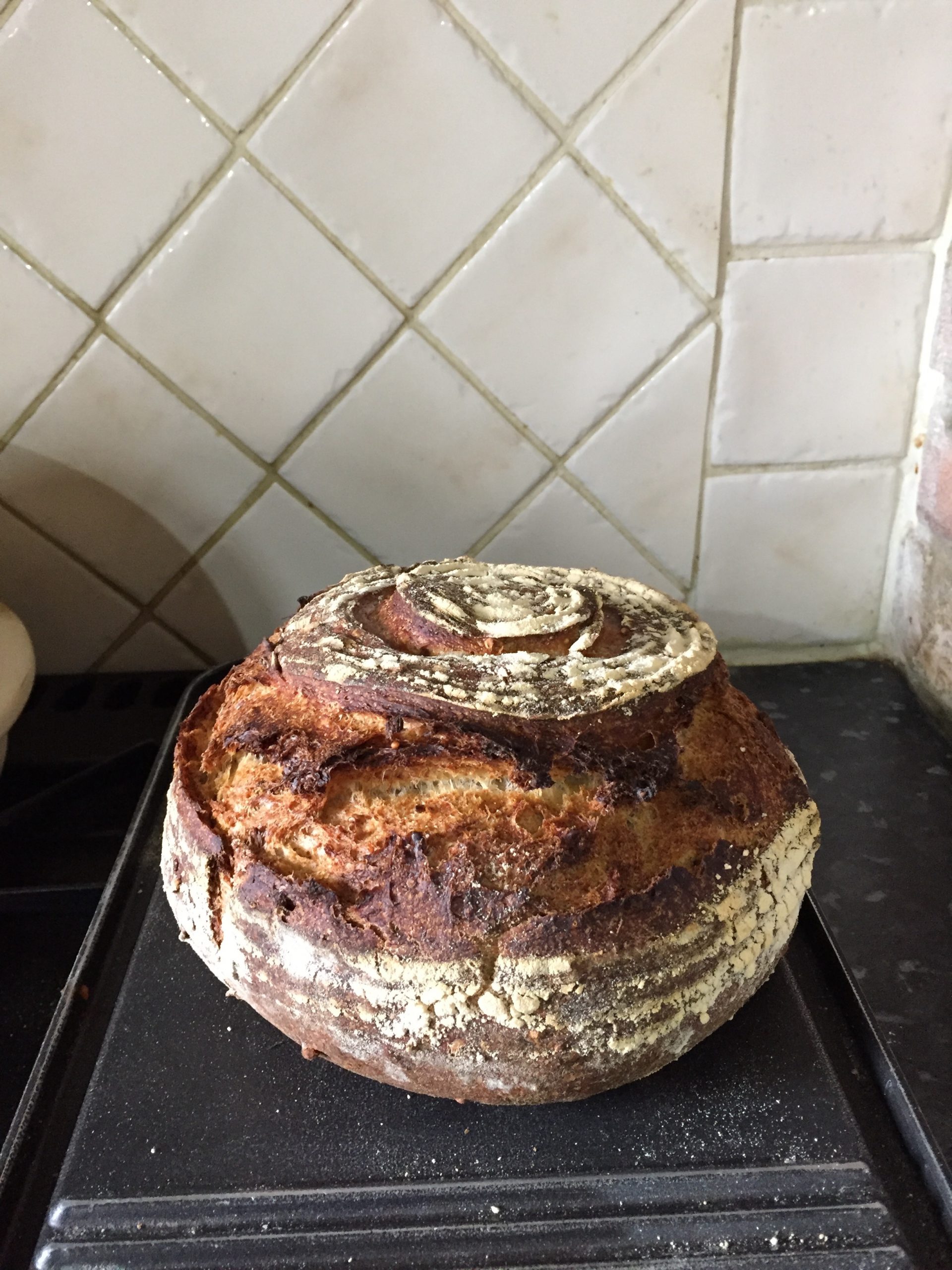 We also went out to eat, and managed to get a table at Byrons in Bury St Edmunds, where I thought I'd try out a new look in honour of Movember…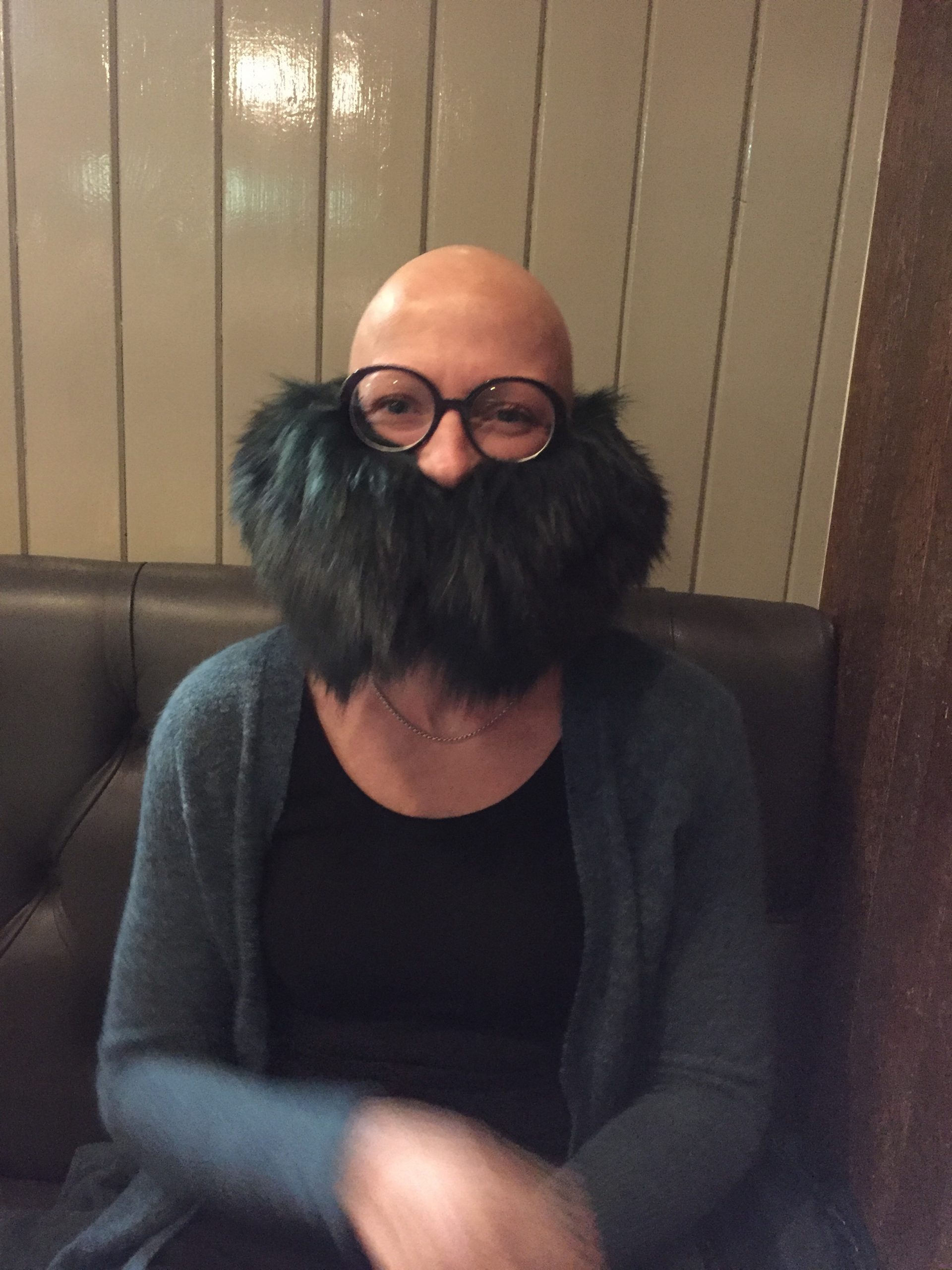 Final countdown
And now it's the morning of my final chemo, and I'm panicking over what to wear, which is ridiculous. I'm seeing my surgeon beforehand to get measured for implants, so it needs to be something I can easily take on and off again. It feels silly to get glammed up for a treatment that will make me feel so lousy. I've seen lots of photos of women on blogs who've got dressed up, or pinked up, with wonderful posters from their children to celebrate the final chemo session. At the moment, I'm not in the mood for celebrating, as I know I still have 'chemo week' to get through.
Guilty
The final emotion I'm dealing with is, quite frankly, ridiculous, but real. I feel guilty that I am finishing chemo, when so many of my twitter friends will never finish chemo. They have metastatic disease and have ongoing chemo to try to prolong their survival, with all the cumulative side effects that come with each cycle. And I've 'only' had 6 rounds. Is it my final chemo ever? Or my final chemo for now?
It feels wrong to be celebrating, and I will definitely wait until the nausea and fatigue has lifted before I even think about it, but again, cancer screws with your head. The cold hard facts are that it is crappy that I got breast cancer, at a young age, with no real risk factors (apart from me not having children), and it's ironic that I got my 'own' disease, and now can't have children. But I've almost made it through, and this is something I should be proud of.
Triathlon of treatment
Last night, on Twitter, one of my fantastic supporters suggested that I'm doing my own Triathlon – chemotherapy, surgery and radiotherapy, and I love that idea. The swimming leg is nearly over – just one final buoy to get round with a few kicks and punches from the more aggressive competitors, and maybe a couple of gulps of sea water, mud and weed before I enter T1 (transition area where you put your cycling gear on). Let's get to it.