Suddenly it was time to go to my last chemo session. In the end, I decided to dress for comfort. It was a blustery day and I was feeling the cold, so jeans and a hoodie to keep my head warm, allow access to the port, with a zip for quick cooling for the hot flushes was the order of the day. It was Friday 13th, and I wondered whether that was bad for the cancer, or bad for me.
Before chemo, Dermot and I met my surgeon to finalise what op I was having, and to go through the consent form. I'm going to talk about surgical decision making in my next blog, but I had finally decided to have a mastectomy and implant reconstruction, with a sentinel node biopsy, regardless of the results of the post-chemo MRI. It's a complex decision to make, and I've given it a lot of time and thought, which I'll explain in due course.
I'd thought the op would be the week before Christmas, and was looking forward to a valid excuse to lie on the sofa and do nothing whilst everyone else cooked and washed-up, but that would mean that the 'danger' period for implant complications, such as an infection, would fall on Christmas Day. Although the risks were low, neither I nor my surgeon wanted to risk me needing readmitting over the festive period, so we were given a date for January.
Do I have to…?
I was feeling really flat on the short walk from outpatients to the day unit, and would have done anything to have just gone home and had a nap. I was sad that I would have to wait until the New Year to have my surgery. And the thought of another round of chemo, particularly after the last session knocked me for six, was not pleasant. But I knew what had to be done. In no time at all I was sitting in the reclining chair, and the drugs were being slowly injected.
A lot of people celebrate the final chemo session, but it was the last thing on my mind. Chemo just meant another week of feeling like crap, and Dermot and I were both a bit subdued. Dermot then had the bright idea of asking our surgeon whether we could have the op a week earlier than the original December date, as that would be 4 weeks after the chemo had finished, and I should have recovered by then. A tiny bit of hope appeared, and Dermot went off to ask.
This session flew by, and I was finished in under an hour. Before I knew it, I was on my way out, before Dermot had come back. And walking out of the chemo unit, on my own, when it was truly all over, was one of the loneliest things I have ever done. I even forgot to take a photo to compare how I looked at the beginning and the end. Even though I knew I was pleased that Dermot was trying to bring the op date forward, I would have given anything to have him with me at that moment.
He caught up with me in the car park, and I wiped my eyes and gave him a hug, and then an even bigger hug when he said that I could have my surgery the week before, in December, just after we come back from Tenerife. All I had to do was get through the last week.
Here's a reminder of what I looked like at my first chemo session back in July.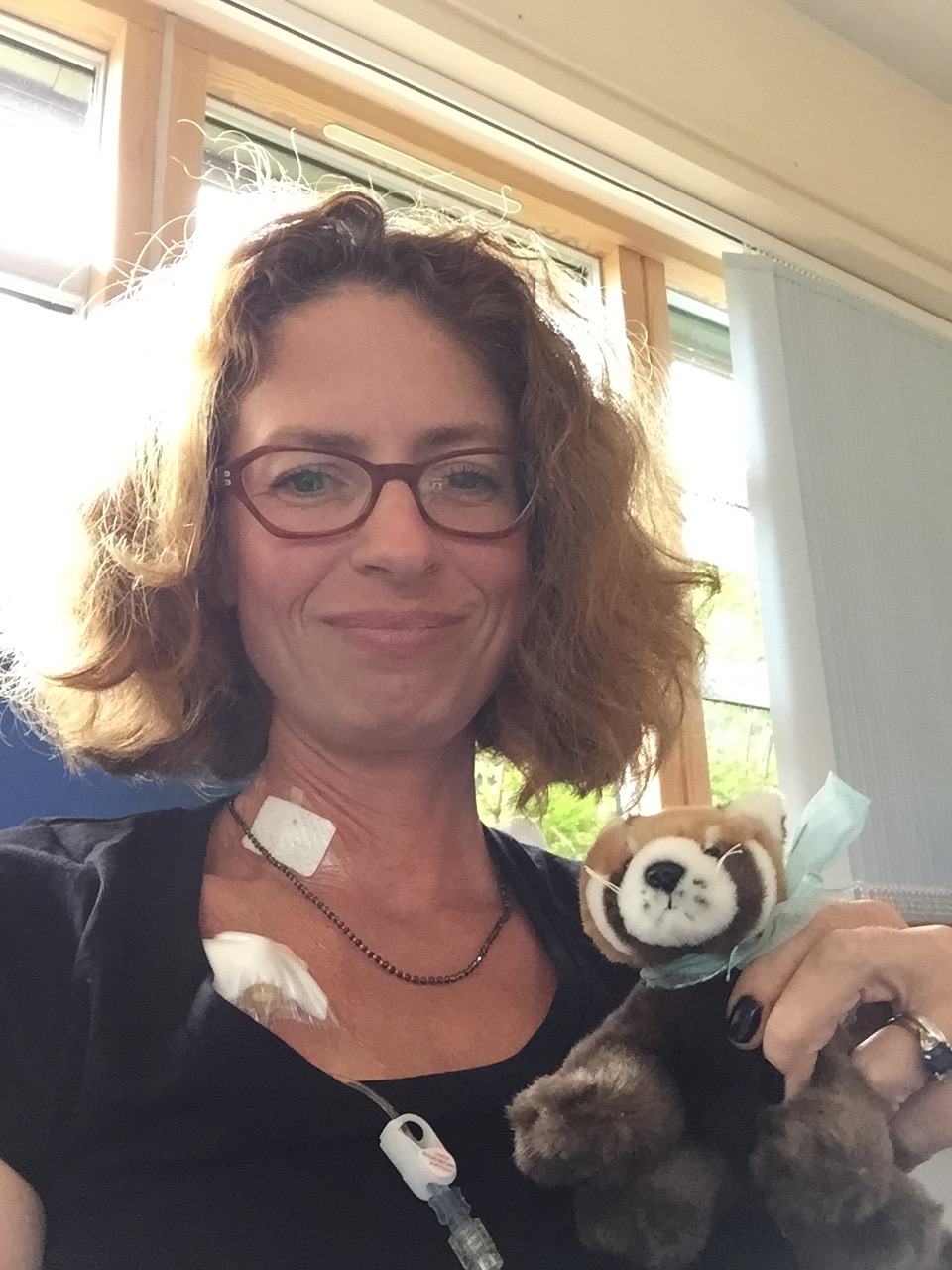 Here we go again
Like before, the nausea kicked in immediately, and I spent another week feeling permanently sick. This time I was given Cyclizine on top of the other drugs, but nothing worked. I just had to grit my teeth and get through it. The only other symptoms I had were mouth ulcers, indigestion and painful nails, on top of feeling completely knackered. Even the smallest effort was hard in the first few days, and I camped out on the sofa, doing my best to drink plenty to flush everything out.
A bit of TLC
My wonderful parents had driven down from Scotland that weekend to look after us. I needed bullying to eat and drink, and Dermot was on-call so he needed feeding, and it was a huge relief to know that I didn't have to worry about looking after Dermot. His 'shift' is from Monday 11am to Friday 11am, and it's pot luck as to whether he's operating til the wee small hours 4 nights in a row, or is home by 7 and not called again.
It must have been really hard for my parents to cope with my cancer treatment from a distance, and it was great to have company during the day, and for them to see me at me weakest, and be able to help.
By day 5 I was truly drained, feeling dizzy whenever I got up to walk anywhere and chemo brain made it difficult to focus or concentrate on anything. I got around it by having a morning nap and an afternoon nap of about 3 hours at a time, and did my best to drink. To make things worse, Dermot had picked up another cold which he gave to me, so we were both up all night coughing.
Sunshine after the rain
Suddenly, on day 6, I woke up feeling almost chirpy. My body was still 3 days' behind, but the fog had cleared and I had a little more energy. It was lovely for my parents to see me turn the magic corner for the last time, and I even had the energy to bake a loaf of sourdough. And it only took about 10-15 minutes of actual work – the rest of the time was waiting for the dough to do its thing. We went to the cinema to see 'The Lady in the Van', which we loved, followed by a meal at Ben's in Bury St Edmunds. Dermot and I went there after I got my head shaved all those months ago, and it was great to go back at the end of chemo. I had the most amazing pulled pork and leek suet pudding, but the glass of prosecco tasted awful to me. Thank you very much, chemotherapy.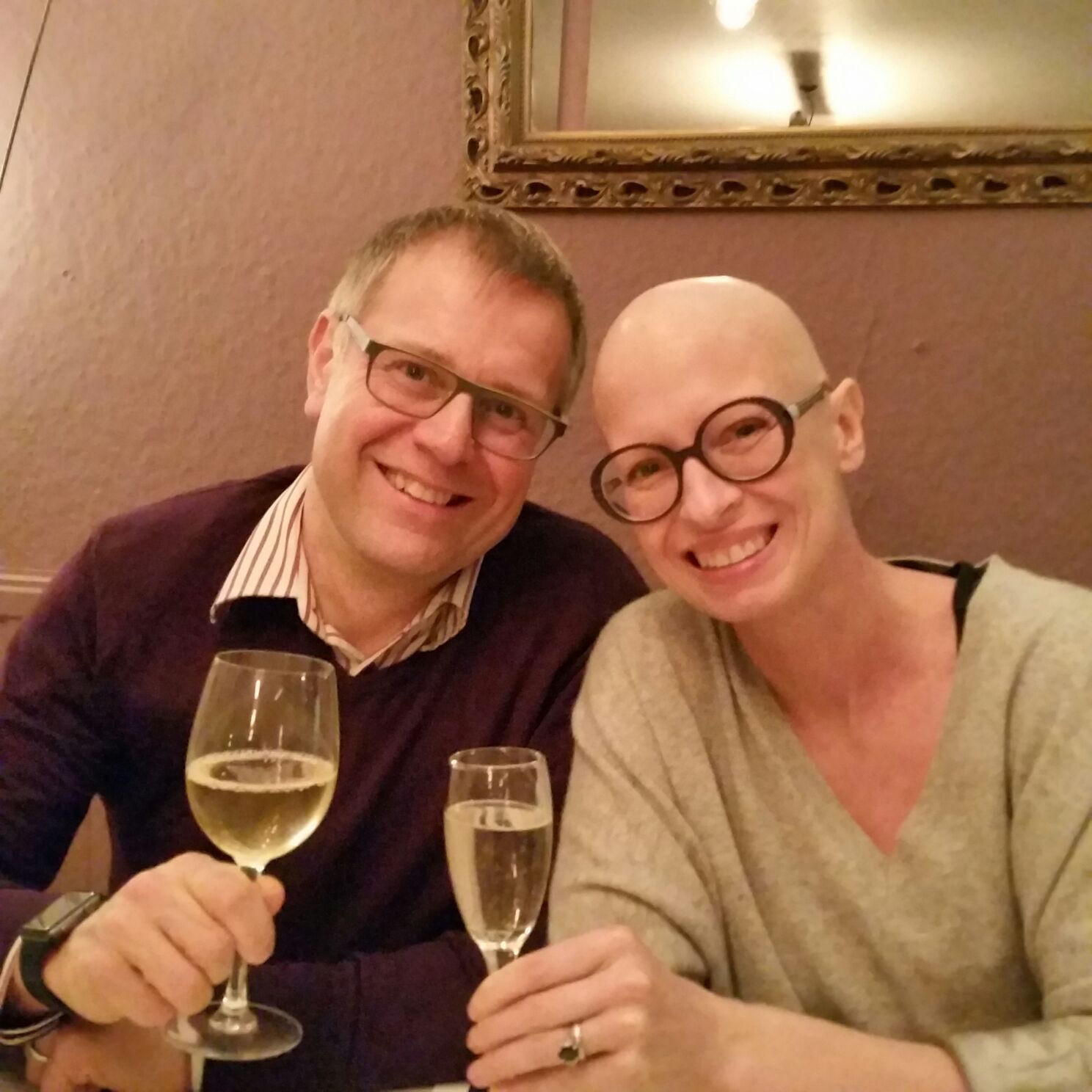 Transition time
So how do I feel, now the 'swim' is over? I honestly don't know. There's a sense of relief that I never have to go through chemotherapy again, although that isn't necessarily true. If the cancer came back, I would need it again. And today, 10 days after the final FEC, I can't remember how crappy I felt in those 6 days. The constant hot flushes do a good job of reminding me, and they like to kick in at night, just to make sure I never get a proper night's sleep.
I'm left with my appearance, which is still changing for the worse. My eyelashes have finally started to fall out. My lower lashes went for a hike in the middle of the night, and my top lashes are sparse. And this really upsets me. The one bit of make-up I always wear is mascara – it's a feminine ritual, and I think it's essential when I wear glasses to make my eyes stand out. And now there is nothing to put mascara on. It's bad enough trying to draw on my eyebrows and not think that I look like a drag queen, but to lose my eyelashes makes me feel like I'm less of a woman. I am so grateful that I don't have alopecia, as mine should grow back in time. I never thought I'd be so emotional over such a small thing.
The other thing is my nails. I've got ridges in each nail, marking the growth between each cycle of chemo, with blood blisters under the nails, and the ends of the nails are soft and crumbly and lifting off, and they are so sore if I knock them or use them to open things. I'd love to show you a photo of my big toe nail, which is black and is almost certainly going to join my eyelashes, but I'll save you. I'm nice like that.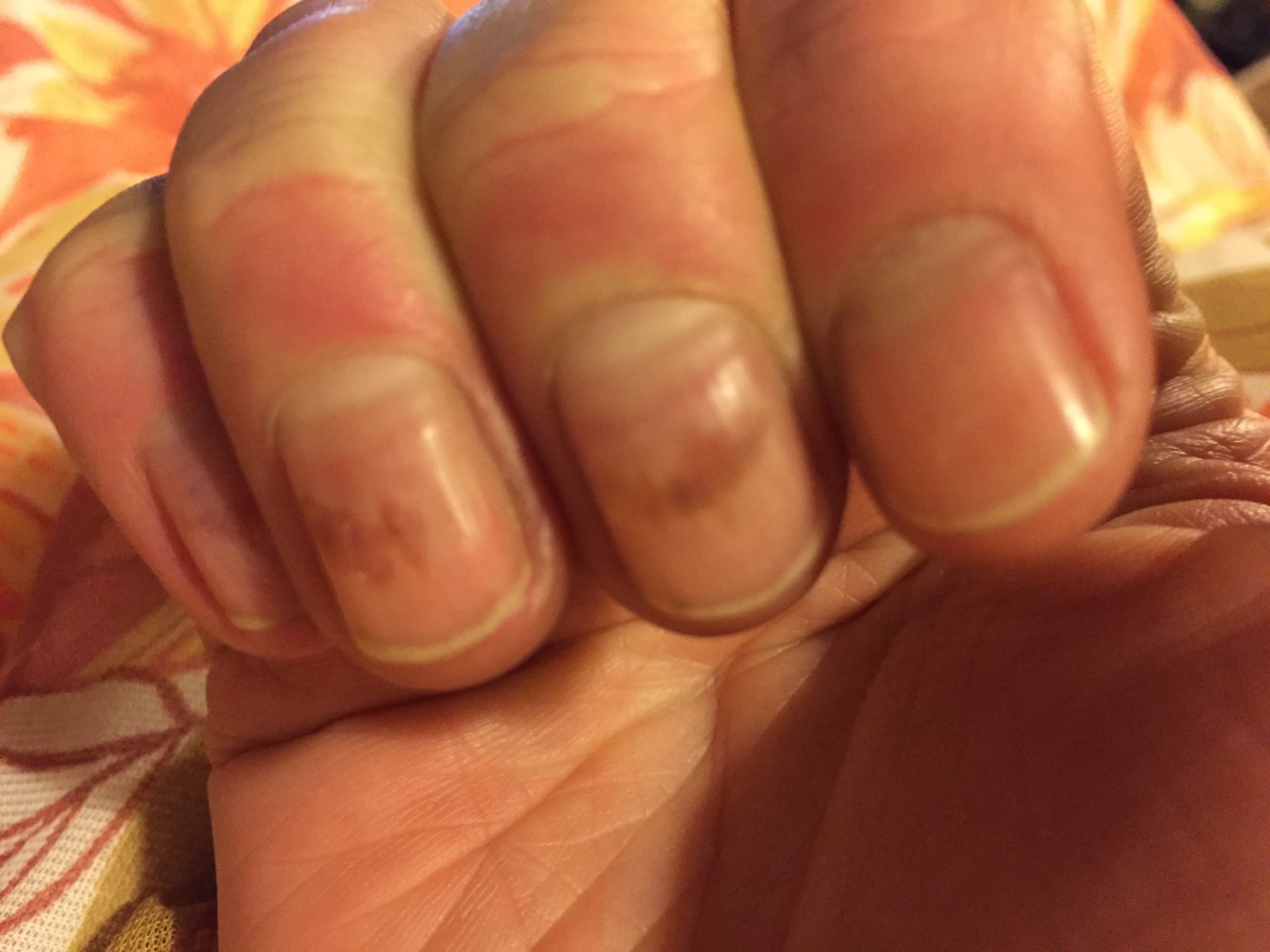 The Perfect Wife?
Part of me thinks that because chemo has finished, and I have no excuse to pull the "I'm poorly" card, and I'm now in my good week, I should be cleaning and tidying and cooking and looking after my husband, and life goes back to normal. But I still have cancer (although I still don't truly believe it), and I have still got to go through both surgery and radiotherapy. Treatment is far from over, and I've got months ahead of me. I feel like I'm in limbo. My brain has woken up and wants my body to join in and be really busy, just to make up for 17 weeks of mainly lying on the sofa. I'm so glad that exercised throughout chemo, because I'm nowhere near as tired as I was after cycle 5, and have a lot more energy compared to the last cycle. But I need to rest, and build myself up for the surgery to come.
Surgery, like the bike section of a triathlon (for me), should be the easy bit. I'm having an operation that I do myself, so I know exactly what will happen, and what the complications are. I'm having it done by a surgeon that I have trained with, and done this operation with, surrounded by a team of colleagues and friends that I have worked with over the years, in a hospital full of people who might come to visit me during my overnight stay.
When will it all sink in?
And yet I'm anxious, apprehensive, nervous and scared. I worry about things that might never happen, that are out of my control, and I'm really worried about how I'll feel afterwards. A lot of my ladies, like me, are in denial right up to the morning of surgery about the fact that they have cancer. There is no lump to feel as it was picked up on screening, and they have no physical symptoms. I tell them that it might not hit them until they wake up from the surgery, and look down to see the scar. I still don't understand how I think I don't really have cancer, having been through chemotherapy, but it's a fact. And one that I hope will soon change.
On a much happier note, in a few days we'll be jetting of to Tenerife for a well-earned holiday, where I'm hoping I'll be able to concentrate enough to read some of the books that my fabulous support group have sent me. We managed to find a travel insurance company that would cover me so soon after chemo, despite the planned radiotherapy. I had no idea how much trouble it is to get travel insurance when you have cancer and are still having treatment, and I had even less of an idea about how expensive it could be. I felt I had to get cover, as I could still potentially have a dangerously low blood count during the trip, but it's a little reminder that life will never be quite the same again. Life will be different, but I'm determined to make the most out of whatever comes my way. I'm going to leave you with a photo of the sunrise yesterday, during a frosty dog walk, when a deer went galloping off across the fields and my dogs were blissfully ignorant. There is beauty all around us, we just need to open our eyes.