Today I finished radiotherapy.
Let me say that again. Today, I finished radiotherapy! This means the end of 9 months' of hospital treatment for my breast cancer, and the end of my triathlon analogy – shame there's no medal to add to my collection.
I thought my last treatment was tomorrow, but due to an error that and been made on my schedule, today was the last one. So it was a bit of an anti-climax, as I wasn't prepared for 'the last one'. I had a thank-you card and a box of chocolates ready to bring tomorrow for all the wonderful staff, and was upset that I didn't have them with me to give in person. In addition, Dermot is away at a hernia conference, so it meant I'd be home alone. But we're planning on celebrating at the weekend instead.
Double Trouble
Getting back to the sporting analogy, not only have I convinced Dermot to enter 2 sprint distance triathlons with me this year (watch out Skegness, here we come), we have bought a tandem!!! We drove up north to Skipton halfway through radiotherapy to visit JD Tandems, and had great fun trying out some of the frames, drinking tea and eating biscuits. Ruth was fabulous at helping us work out exactly what we needed. As an added bonus, there were lots and lots of baby baby lambs, and Dermot obliged me by letting me take photos of almost all of them.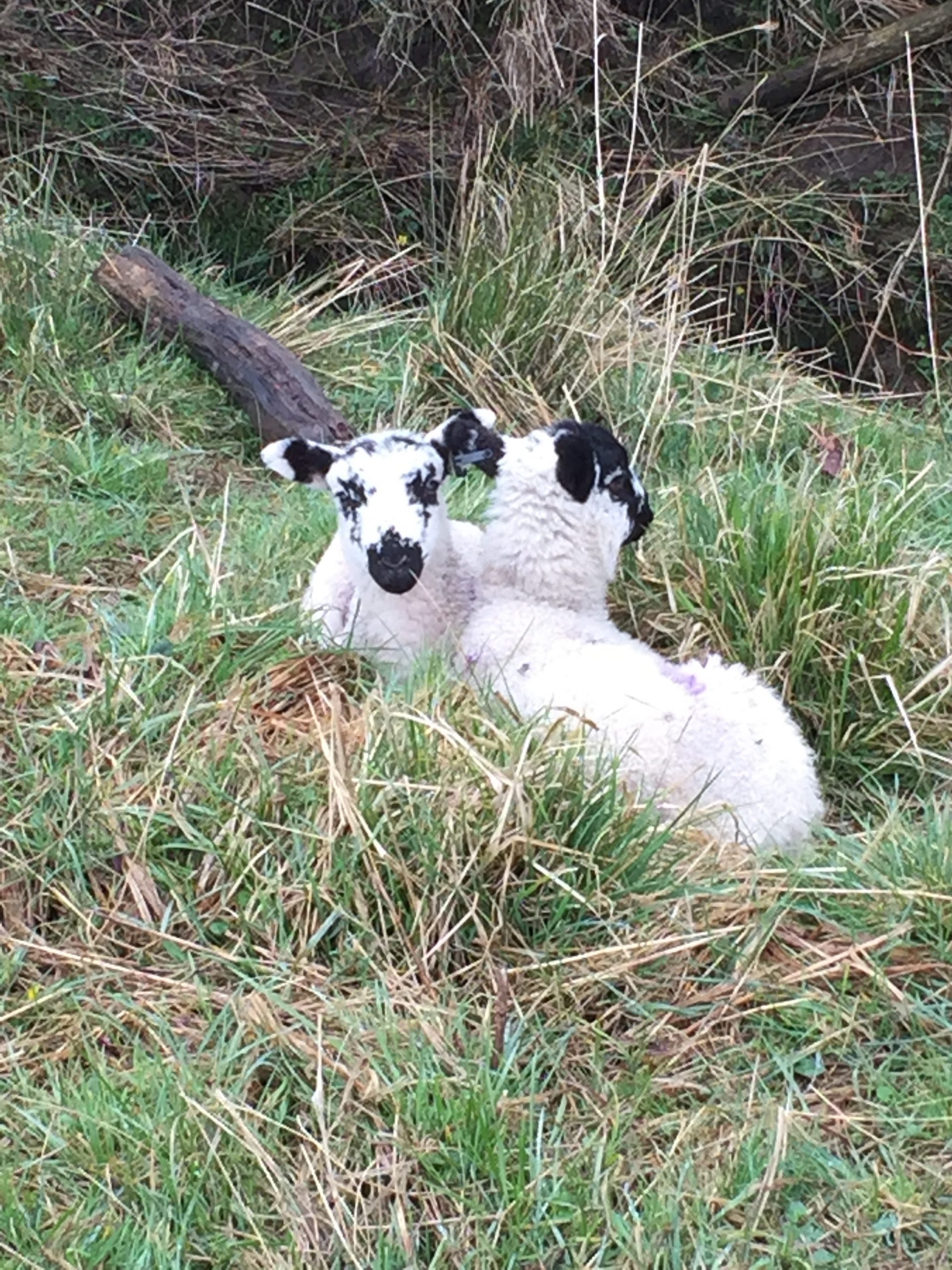 Our tandem will be ready at the beginning of June, and I can't wait to be able to poke and prod my husband on a bike. I look a bit pissed off in the photo, but it was bloody freezing and was just starting to rain.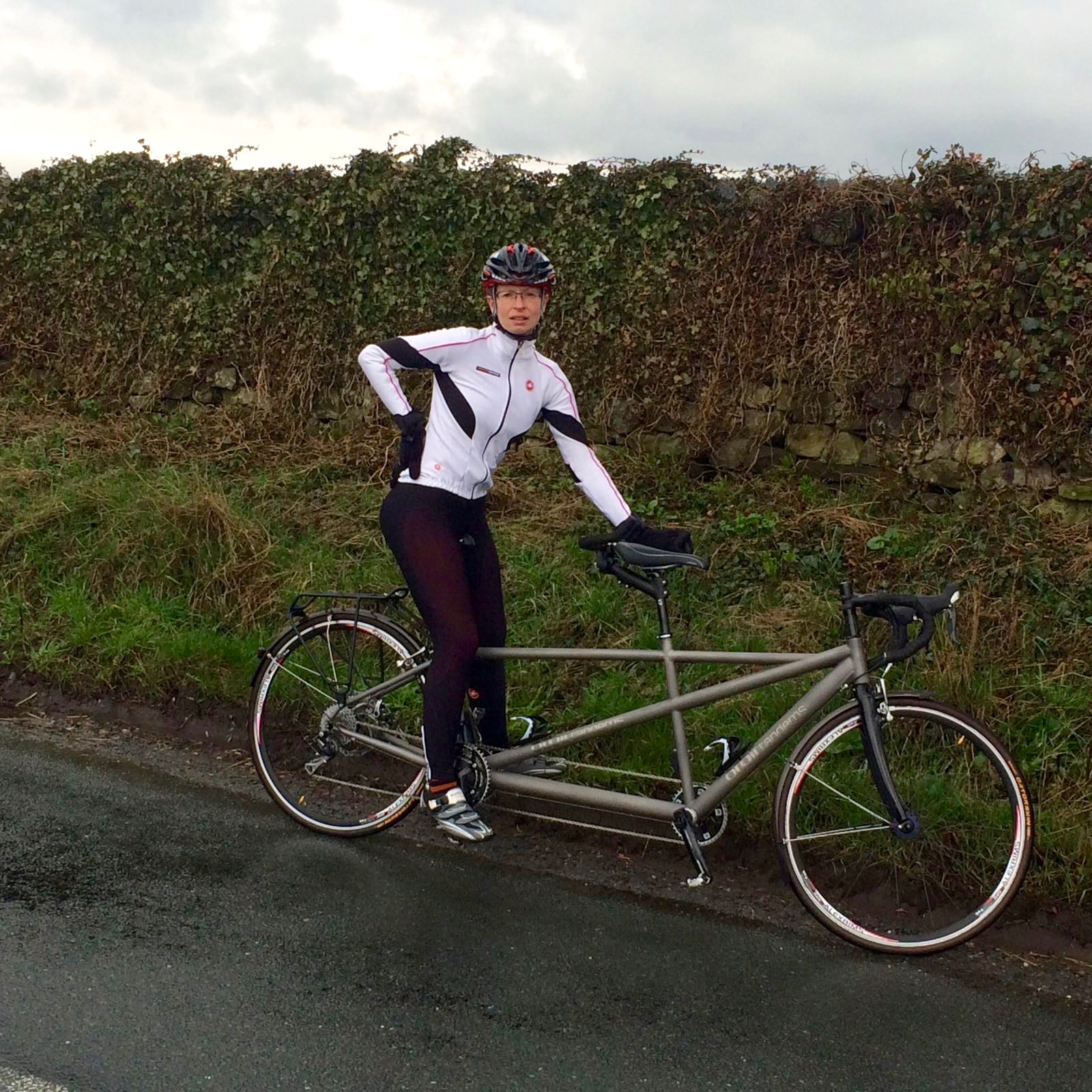 You do need a LOT of trust to ride a tandem. It's also a whole new language. Apparently I'm a 'stoker' because I sit at the back. This also means that I can't see where I'm going, steer or brake. I have to pedal, but it's up to me how hard I push. Dermot has reminded me that he is the 'captain'! Did I really promise to obey him when we got married..?
Just the little things to sort out such as where we're going to find room to keep it in our house, and how we're going to get it home. The shop has a great roof rack with a drop down thingy so you don't have to lift it on top of the car, as it's close to 20kg.
How was it for me?
I found radiotherapy almost harder to cope with than chemotherapy, which sounds ridiculous, but it's true. I tell my patients that radiotherapy is just an x-ray treatment, and that many women are able to work through it. I think because I had chemo first (and my body is still recovering), I found it more tiring. It's easy to understand why chemo makes you so tired. But radiotherapy is just zapping a small part of you, and that's why I struggled with accepting my lack of energy.
Fatigued again
Firstly, the 3-hour round trip was exhausting. Dermot was able to take me a couple of times, but getting up at 6.30 after a bad night's sleep (thanks to my hormonal treatment – more in the next blog) to drive there and back was hard going. I also got more tired as the weeks went on, and needed a long afternoon nap. It felt like my chemo hangover. I'm a bit breathless on mild exertion, and am trying to tell my mind that my body hasn't quite caught up with it yet.
Physical side effects
I got away lightly with my skin – just a bit of redness, some swelling and itching. Things might get worse for another 7-10 days, but then they should start resolving. I only used E45 cream, and have avoided getting blisters.
The cording is back – running up my arm, and also down my ribcage from the mastectomy scar, but it's bearable at the moment. The range of movement of my shoulder has decreased, and I think I'll need to see my physio again just to get things moving.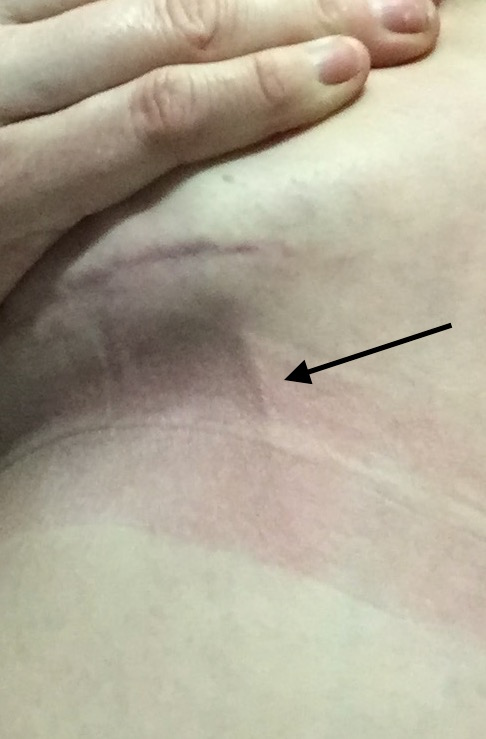 I developed difficulty in swallowing after 8 days, due to the treatment to the nodes above my collarbone which can also target your throat. The only way I can describe it is a bit like having a lump in your throat. I can only swallow small bites of food, and can't eat or drink anything too hot or too cold. I also had a bit of heartburn, but that is starting to ease.
Only time will tell whether my implant has been affected by the radiotherapy, and it's very early days for that. The risk is that a hard capsule develops around the implant. This can be painful, and can also make your implant look like a tennis ball. Both are potentially correctable with further surgery, but I'm hoping this won't be necessary.
Doctor Paradox
Dermot and I are avid fans of this podcast, where Dr Paddy Barrett, an Irish cardiologist now working in San Diego, interviews doctors who have rediscovered their passion both in medicine and their life outside it, with tips to help deal with the challenges faced in a medical career.
I was hugely flattered to be interviewed for one of the podcasts. At first I thought, "What on earth do I have to talk about?", but it was one of the most inspiring things I have done. I got to reflect on my own medical career and how I coped with the challenges I faced, as well as my unique experience as a patient in my own speciality. You can listen to my podcast here, but I strongly urge you to listen to the whole series. It's not just for physicians, but for anyone struggling to find balance in their lives.
What's next?
This marks the start of a new phase of my life, which is scary in itself. My oncologist will see me in three months' time to check up on the radiotherapy aftermath, and my surgeon will see me in six months' time. Normally your surgeon sees you at one year (after your first post-op mammogram) but I had chemo first.
I'll be on treatment for the next 10 years to block oestrogen, and my next blog will talk about the "joys" of an instant menopause. It's hard to move on and try to forget I've had cancer when every day I take a tablet, and every month I have an injection. It's a constant reminder of what I've been through, on top of the scars I see in the mirror, the short grey "Brillo pad" hair, the soft and crumbly nails – all the residual effects of chemotherapy.
Before I was diagnosed, I described myself as Liz the Breast Surgeon. Then, after I was diagnosed, I became Liz, the Breast Surgeon with Breast Cancer. However, I've not worked as a surgeon for 9 months and am still on sick leave. Technically I no longer have breast cancer. It's now time to just be 'Liz'.