It's been about 6 weeks since I last wrote about my recovery after surgery for breast cancer. My main problem was cording, where tight bands form just underneath the skin, running along your arm to your elbow, stopping you from moving your arm properly. I also had a black crusty scab instead of a nipple. Nice.
To pick or not to pick?
It was very, very hard not to pick at the nipple scab, but I resisted temptation. After about 2 weeks, it came away in the shower. I had a sudden flashback to that scene in 'Meet the Fockers' when a certain scab flies across the table…
Underneath was a flat nipple, surrounded by the areolar tissue. Both were paler in colour compared to the other side, but it was a huge relief to see a little bit of nipple left.
Snap, crackle, pop
The physiotherapist at my hospital was lovely, but after 2 weeks, she had to admit defeat. She hadn't been trained to manipulate cords, and there were no more stretching exercises she could suggest. I was getting a little more movement every week, but I was getting concerned that my radiotherapy would be delayed even further because I still didn't have enough range of movement. The longer delay, the less effective it might me. I knew I had to keep both arms above my head for 20 minutes for the CT planning scan, and it would be another 2-3 weeks after that before the radiotherapy started.
After a lot of random Google searches, I found a wonderful physiotherapist in Colchester (a 45 min drive away). Katrina Wade of Bodyworks Physiotherapy Clinic clearly advertised that she treated cording, and was able to see me that week. Within half an hour, she had been able to snap a couple of the cords, and the difference in my arm movement was dramatic. I saw her the week after, and at the end of the appointment, I could get my arm above my head, ready for the CT scan the next day.
Future project?
There is very little literature about cording, and my knowledge as a breast surgeon is negligible. The advice I was given by my team and by the physiotherapist in my own hospital was to keep doing the exercises, and it will improve in time. But when you don't have time because you need to have radiotherapy, it drove me crazy that no-one could offer anything else. One day I'd love to create a list of physiotherapists who have been trained to treat cording, and make it easier for breast cancer patients to find and get the help they need.
The crying game
On a more personal note, the last few weeks have been quite sad. We had to have our chocolate labrador, Chester, put to sleep. He was 13, which is a good age for a lab, with bad arthritis which suddenly worsened in a couple of days. This is the worst part about having pets, and it never gets any easier, no matter how many times you have to do it.
I also went to stay with a friend for a few days, and had great fun playing with her toddlers, but it made me suddenly realise that yes, I really did want to be a mum. It was heart-breaking seeing the way they smiled at their mum, knowing I would never see or feel that. And so I finally got to grieve for the children I would never have.
Public speaking
I was asked by Tanya Dhir (President of the KCL Intensive Care and Acute Medicine Society 2015-6), though Twitter, to come and talk to some medical students about breaking bad news and being a doctor/patient. I was a bit nervous about doing it, as it would be the first time I had spoken in public about my cancer, and I didn't want to tire myself out. Dermot came with me as my groupie, and I was amazed that around 50 students turned up on a cold, rainy, miserable evening. The talk went really well, and they asked some really pertinent questions. It was lovely to think that I might be able to help them in the future, through sharing my own experiences as a doctor and a patient.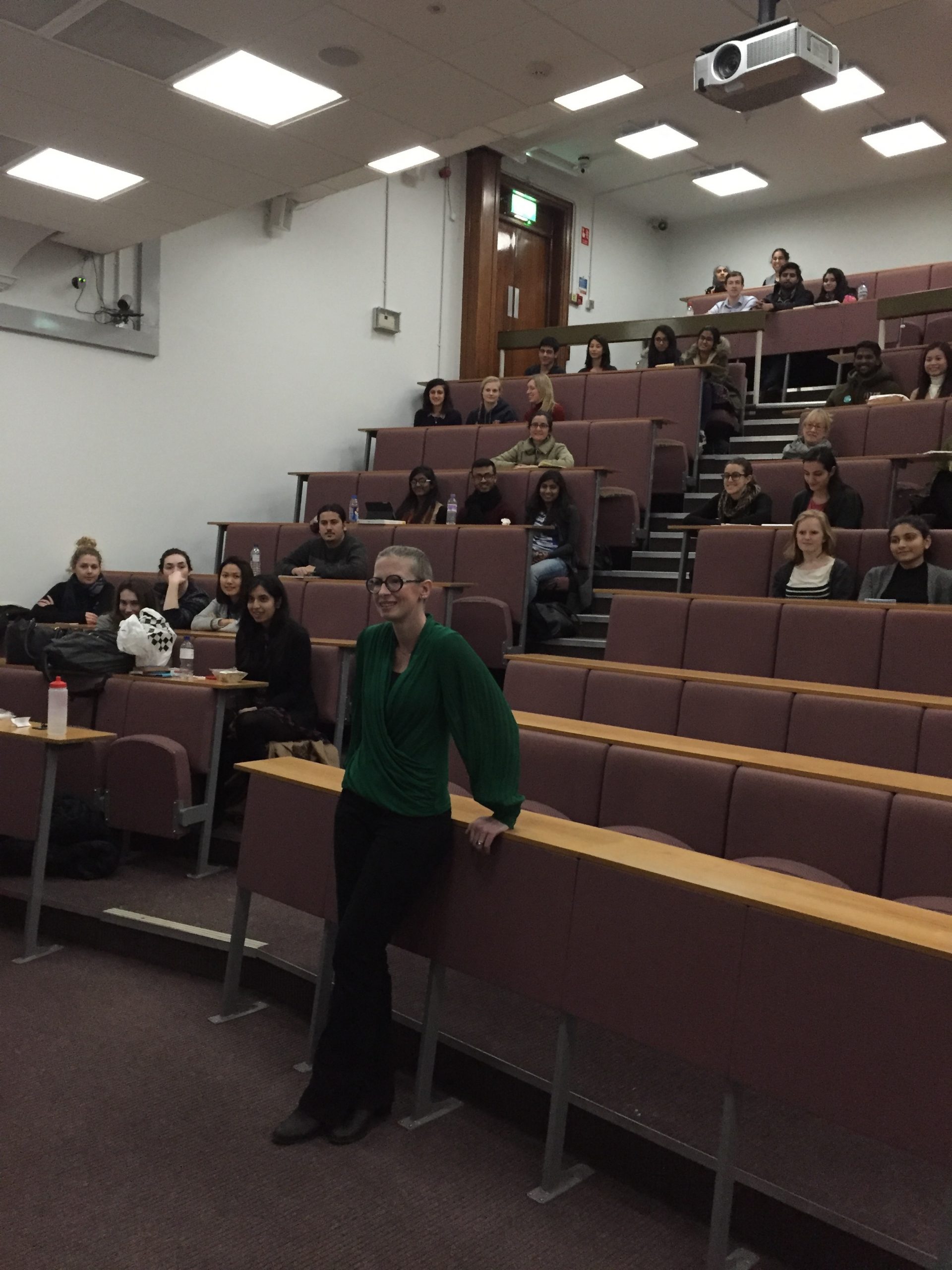 My first hair cut!
My hair is starting to thicken a bit, and was actually long enough to need a cut! Well, when I say cut, I mean trim around my ears and the back of my neck, but still, very exciting. Not bad considering I only had a tiny halo of white fluff at Christmas, and had finished chemo in mid-November.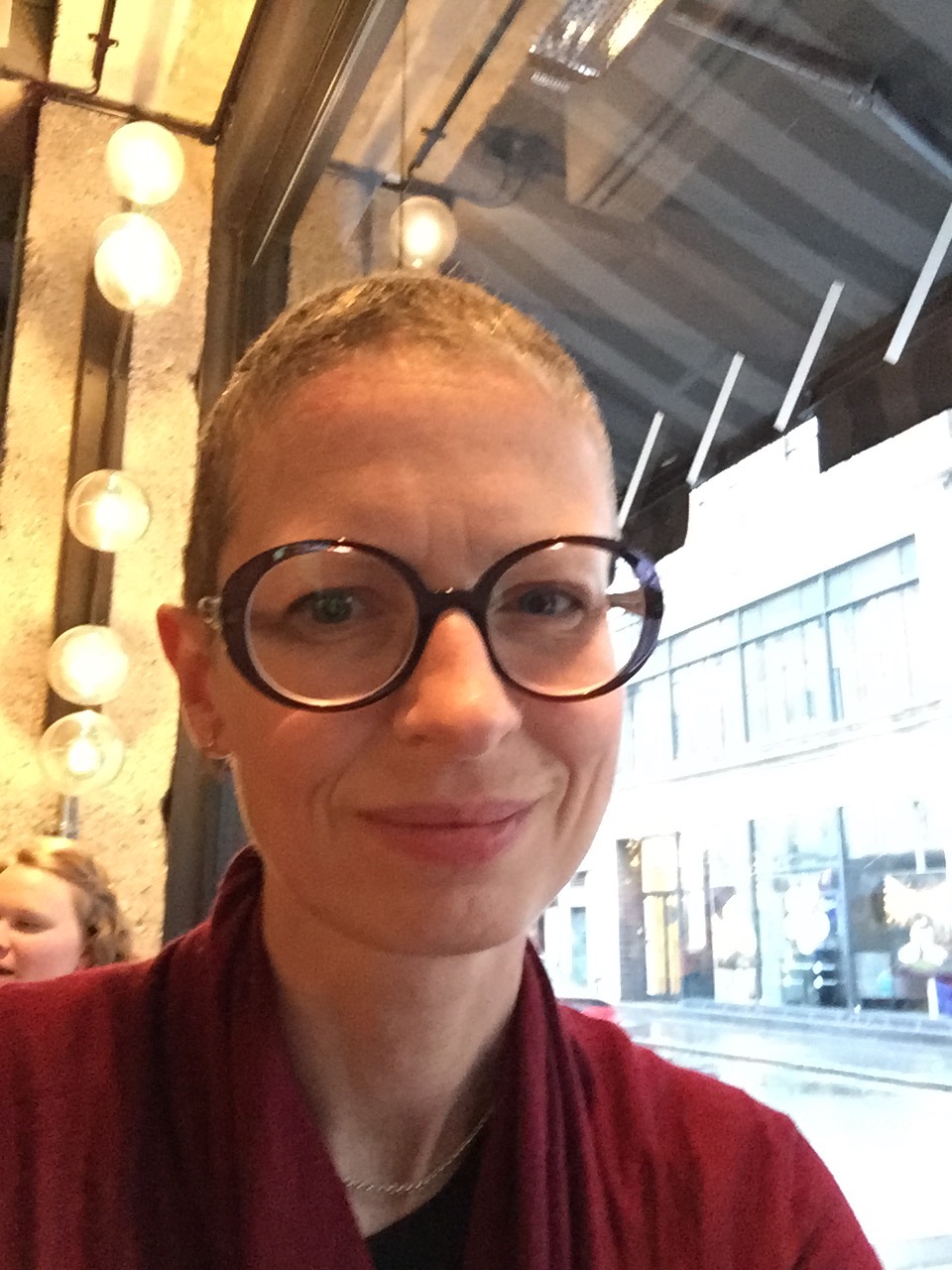 I must admit I hate being grey. Apparently most people's hair grows back grey because chemo strips it of colour. And although everyone says my new 'do suits me, it's very hard learning to like yourself in the mirror again. I think I look like a boy (a very odd boy with grey hair, mind). I know I have the head shape to carry off such a short cut, and my husband loves it, but it will take me a little time to recognise myself in the mirror again.
The chemo damage is slowly growing out of my finger nails, but the tips are very soft and split with the slightest bit of pressure. I long for the day I can open a can again, or pick something from my teeth.
Running again
I did my first park run since the surgery, and was surprised to see that my time was almost identical to the last run I did during chemo. I thought I'd be much slower as I've not really exercised for 2 months. We took our cocker spaniel Hunter with us, who carried a massive stick half way round the course (apologies to anyone he almost took out). I wonder whether we should get him his own barcode? Do they do T-shirts for dogs who've done 10/25/50/100 park runs?
Transition time again
It's a big relief to know that the end is almost in sight for my hospital treatment for breast cancer, and now I can finally finish my breast cancer triathlon. Run and done…. run and done ….