Almost a year ago, I wrote my last cancer-related blog – 'Who am I?'
After finishing my treatment and planning how to get back to work, whilst training for a half-ironman triathlon, I didn't have the time, energy or focus to continue blogging.
These are all the people I was trying to be at the time:
1) A patient advocate
2) A medical educator to show health care professionals what it's like being on the other side of the table
3) An author
4) A promotor of exercise for cancer patients
5) Informing doctors and patients about apps and websites that can help them cope with cancer
6) A consultant breast surgeon
7) A breast cancer patient trying to get back to a normal life
8) A wife, daughter and friend.
But I have news – I'm back !! (cue Eminem music….)
And THIS is who I am:
1) A wife, daughter, friend (and soon to be step-granny – exciting!!!!)
2) An athlete – training myself as well as working to provide accurate information to help other athletes with cancer train sensibly during treatment
3) An avid knitter / crocheter / quilter (stirring up saucy twitter storms in the wee small hours with my like-minded friends)
4) A consultant breast surgeon – I have gone back to work, on a part-time basis, and there is a lot to talk about there. I've joined the #TheatreCapChallenge with my name on my theatre hat so everyone knows who I am (buy yours here).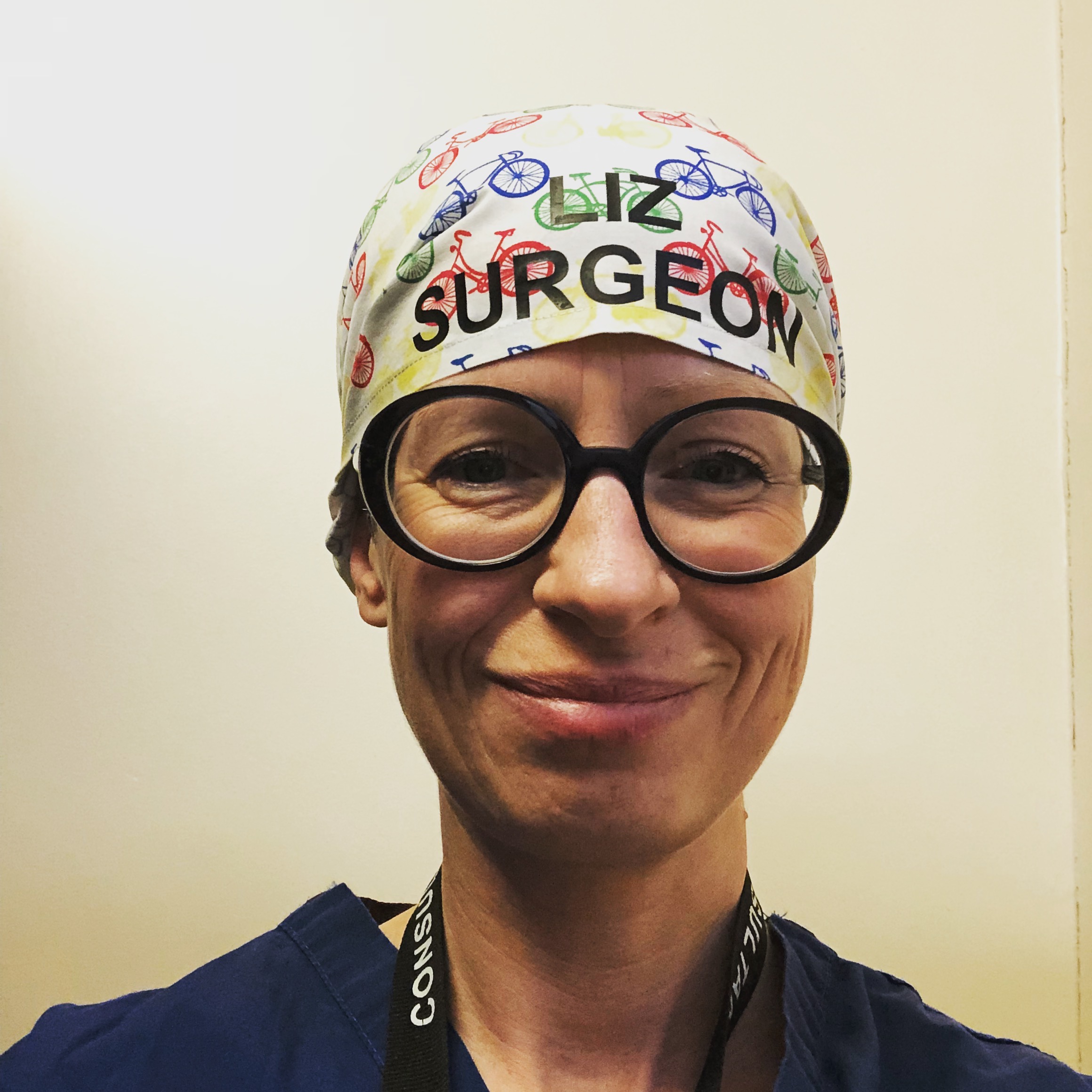 When you are scrubbed, you don't have a name badge on show and I think it's so important for patient safety and teamwork that everyone automatically knows who everyone in the operating room is – especially when the shit hits the fan.
5) An author – I have co-written a book with the fab Prof Trish Greenhalgh, who was my chemo buddy which I am REALLY, REALLY, proud of. It's called 'The Complete Guide to Breast Cancer – how to feel empowered and take control' and can be pre-ordered on Amazon – it comes out on 27th September.
6) A public speaker – I've spoken all around the world to all sorts of groups of people – schoolchildren, medical students, trainee doctors, medical staff, NHS bigwigs, IT health companies and health insurance companies. I promote the power of the patient – listening to them, hearting what they have to say, and understanding what high quality care means to patients – which is often very different to what healthcare staff think it is
7) An advocate for using digital technology to improve the patient experience
8) A slightly crazy lady who is becoming obsessed with hedgehogs after my husband Dermot bought me a hedgehog house and an infrared camera for my birthday last year
9) And at the very end, comes breast cancer patient, as I'm no longer a patient, really. The new term is 'NED' or No Evidence of Disease. The medical term is 'Survivorship' – both of which I hate. My treatment finished almost 2 years ago, and I'm living in that hinterland of 'living after being treated for cancer whilst waiting for your cancer to come back and hoping that it never does'. I still have problems with the side effects of treatment (I had another operation, I have chronic pain and I still hate Tamoxifen), but cancer is thankfully no longer the first thing I think of when I wake up. It is the last thing I think of when I go to sleep as I take Tamoxifen at night, but my days aren't governed by it. I never thought I would get to this stage.
I've learned than my work and my illness don't define me. Who I am as a person is far more important than my job – as that could get taken away in a heartbeat.
I've got so many blogs to write about all of the above, and I'm itching to start. My website may get a bit of re-tweaking along the way as I change my focus – it's no longer all about the blog – it's about improving the quality of patient healthcare and helping as many people as possible get their life back after cancer.
Stay with me and come along for the ride.