It's been a while, hasn't it?
So much has happened since August last year, and I might get around to filling in the gaps in due course, but there's something I need to get off my chest and it can't wait.
It happened a few weeks ago, and it's taken some time to get my head around. It's probably going to take a really long time, but I wanted to let you know.
Here goes…
Deep breath…
I am no longer a consultant breast surgeon.
I will NEVER be a consultant breast surgeon again.
That's right. Cancer has taken from me the one job I have spent twenty years of my life working towards. It really is the gift that keeps giving, isn't it?
A constant reminder
After my first diagnosis, I tried my hardest to cope with going back to work, originally on a part-time basis. First, I spent five months shadowing colleagues at a local hospital, and then was let loose in my own hospital. It was one of the hardest things I have ever had to do. Just imagine – sitting in clinics telling women they had breast cancer, reliving my own diagnosis, every single day. Often several times a day. Having to operate on them – knowing how much pain I might cause them, given my own experience of chronic post-mastectomy pain. Wanting to reach out and hug them and tell them that I could help them get through it, but knowing I should probably keep my mouth shut… That's 2-3 blog posts right there.
Put your hands in the air like you just don't care
I had counselling to help with the PTSD and the anxiety, and in time, I might have got there. But then my cancer came back locally in May 2018. And the second full dose of radiotherapy to my left chest wall / armpit (where I left you with my last blog) left me with disabling side effects. I hide it well. You wouldn't know it to look at me or to follow me on social media and see how busy I am. A combination of scarring, fibrosis and tethering of the soft tissues on my chest wall has left me with a permanent reduction in shoulder movement, power and function. I can fudge it to swim and go about my daily life, but to be able to operate, safely (for my and my patient) – that's never going to happen.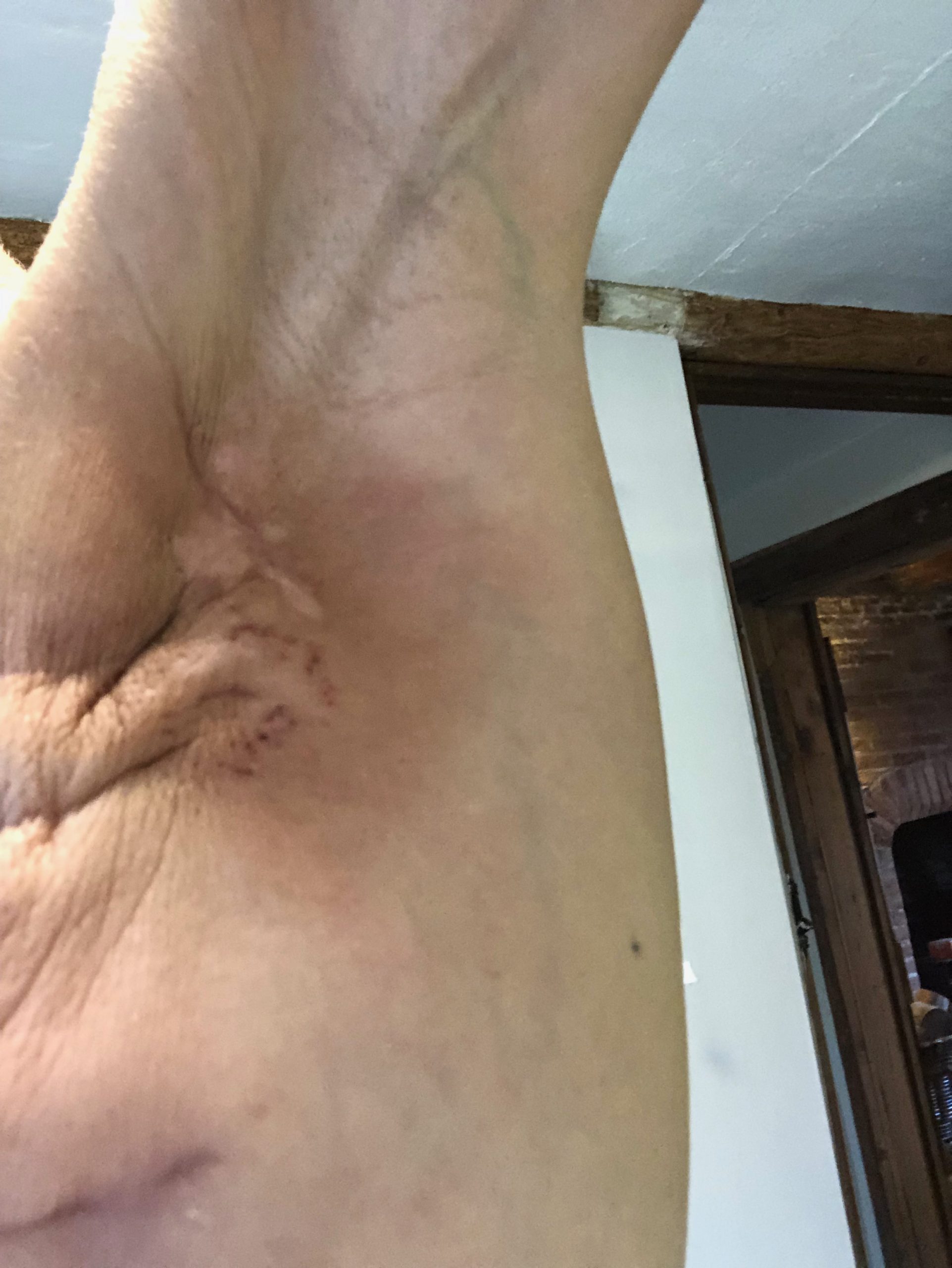 So, at the age of 43 I've had to retire for ill health reasons (and that's another blog in itself about how to navigate your way through the NHS pension system and the lengths you have to go through to prove that you can't do your job).
It's bitter sweet. If I'm being completely honest, especially since my recurrence, working with breast cancer patients was never going to be good for my own mental health. But being a breast surgeon was my job. It's how I defined myself. It fulfilled my inner purpose – to help people. I keep trying to remember what my last operation was. Would I have done anything differently if I had known it was my last? Would I have made sure that I remembered it – what it felt like? Who knows.
What happens next?
Now, I'm facing a future of uncertainty…
What do I really want to do with the rest of my life? Whilst in the back of my mind I'm aware that it might not be as long as I'd like.
I will always want to help people, but do I want to stay in the cancer space..?
How can I make a living from helping people…?
But most importantly, I need to learn (again – sorry, Mum!) to help myself. To put myself first and not say "Yes" to giving three talks in three different cities in one week, knowing I'll crash and burn for two weeks after.
Time to just 'be' for a while and see what takes my fancy. It's actually quite exciting!