Most people know that chemo makes your hair fall out. I was told this at the initial appointment with my oncologist, and had decided not to use a cold cap (to try and keep my hair), as it might induce vascular headaches, seeing as I'm prone to migraines.
Free Brazilian, anyone…?
I knew that the hair on my head would fall out, and that I would lose my eyebrows and eyelashes. What I didn't realise was that ALL my body hair would fall out. Why hadn't I thought of this? Why had no-one told me before now? I hadn't planned on looking like a 12 year old whilst simultaneously going through the menopause.
On the other hand, I wouldn't need to shave under my arms or legs for the next 6-9 months, and it would mean a free Brazilian on the NHS – without having hot wax applied down below whilst you're lying there with your legs akimbo or on all fours…. Think of the money I will save on razors and shaving cream! We'll only need one razor in the shower from now on (Dermot shaves his legs – it's a cycling thing… Velominati rule 33).
Waiting game
I knew that my hair was going to fall out soon because my scalp was very tender to touch, and I just sensed that the chemo was doing its thing. My hair had also become quite dull – it's the only way to describe it. Even after washing it, it just felt lifeless (and yes I know hair itself is dead, but you know what I mean).
We had thought that it would take 2-3 weeks for the hair to come out, and had booked a head shave for that time. Dermot went to do it, and ended up crying in the hairdressers because it was so upsetting for him. But actually, most hair starts to come out on day 13-16 (I didn't know that at the time), and it was day 13 when mine fell out.
Anyone for a clump?
It was the strangest thing when it happened. It was late Tuesday night, and I was just gathering my hair back into a ponytail. As I was running my fingers through my hair, a few strands came away. I didn't feel sad or angry or upset, just curious, and relieved that it was finally happening (the chemo was working!). Very, very odd to see your hair in your hands.

Bye Bye pubes
I texted Julie to ask her about hair falling out, and she said that your pubes tend to go first. She was right. Later that morning when I was in the shower they literally just fell off. I could pull a handful out without any pain. So bizarre!
Anyway, back to the hairs on my head: that afternoon whilst walking the dogs I couldn't help myself – I kept running my hands through my hair and pulling out more and more – quite addictive (I've always been someone who picks at her cuticles, nails, scabs and things and am always getting told off by Dermot). I was pulling hair out just to check that it was actually falling out and I wasn't dreaming it. And then I told myself to leave it alone as I didn't want a bald patch. There was no way my hair was going to last for another week, so I rang the hairdressers, and they were able to fit me in on Thursday after work, so Dermot could come with me.
…Gone tomorrow
That night I washed my hair for what would be the last time, and I did have a little cry. I know that the hair that grows back can be very different from your original hair. Often a different colour and very curly. I have always been known for having a head of very thick, wild and wavy hair, and it was quite hard to say goodbye to all the strands now trying to block the plug hole.
I was struggling with the following thoughts – Would I ever feel attractive and sexy with a bald head? Would Dermot find me attractive and sexy? How would it affect our relationship and our marriage? Would we be able to be intimate? How could I voice these feelings to my husband? Was he feeling the same?
What to wear…?
Before leaving to go to the hairdressers I suddenly thought – what on earth am I going to wear to get my head shaved, and what will I put on my head afterwards? Twitter came to the rescue with my wardrobe, and told me to dress up a little. I'd also put contacts in, so I could see what was happening without blurry vision. As for my head, I hadn't really practiced tying a headscarf, and I only had one hat – but would it fit me without all my hair?
I have found several websites for scarf tying, but this one was my favourite, by eyelineher.org on youtube. You pretend the scarf is your hair, and tie it in a messy bun using a scrunchie. I took my one scarf and my one hat in a bag, together with my chemo red panda that my parents and given me, and off I went.
Clipper time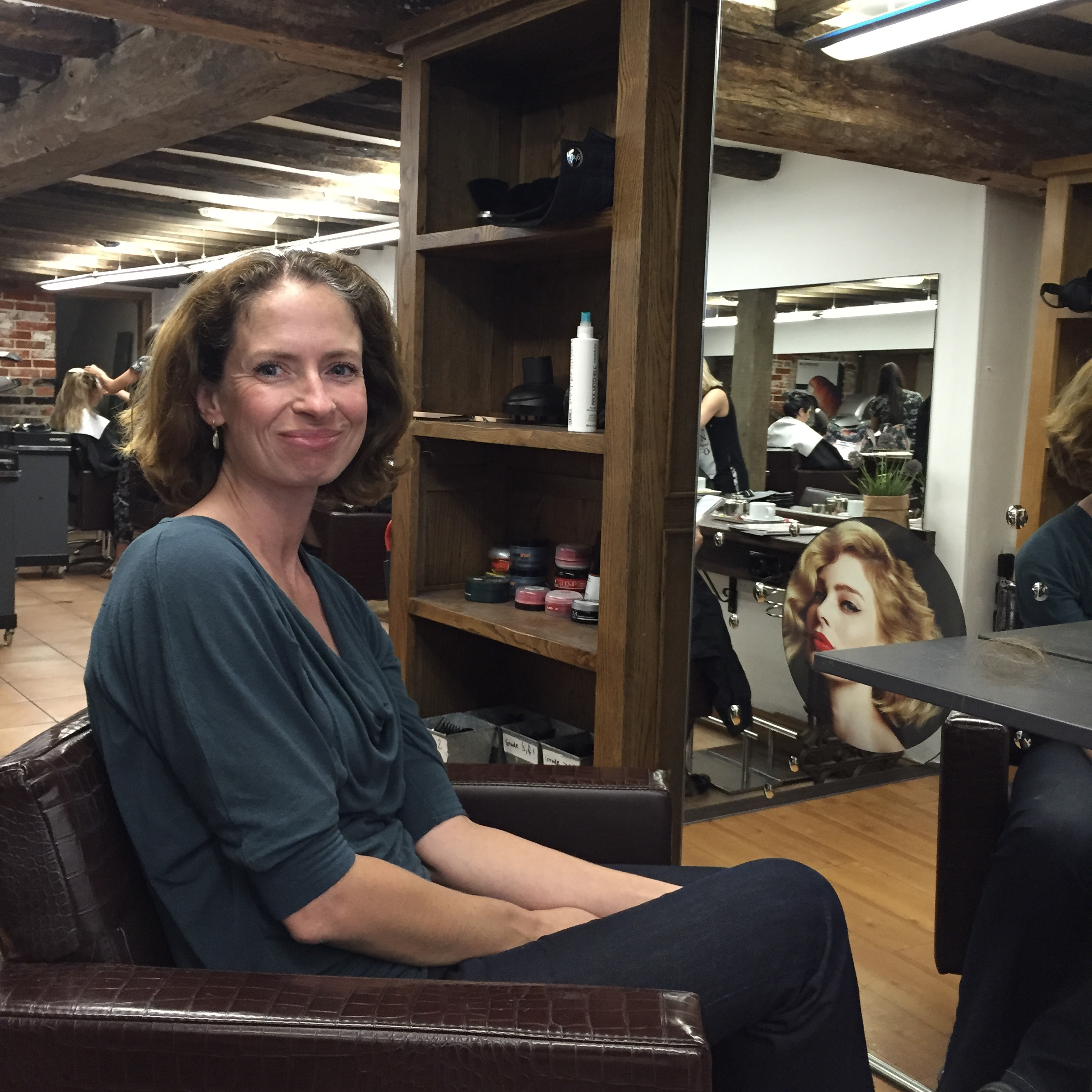 Gavin Ashley were wonderful. My usual hairdresser Mikaela looked after me. Both Dermot and her were very emotional and teary eyed, but I was curious, and a little excited to see what I would look like. She started clipping it off at the back of my head so I couldn't see, but when she reached the front, I gulped. No going back now. I didn't like what I saw – it was one hell of a shock. I felt I had to keep myself together as Dermot was trying not to cry, so kept a smile on my face.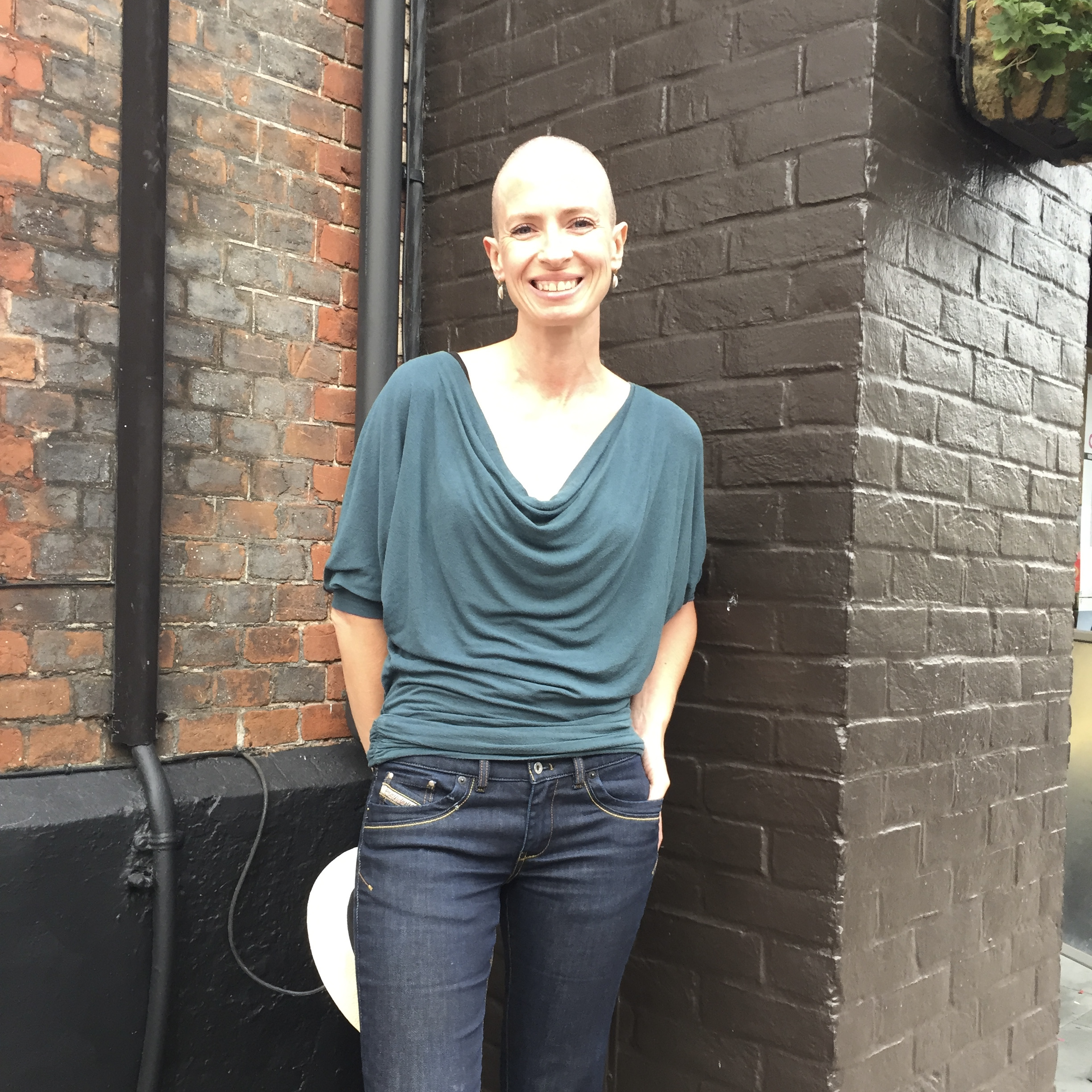 We went to pay, but they told us there was no charge- such a lovely thing to do for us at this very difficult time. Dermot and I then took some photos outside, before going to Ben's Restaurant across the road for dinner to celebrate or at least mark the occasion.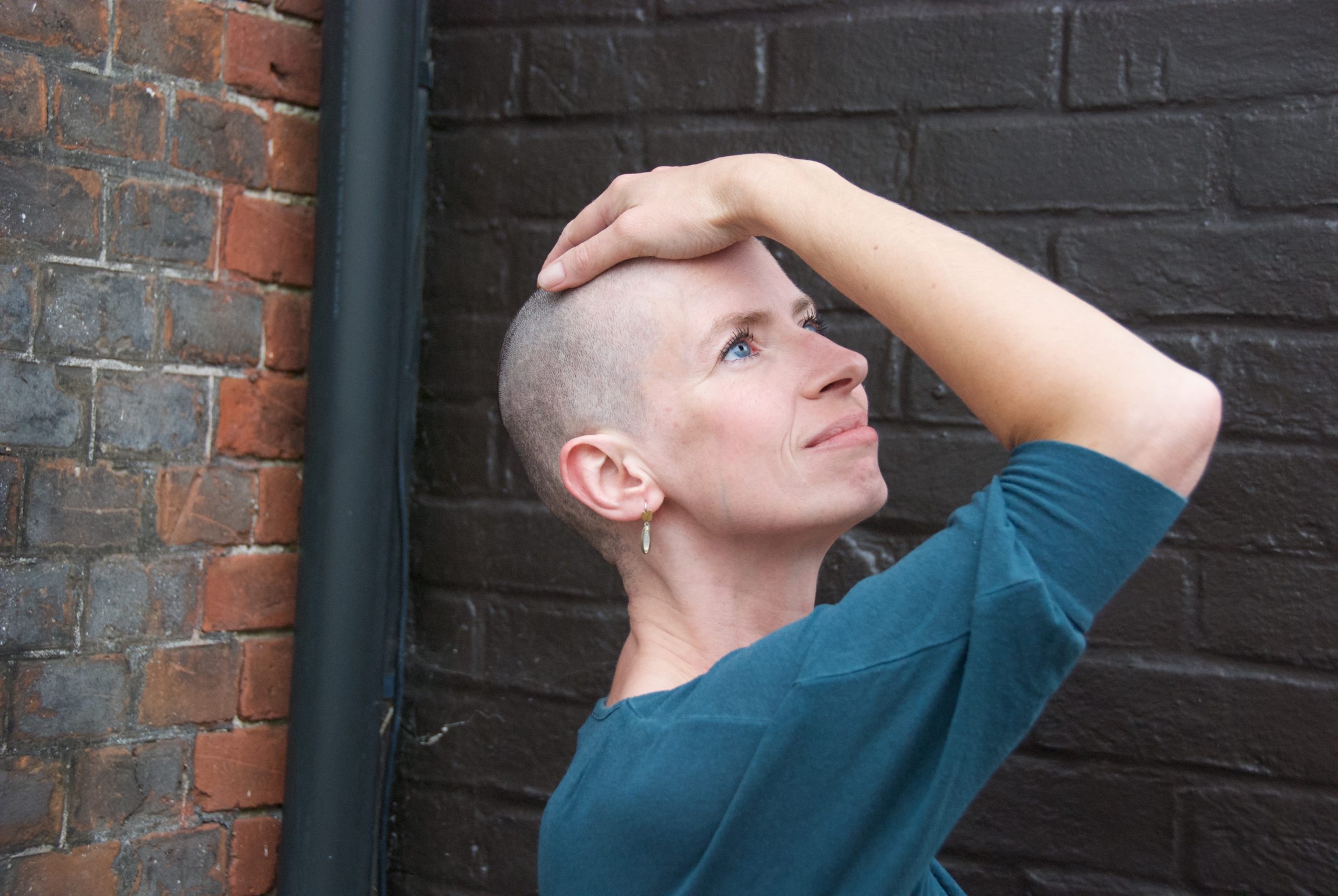 They gave us a glass of Prosecco each on the house – again, such a kind thing to do.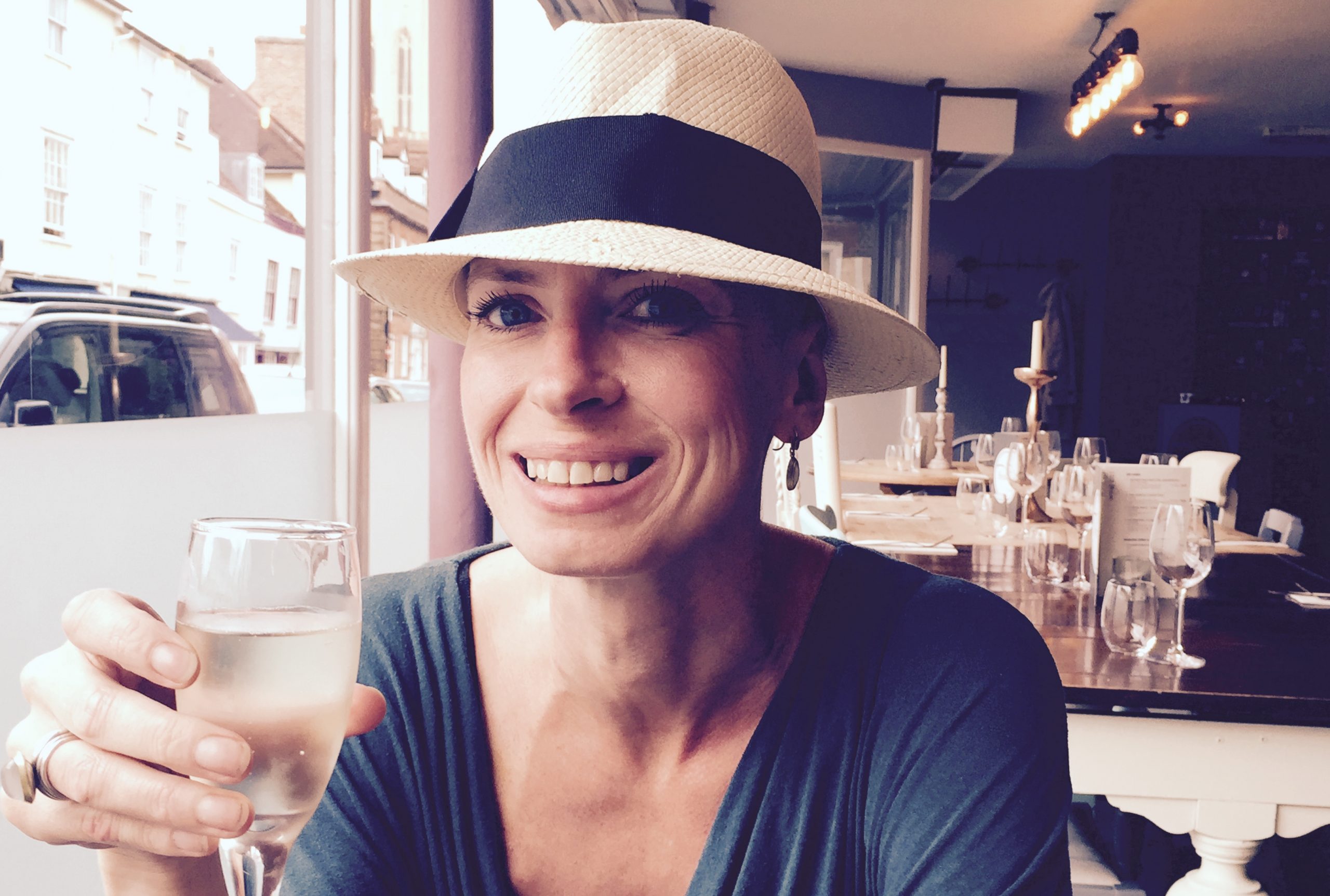 Who am I?
I got home and went to the bathroom to look at myself in the mirror. It was awful initially – I thought I looked like a freak. My usual glasses were awful, and I didn't know what to do with myself. It was sad packing all my hair creams / gels away (the amount of hair products I had to control frizz beggars belief) and my dressing table looked empty. I tried a different pair of glasses that I rarely wore when I had hair, and actually they really suited my new look.
In the shower the next day I was shedding stubble everywhere when I rubbed my head, and there were bald patches, and some more stubborn stubbly patches which were quite itchy and scratchy.
It took several days to recognise myself (just like when you have a new hair cut or change hair colour), and I'd got used to wearing scarves and hats when leaving the house. I wondered whether I'd be brave enough to leave the house 'naked'. I also started wearing more eye-make-up than normal, and discovered piles of earrings I never wear (I don't wear them when I operate and just forget to put them in the rest of the time). Suddenly doing everything I could to look and feel pretty was really important to me.
I also discovered that a very hairy cocker spaniel puppy makes an almost useful hat. He is being my hair surrogate until mine grows back!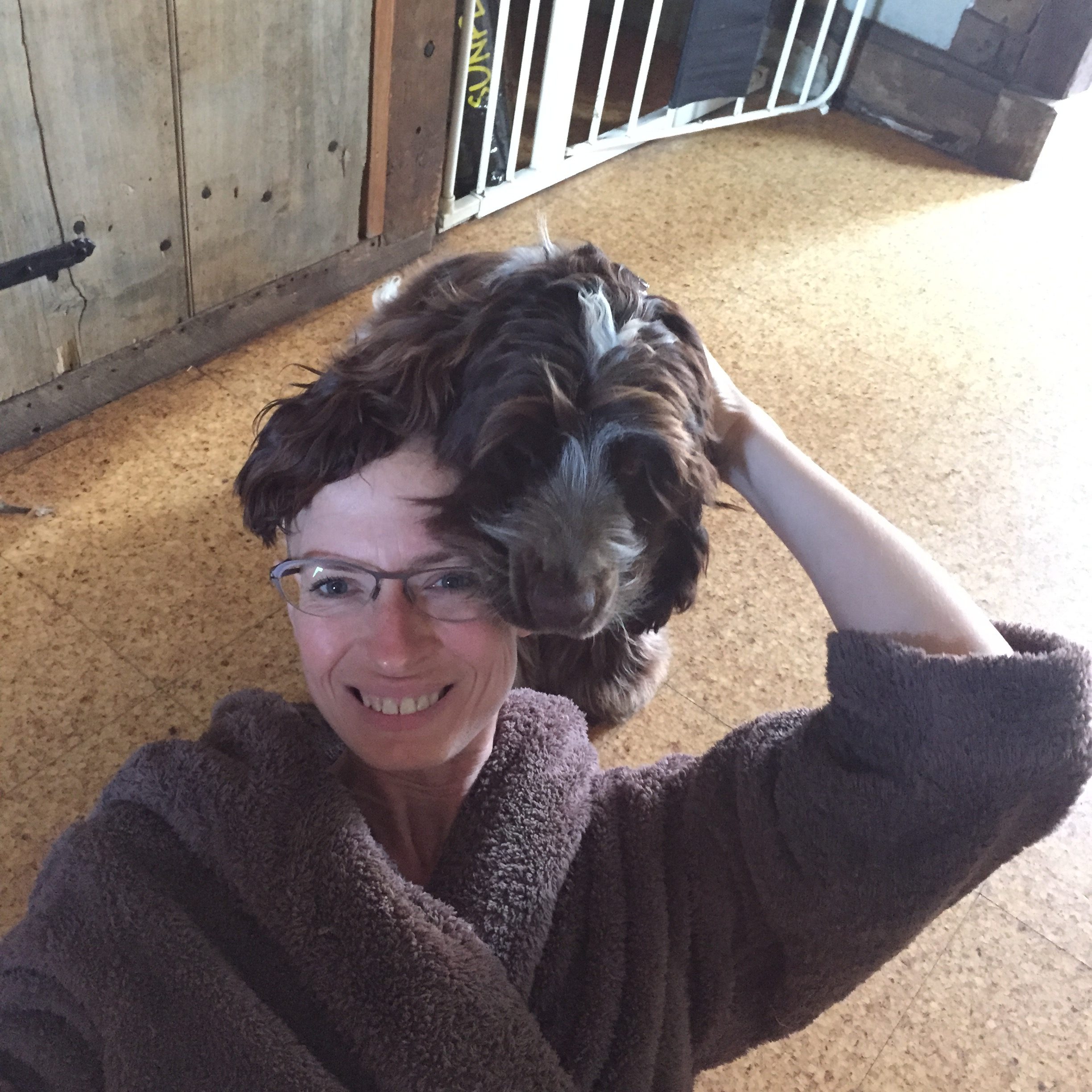 As for the rest of me…
Over the next few days my leg hair started falling out. I could pull my leg hairs out without any pain, and one day I work up and they weren't there. Where did the hair go? Are my jeans now lined with fluff? Did the bed bugs have a massive feast? Who knows? And then your nose hair falls out so you constantly sniff to keep the snot in – I'm so lucky!
Where to buy hats and scarves
These are links to some of the hat websites that I have looked at. One thing that irritated me and put me off on-line shopping is that a lot of sites use ugly mannequins to demonstrate the hats, instead of a real person, and the hats look so sad when being modelled that way. There are so many women who lose their hair during chemo who I am sure would be willing to volunteer to model, to make the hats and scarves on those websites more attractive.
My mum sent me some from hats4heads, and they were great – they do thin cotton sleep caps to keep your head warm at night, and she also sent me a Buff, which I live in at home. I've just bought a polar Buff with a fleecy bit to keep my head warmer as the weather cools.
I bought several scarves from places like Accessorise and Debenhams in the sale, and some hats (straw for summer and a baker boy, trilby and fedora hat for when it gets cooler) from local stores.
Dermot also bought me a fabulous hat from Paul Smith for a little bit of glamour.
Hat adjustors
If a hat is too big for you, I found these fab things on amazon. You stick them under the brim and they bulk it out a little to stop the hat slipping over your ears.
Websites
Breast Cancer Care Headware Suppliers
Macmillan hair loss info
Breast Cancer Care Hair Loss pdf
The following sites are all listed in the first hyperlink – BCC headwear suppliers:
Suburbanturban is great for funky hats and turbans and scarves, with lovely real models
Anna bandana has some great cheap jersey caps and scarves, but mannequins for models.
Hats4heads has a great variety