I'd made it through the last of the Docetaxel, which was a huge relief. Everyone was telling me that I was half-way through, which was a good thing. But I've always been a pessimist, and being half-way just meant that I had to go through it all again. But I tried to put those thoughts behind me, and enjoy the 2 good weeks coming up, as I had a couple of crazy things planned, and a birthday to celebrate 🙂
My parents had come down from Scotland to see me for my birthday, which was lovely, especially as they would see me on a good week, and not have to say goodbye to me on my chemo sick bed. Earlier in the week Dermot had seen a flyer for a 'colour run' in our local park, to raise money for the East Anglia Children's Hospice. I'd always wanted to do one of these – you run 5k, and every km you get covered in powder paint, but the dates had never worked out. But now the timing was perfect, and I thought it would be fun for my parents to come and support us too.
Run or Dye..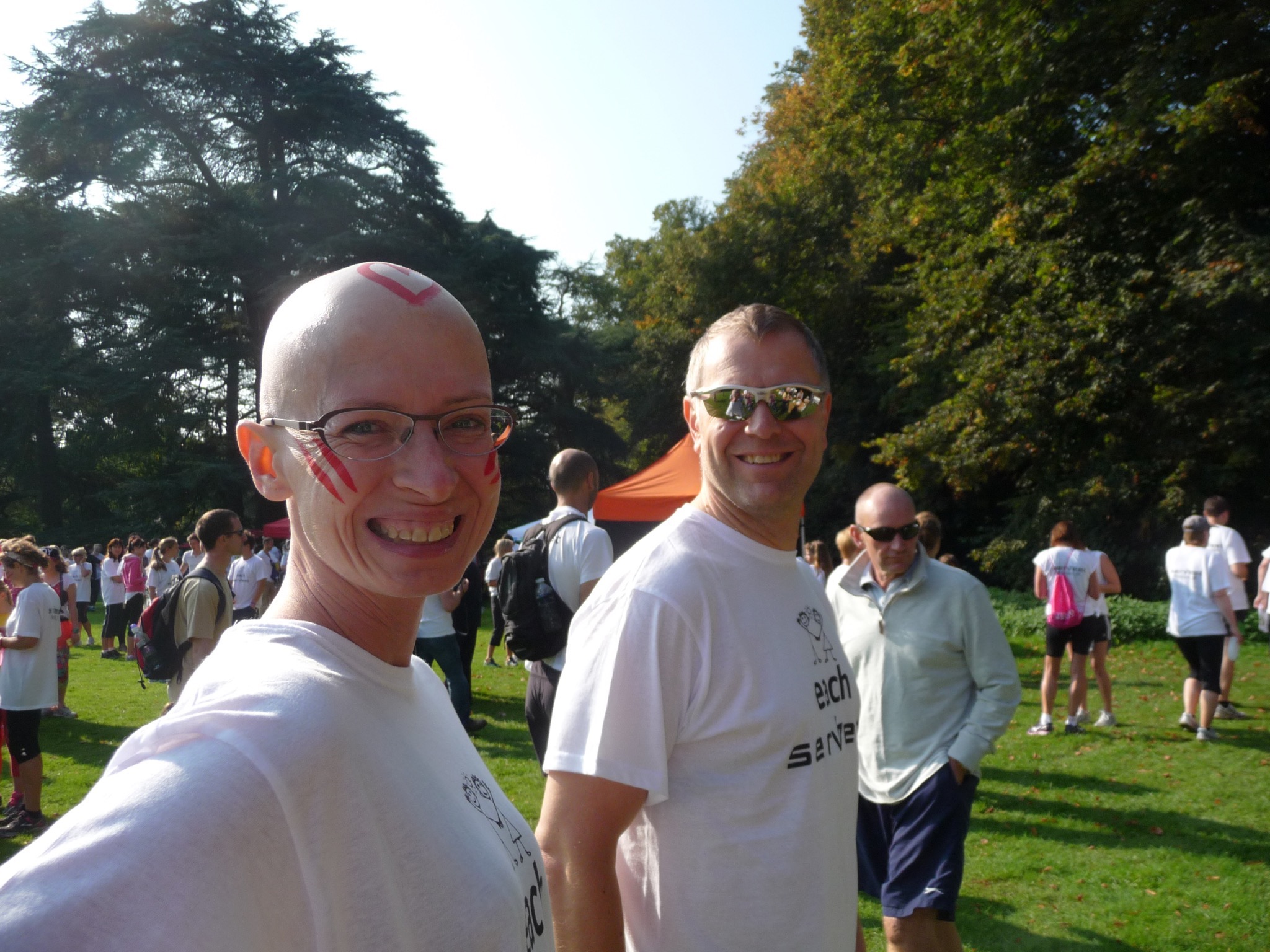 It was a lovely sunny morning (which was a huge relief as it had pissed it down all week), and we joined hundreds of runners and walkers of all ages at the park. There was a crazy Zumba warm-up – unfortunately the stage wasn't high enough so we could only see the instructors' arms, and I was in fits of giggles. Dermot stood behind me so I couldn't see what he was doing, and when we were told to 'grapevine' it was so funny to see all these clueless men who had never been to an aerobics class in their life. The warm-up was about 15 mins and I'll be honest, my heart was racing at the end of it. Forget warmed-up, I was fully cooked.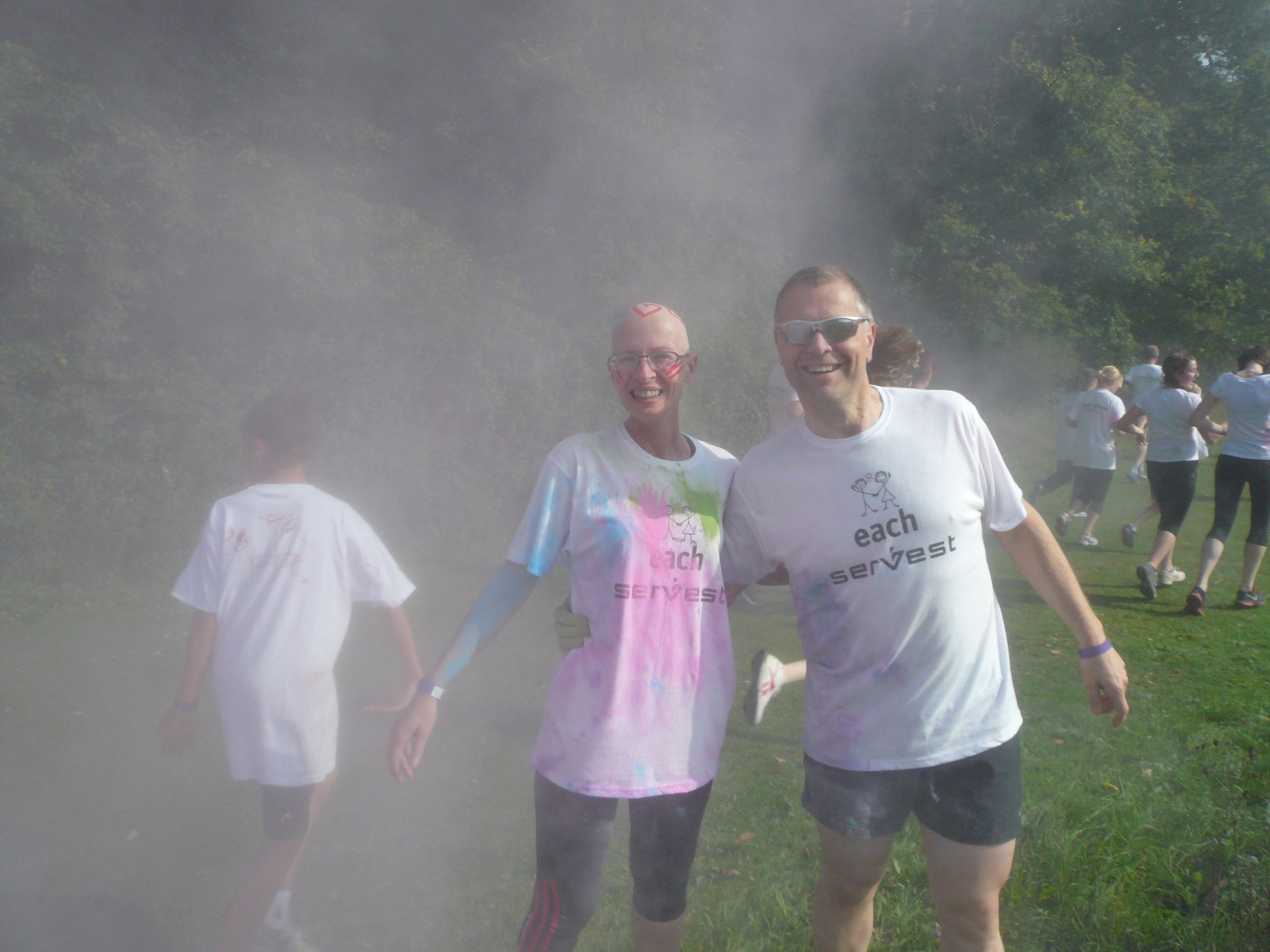 I got some go-faster stripes painted on my head, and then we were off. It was a beautiful route through the park, and my parents saw us 3 times, just as we got covered in paint. You had to hold your breath as the powder went everywhere, and the kids throwing it at us seemed to be having a ball. The run was a struggle for me, but I managed to run the whole way. I couldn't stop smiling as I crossed the finish line, and was given a medal! I wasn't expecting that. I thought I was completely covered in paint. How wrong I was…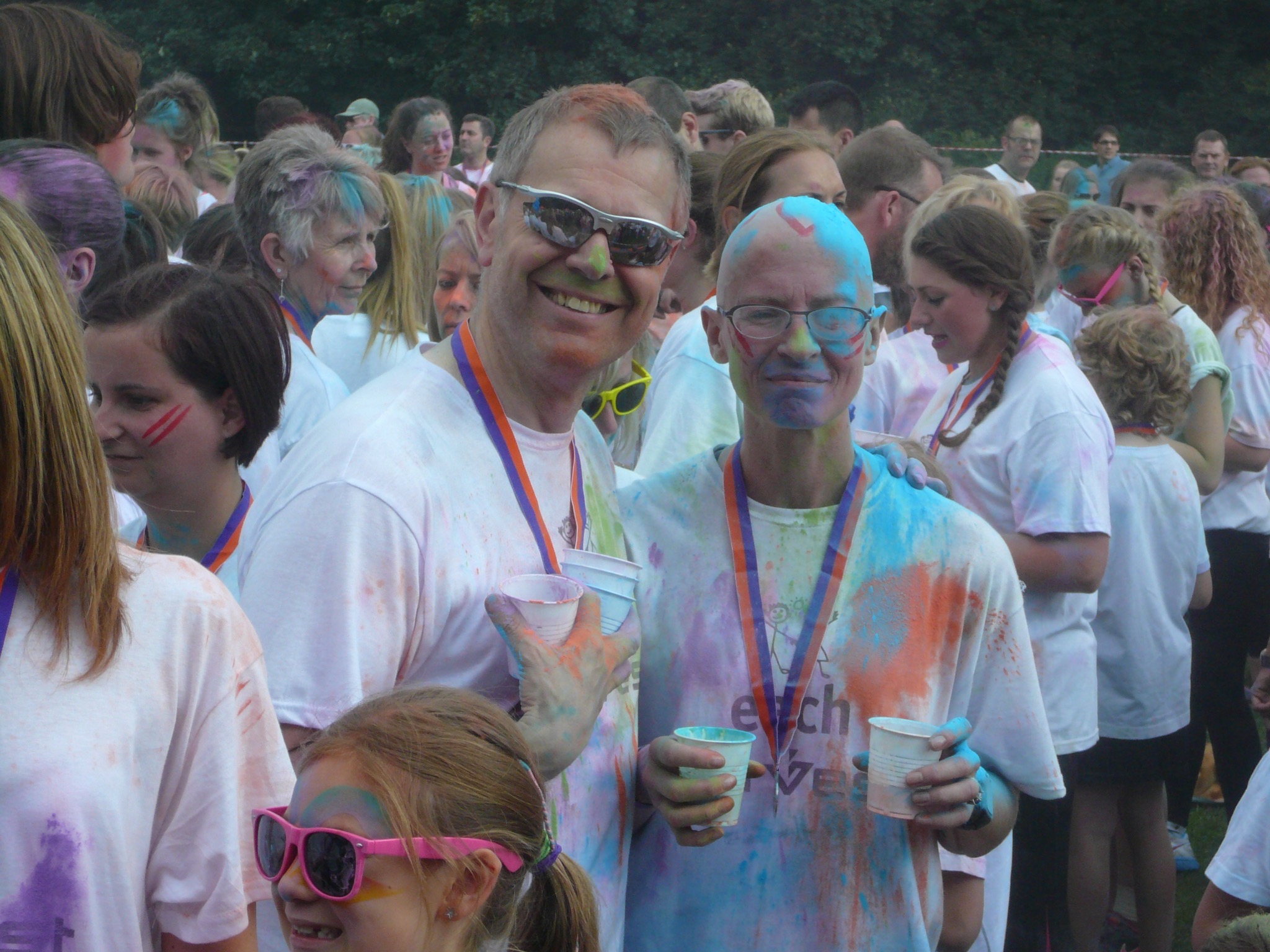 At the end, they had a paint party for all the runners. We were all corralled into a pen, and were given cups of powdered paint. Dermot tipped one over me whilst we were waiting, which was very helpful, as my glasses were covered in paint. On the count of 3, we all threw our paint in the air – and caused utter chaos! No-one could see anything for about 30 seconds whilst the thick cloud of purple paint finally cleared, and when it did, we were really covered. It was crazy! A bit like something out of an apocalypse.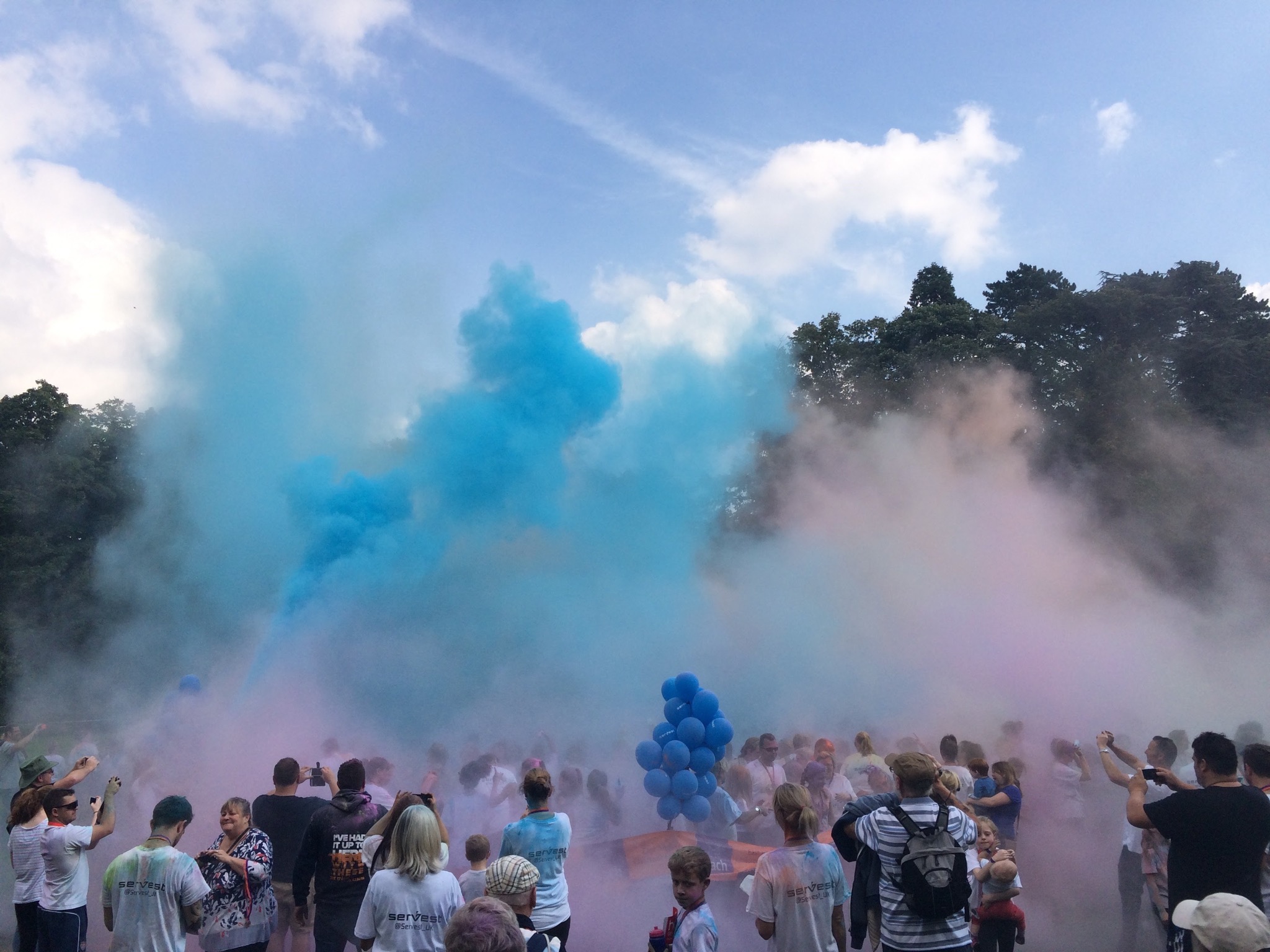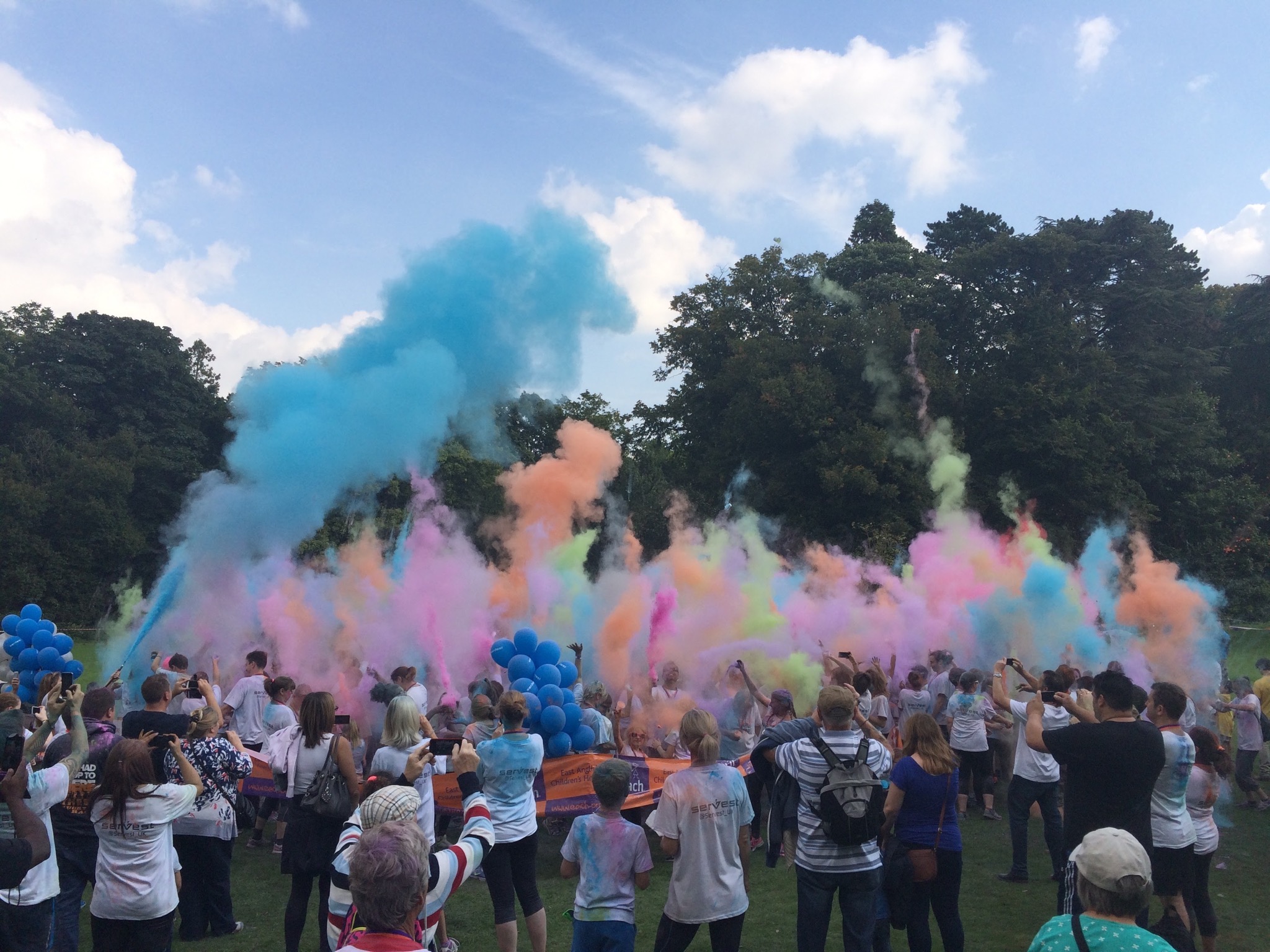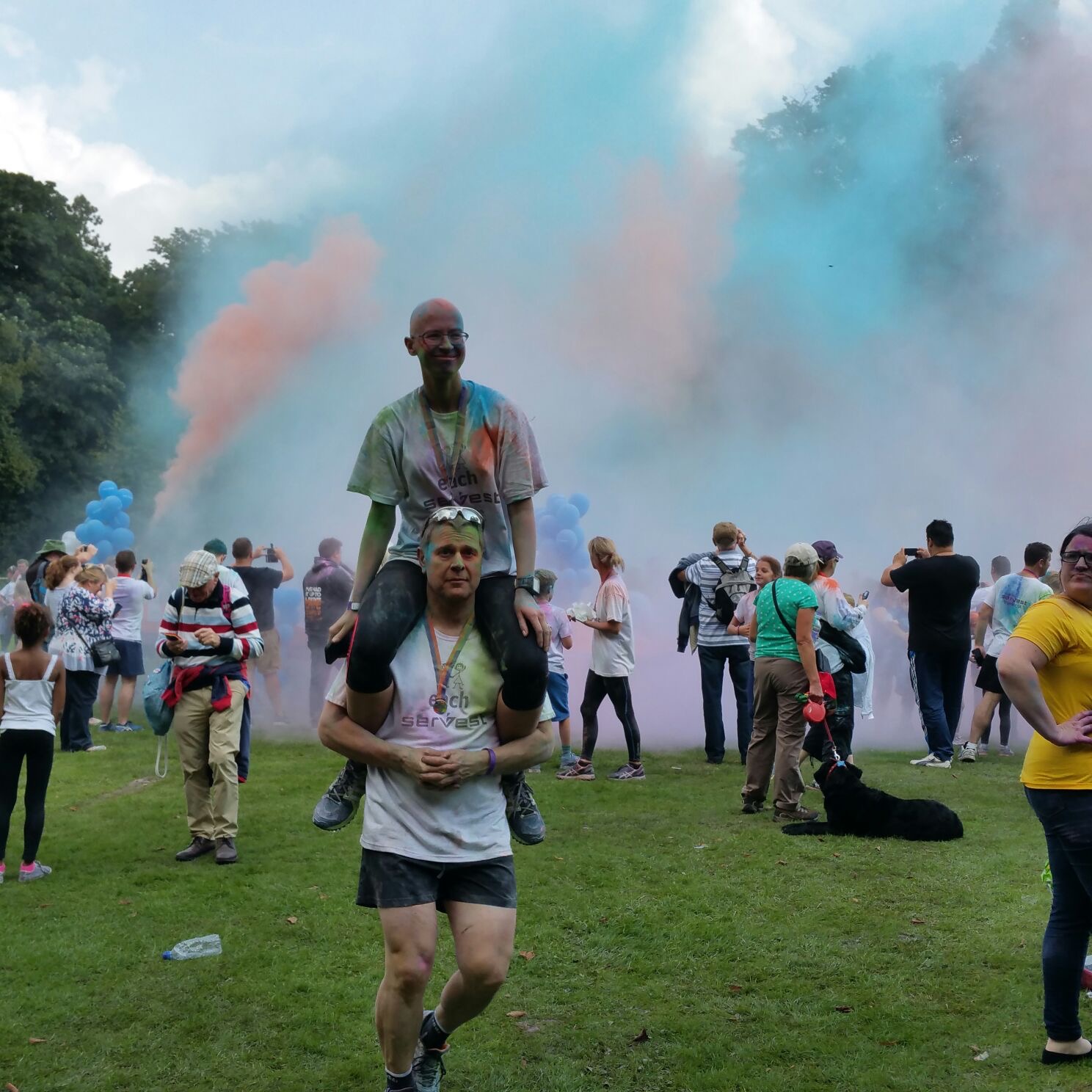 After a much-needed pizza from one of the stalls, they did it again for the later finishers. I got up on Dermot's shoulders for a birds' eye view of the mess, and got some great photos. The car journey home was interesting – we were carefully sitting on towels so the car didn't get covered, and then a long shower to scrub it all off – and it did come off very easily, although my snot was purple for a day or too.
21 again…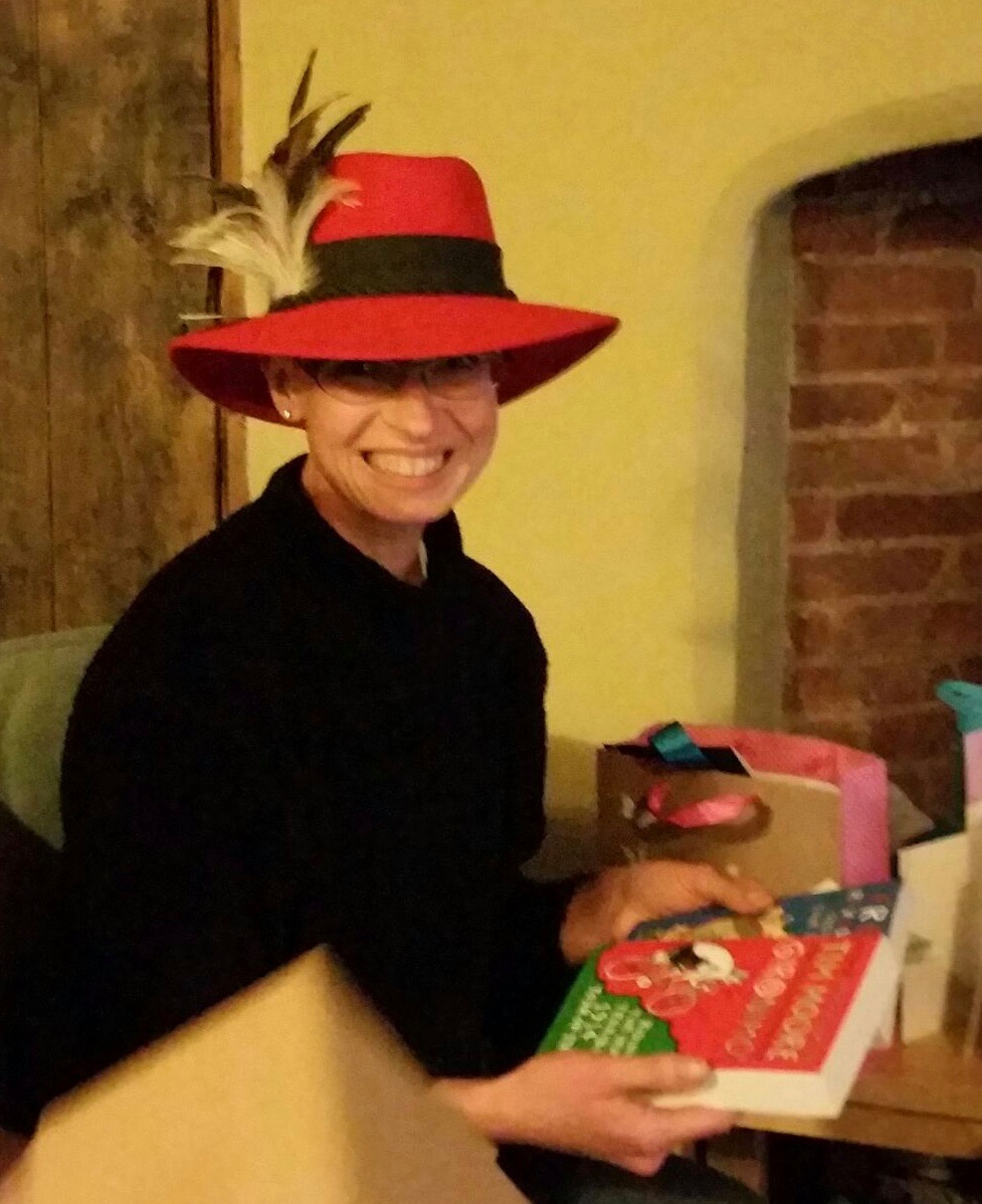 We celebrated my birthday the night before the event, after an echocardiogram in the afternoon to check my heart before the next lot of chemo drugs, which are cardiotoxic (i.e. can weaken the heart), and I was properly spoiled by my family. I didn't really feel like celebrating or eating out, as my sense of taste was still all wrong, but we went out for a curry anyway. That night I told my parents what my properly crazy plan was for the weekend. I had been scared to tell them in case they were really cross with me, but my parents were wonderful and told me I should go for it. On my birthday itself I had another MRI – so I got some more cod liver oil capsules stuck on my nipples. I knew what to expect now, and it wasn't nearly as scary as the last time. I'd remembered to take a hat to keep my head warm, and drifted off to sleep. The rest of the week was spent preparing for the weekend….
Time to Tri!
I was meant to be doing the Hever Castle Olympic distance triathlon this weekend, but obviously had to cancel it after my diagnosis. However, a couple of weeks ago I saw that my cycling club, the West Suffolk Wheelers, had their sprint triathlon on the same weekend. It was fully booked, but I e-mailed Julian, the organiser, to see if there had been any last-minute cancellations so I could do it.
It was a completely crazy idea to do a triathlon half-way through chemo, but I wanted to prove to myself that I could do it, and show that it is possible to exercise, and do more than you think you can, during treatment. To my surprise, there was a place available, but Julian sensibly had concerns about me doing it. What if I got ill on the bike or run course? The marshals weren't first aiders. I did my best to persuade him that I wasn't racing, I was just planning on getting round, and if it took me 3 hours, then so be it, and Julian gave me the OK.
It was a lovely sunny day, again – I have been very lucky with the weather so far, and I set off to Stowmarket Leisure Centre. Dermot was on-call all weekend but was hoping to be able to see me at the finish. It was a pool-based triathlon, and was brilliantly organised. For the swim, you had to swim 12 lengths – up and down a lane, then duck under the rope and repeat. This is much easier that a previous triathlon I'd done where you had to swim 16 lengths in one lane – I kept losing count, and because there were 3-4 people in the same lane, overtaking became quite difficult. I'd said it would take me 8 minutes to do 300m, as I'd only swum a couple of times during chemo, and although I was tired, I managed to front crawl all the way.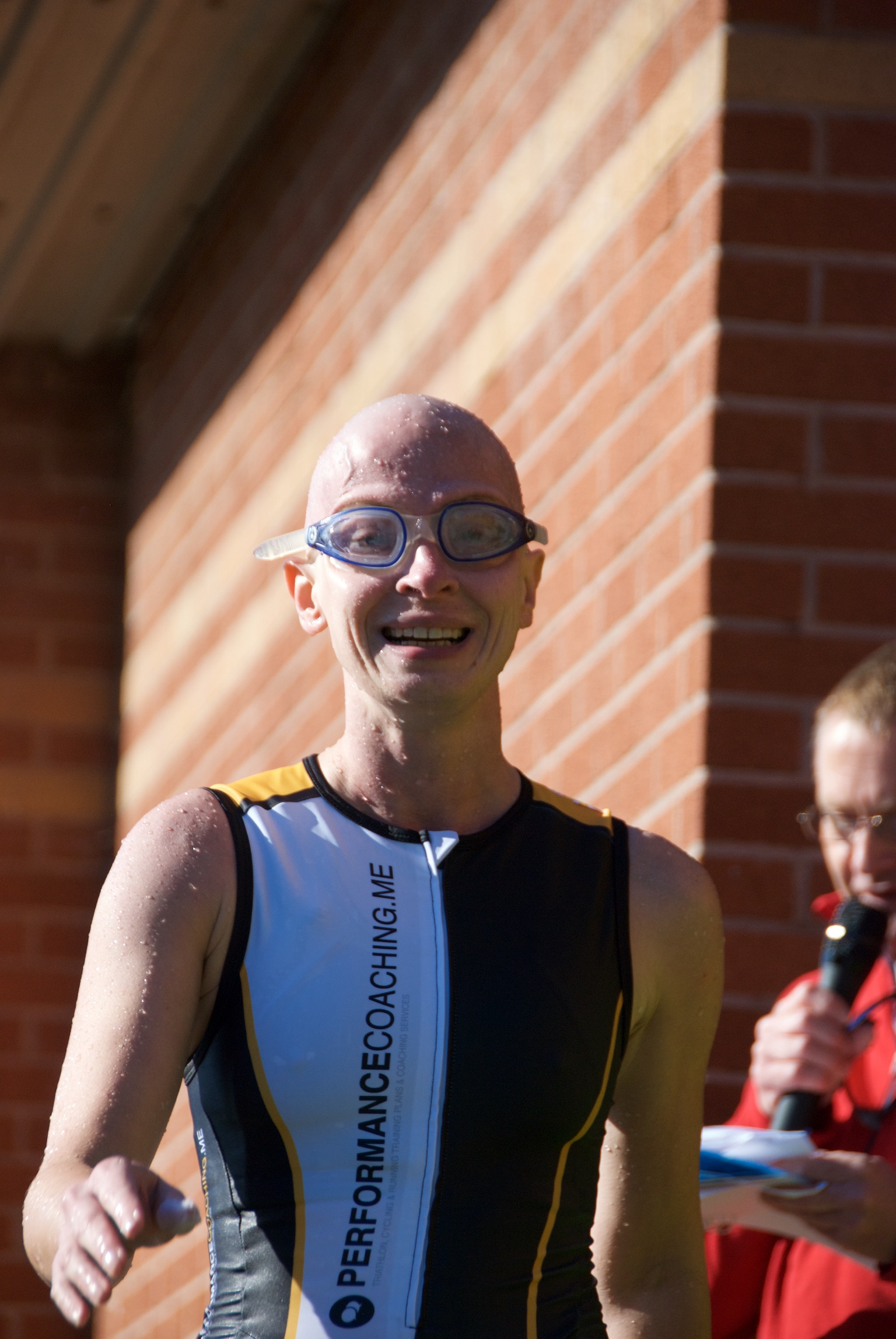 I slowly walked out of the pool to the transition area (no doubt annoying those who were properly racing and went flying past me), and was delighted to see Dermot who had raced round his ward round and come to cheer me on. I had a very slow transition – putting on my Breast Cancer Care cycling jersey over my tri suit and eating an energy bar, but I was soon on the bike and on my way. It was a lovely bike course, with some ramps (I live in Suffolk so I what I think of as a hill doesn't really count), and they really took it out of me. I think I must have confused the marshals (my bike helmet hid my bald head) as I was sitting up and taking my time around the corners and junctions, when they were urging me on to go fast as the roads were clear.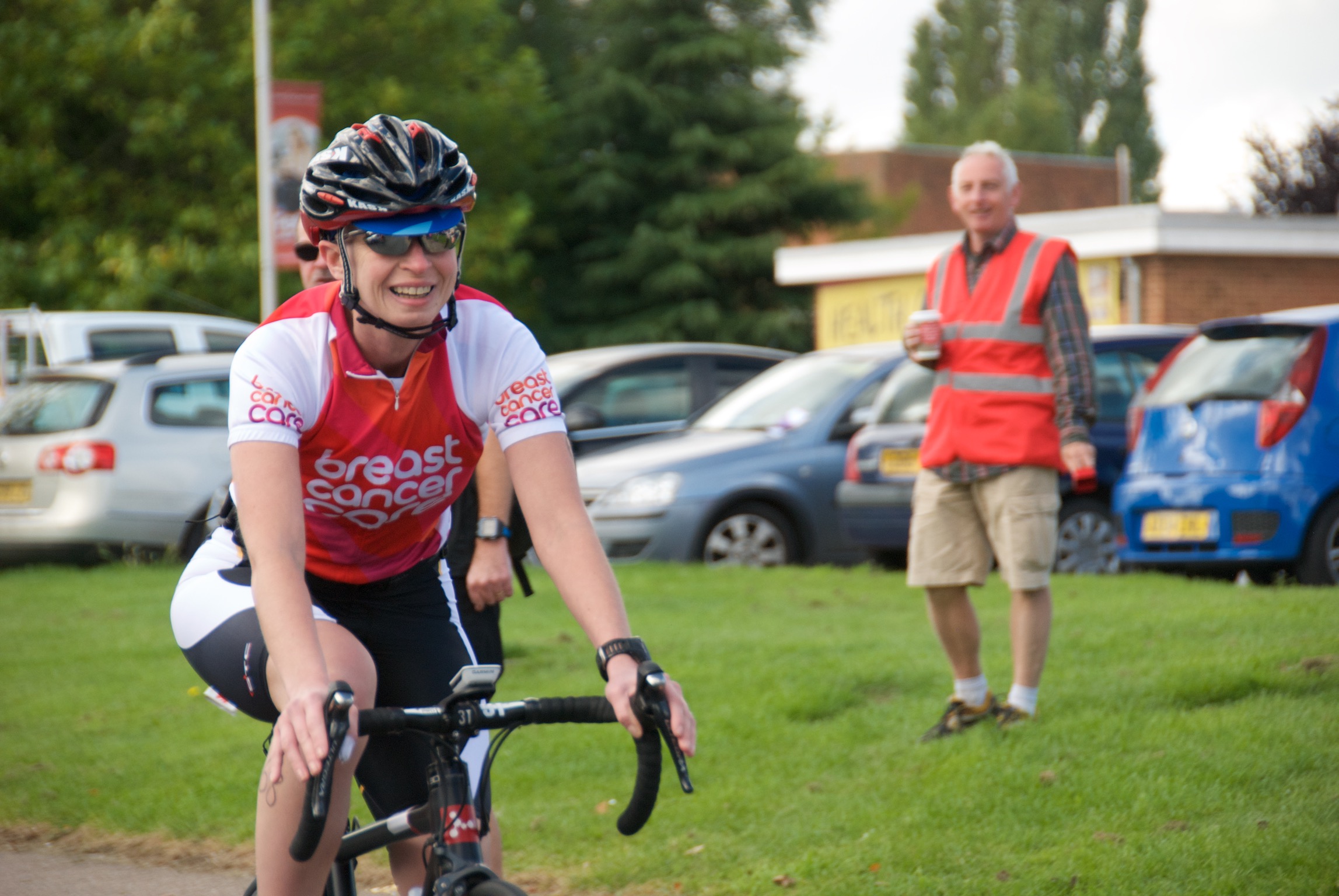 It was a 20km bike course, and after about 45-50 minutes, I was rolling into transition for another slow change. I swapped my jersey for the BCC running top, had another bite to eat, and set off on a very slow jog. The beauty of the way the tri was arranged is that the slowest swimmers went off first, with the fastest swimmers starting almost 90 minutes after me. This meant that although I would have an incredibly slow 5k run time, I wouldn't be the last one out on the course. I had no idea what my position was and I didn't have to deal with the embarrassment of being last.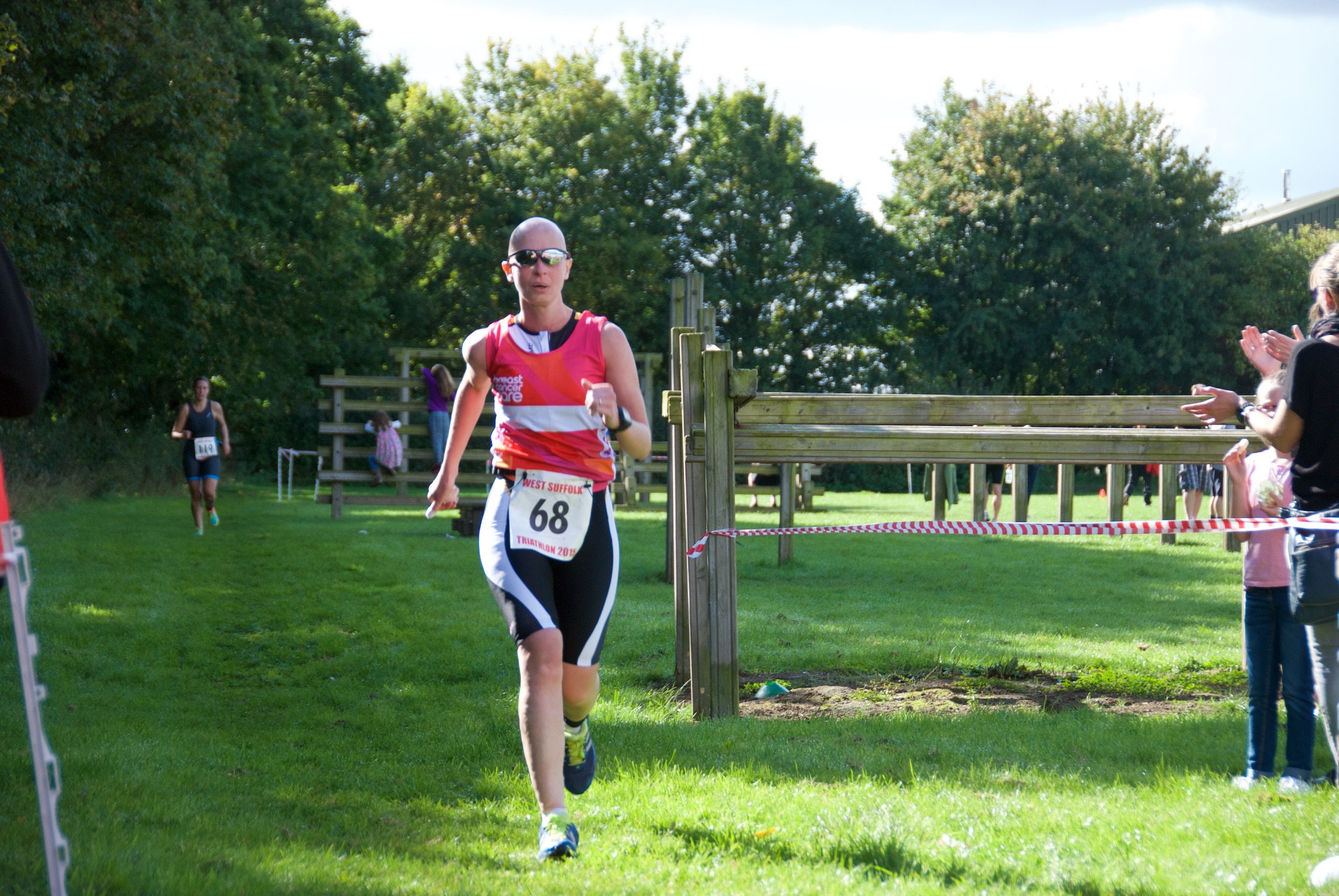 All I wanted to do was to run (jog very, very slowly) the whole way, without walking, and I did it. It almost killed me, and I think I took about 45 minutes, but the sense of achievement as I sprinted across the finish line was amazing. Both Dermot and I were in tears. I had proven to myself that chemo hadn't taken over my life completely.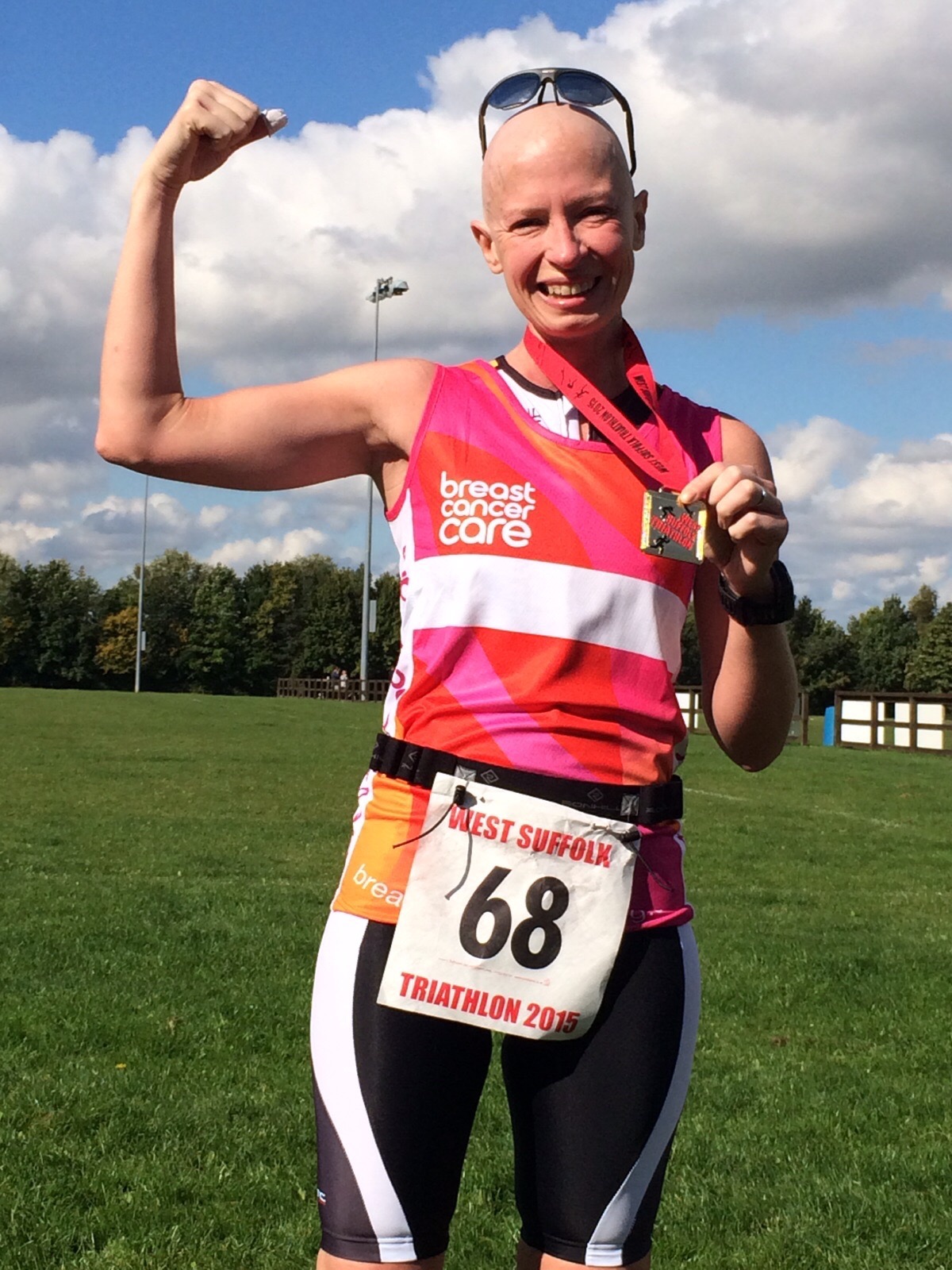 Accidental superwoman
I was a bit nervous that I would suddenly seem like superwoman and make other people who are struggling just to survive chemo feel awful because they're not doing anywhere near as much exercise as I am. I was also feeling guilty myself that I wasn't doing as much as some of the women I follow on Twitter. There really are some amazing women doing amazing things whilst having chemo for metastatic breast cancer. One of the woman I follow is an endurance athlete, and she bikes 15-20 miles and runs 5-6 miles most days just to help her feel 'normal'.
I personally feel that just going for a simple walk every day has made a big difference to my mental and physical state during chemo. I feel like crap the moment I wake up and just want to stay in bed all day, but I know I have to get up to walk so I don't let Alex my neighbour down. And once I'm up and dressed I feel so much better. I would never have done any of the park runs or cycle rides if I hadn't been doing it before I was diagnosed.
However, at the triathlon, I noticed another amazing woman with very short hair. She had signed up to do the triathlon, her first triathlon, 7 weeks after her last chemotherapy session, as something to aim for. It just goes to show that you can do anything if you set your mind to it. #thisgirlcan