It was another lovely sunny day, that was going to be ruined by my final Docetaxel chemotherapy cycle. I was really dreading this. Although I couldn't really remember just how bad I was in the bad week of cycle 2, I knew that I didn't want to have to go there again.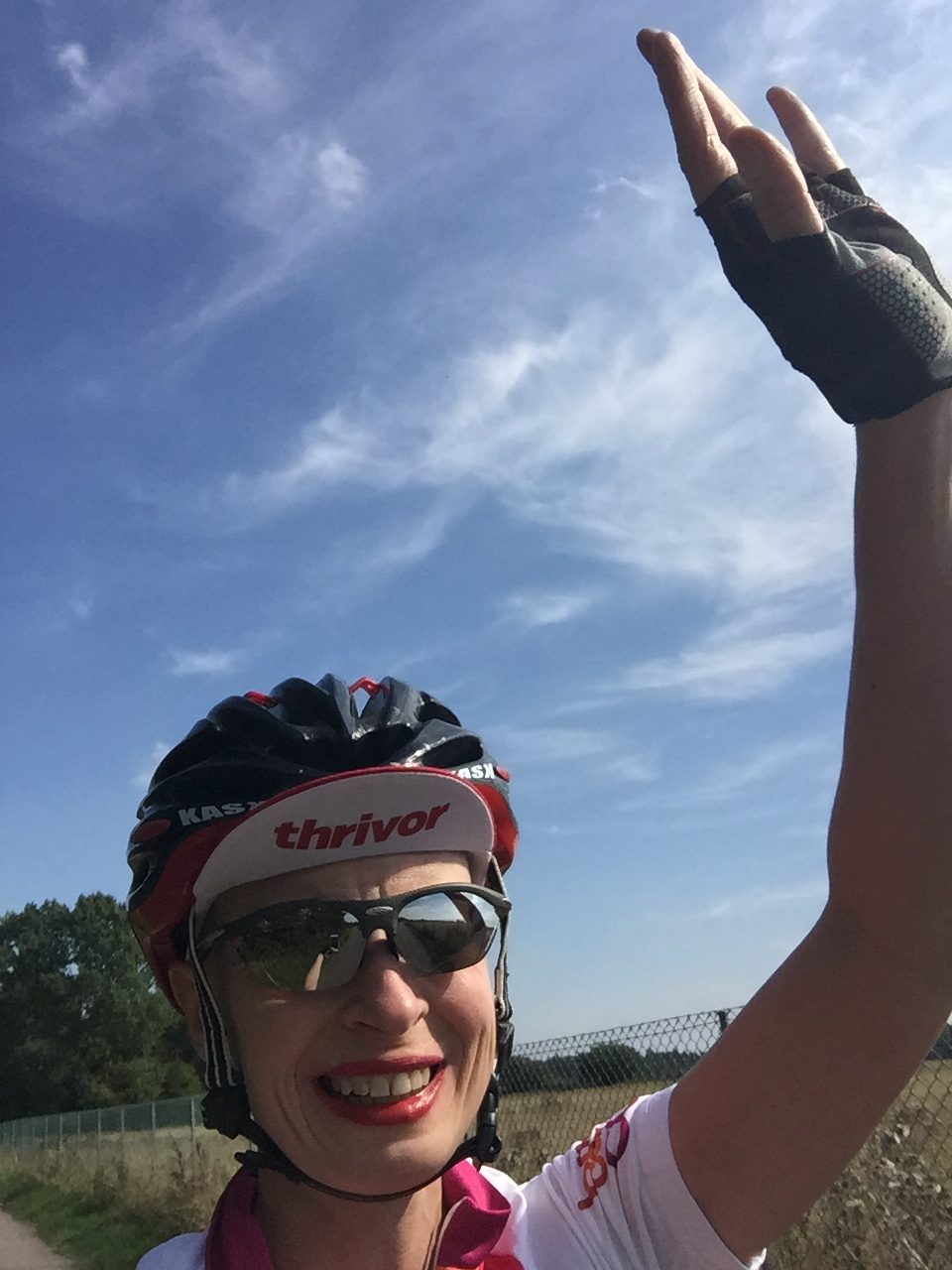 It was also hard being in the house alone, and I spent the whole morning just waiting to leave the house, whilst praying for a reason to stay. I had decided to cycle again, especially as the lovely people at Breast Cancer Care, through my tweeting, had sent me a cycle jersey to wear. This did put me in a good mood, and I was able to take a 'selfie' to prove that I could still cycle with both hands in the air – little things matter when you're having chemo.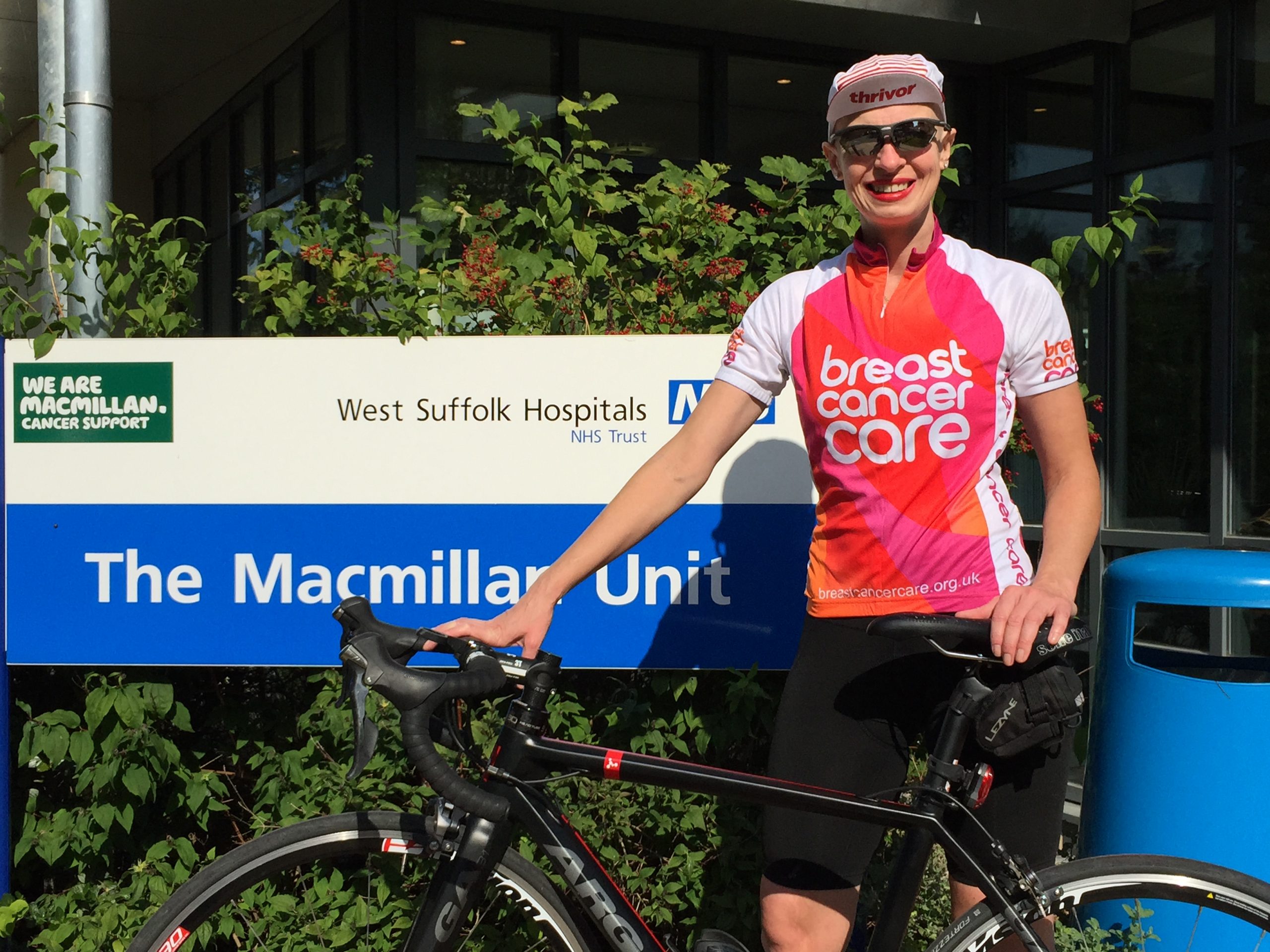 The chemo itself was relatively uneventful, and I was inundated with visitors. Luckily, because my chemo was at the end of the day, the unit was emptying and there were enough chairs for my friends to sit on. Patricia and Liz, a couple of consultant anaesthetists, joined Julie, and the minutes flew by. Suddenly it was time to collect my chemo party bag, go home, and wait for the crap to start.
Park Run and Party
I had thought that this cycle would be like the last one – much easier to tolerate that the first because of the change in GCSF injections, and I'd just spend a week on the sofa feeling hungover. I was wrong. On the Saturday Dermot and I did the park run again, but I was noticeably more tired this time. I had to stop and walk several times, and kept putting myself down, feeling like a failure. The bloody perfectionist in me won't let up, chemo or not.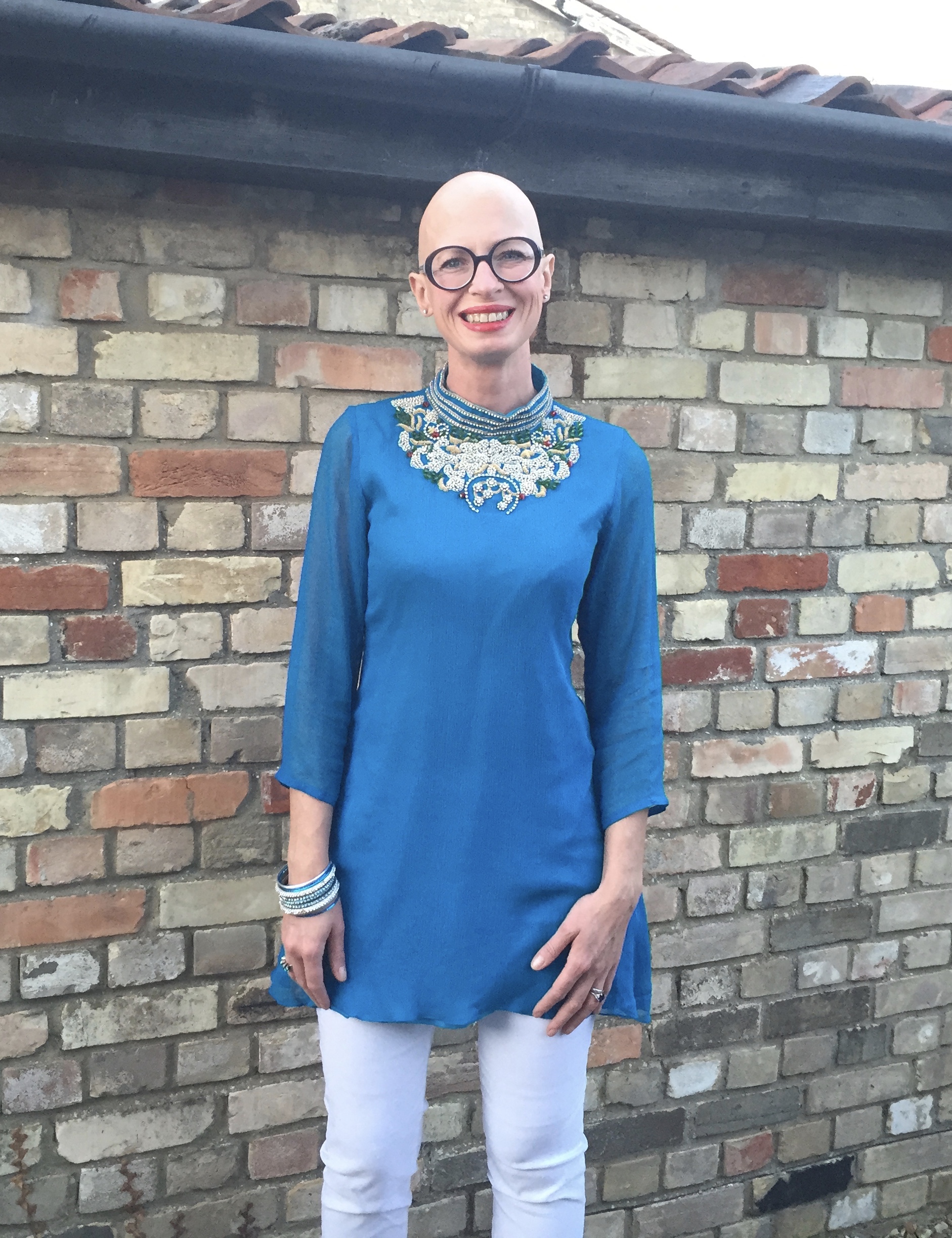 In the evening we went to a party hosted by one of the consultants at West Suffolk, (his wife is in my book group), which was a bitter-sweet affair. This was my first social outing since losing my hair and I had a real panic over what to wear. I hated my reflection in the mirror. It is impossible to blend into a crowd when you are tall and have no hair. My ankles were really swollen and I definitely didn't feel attractive. In the end I settled on an Indian outfit, and put on my 'mask' – a bit like 'fake it until you make it' but I rarely ever make it…. This is how I used to cope at work and with friends when I had depression and was trying to hide it. I am very, very good at pretending that everything is fine when talking to people I don't know very well, and sometimes even to those I do.
I was worried that I would spend the whole night going from person to person talking about cancer and chemo, and I just wanted to forget about the whole bloody thing for one evening – there is more to me than breast cancer. In the end, it was fine. I got used to chatting about chemo, and even had the energy for a bit of a dance – but sober dancing in a room full of merry medics is hard at the best of times, and I did miss having a head of hair to fling around.
Oh so tired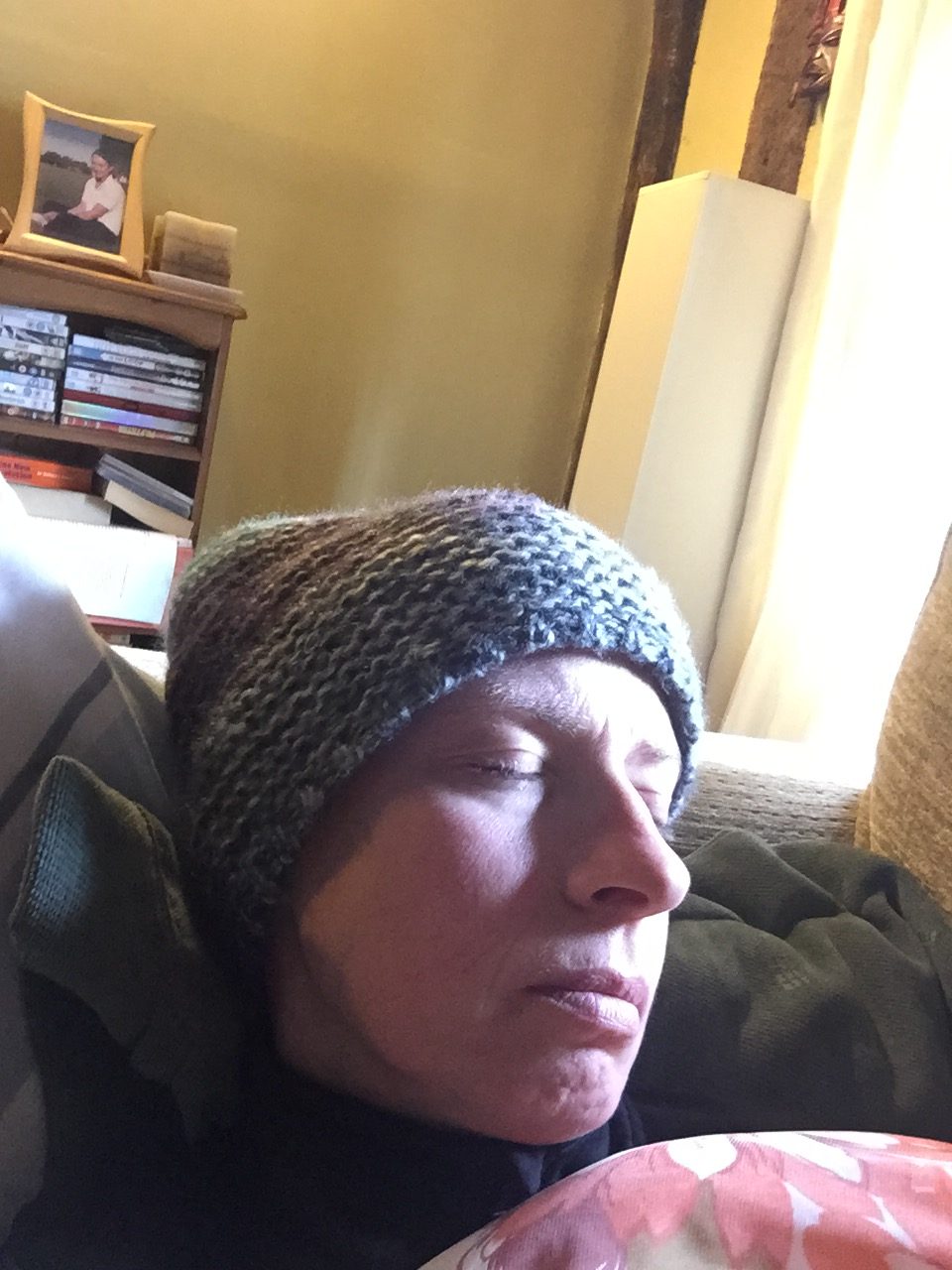 Come Monday, I was absolutely exhausted. I felt short of breath at rest, and was breathing really quickly, even when I was just sitting on the sofa. Dermot was worried I might be anaemic, but after a quick check of the chemo side effects, feeling breathless is normal, as long as there is no chest pain. Is there no end to the list of things you have to deal with? Just walking to the toilet made me dizzy, and I had to shower sitting down. Chemo brain kicked in again, along with aching arms, legs and bones. I had done too much at the weekend, but I wanted to make the most of the weekend before the side effects kicked in.
The insomnia and weird dreams were back with the steroids, and I started to mentally get quite low. I had had enough of feeling like this – that fact that my body was so weak at rest and that I had no control anymore. I couldn't be arsed to drink litres of water during the day, and taking all the tablets was getting tedious. I was no longer the perfect patient – I was bored with it all. I got more and more constipated again, despite swallowing laxatives, and ended up doing something I never, ever thought I would have to do, just to get things going. Trust me, any more information would definitely be too much!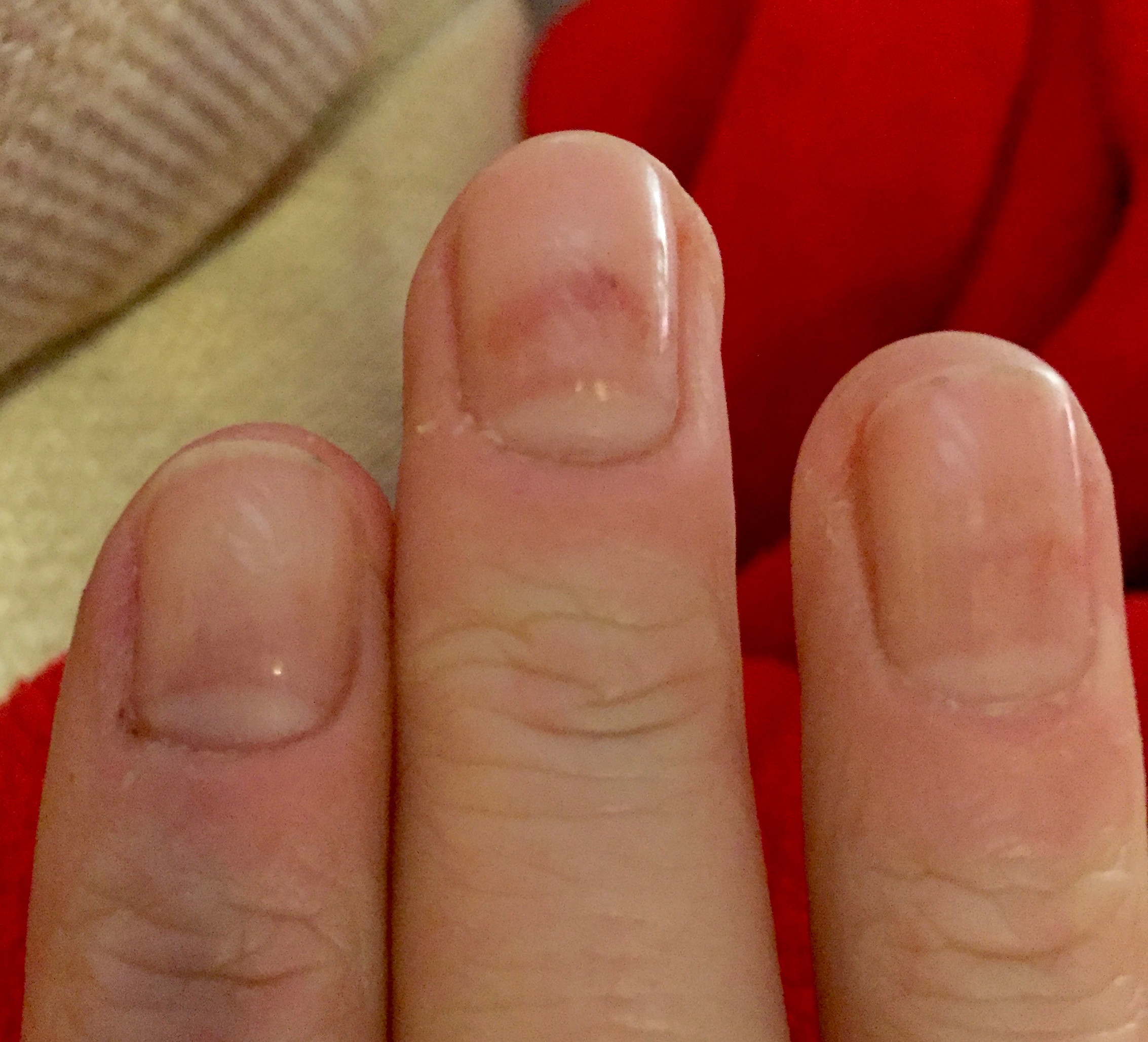 The skin on my fingertips became really thick and calloused, and didn't peel like in the last 2 cycles. So I was left with numb fingertips that were useless to me, and very sore nails with what looked like blood-blister ridges half-way down. I couldn't pick up small objects, couldn't open the top of the shower gel, couldn't type on my laptop. Here's a middle-class chemo problem – not being able to unlock my iPhone with my fingerprint, because the skin was so thick. – I felt helpless.
I couldn't wait for the weekend when hopefully I would feel like a different person. My parents were going to come down from Scotland for my birthday, and I had a really crazy thing planned, that I hoped I wouldn't get told off for. I was crossing all my fingers and toes that I could pull it off.