It's been a while since I last blogged. I guess I just needed a couple of months to mentally recover after all my treatment had finished. But now I'm back, and there's a lot to catch up on. And that all starts with giving something back.
Ride the Night
During chemotherapy, I found a tweet from Women V Cancer Ride the Night, advertising their annual 100km bike ride from Windsor Race Course, through London, past the London Eye and down the Mall, and then back to Windsor. At night. In the dark. With 3000+ women all dressed in pink. It would mean raising money for 3 charities as well, which really appealed to me. Not only would I be helping Breast Cancer Care, who have been so supportive during my treatment, but I would also help Jo's Cervical Cancer Trust and Ovarian Cancer Action – 2 charities that do not get as much media publicity as breast cancer.
Now I'm always up for a challenge, and this sounded like a good thing to aim for to help me get my fitness back. It was at the end of May, so would be 6 weeks after radiotherapy had finished. I did it with Trish Greenhalgh, and together we managed to raise £2362.30
The ride itself was far more challenging that I thought it would be. Normally, riding 100km would be doable for me, but this was completely different. Ideally, I'd have spent a few days gradually getting used to be awake and active late at night, and had a long lie-in on the morning. But this wasn't the case. I don't sleep well thanks to the hot flushes, and was awake at 6am. I drove down to Trish's house in London, and managed to get a cheeky hour's nap. We ate at 5, and then set off to the racecourse. We were in the last wave, setting off at 10.30, and didn't actually get going until gone 11pm. It was an impressive sight, seeing 3000+ women and their bikes covered in pink – tutus, feather boas, fairy lights. Even thought I NEVER wear pink, for charity, I did – and here are the photos.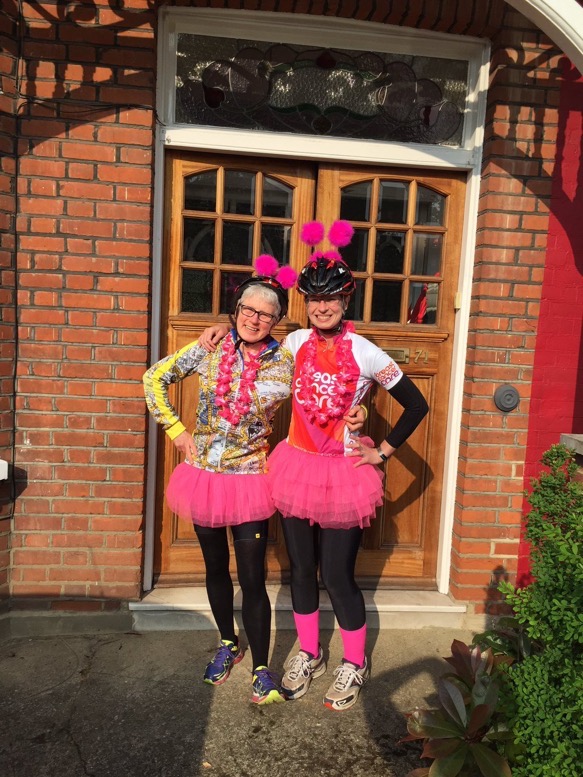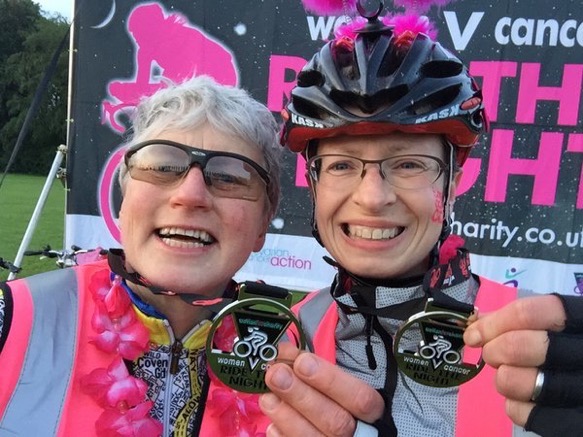 We were given until 7am to complete the ride, which was plenty of time under normal conditions. I'd thought that the faster riders would go in the last group, but again, this wasn't the case. They were in the first group, setting off at 9pm, and the last time slot was full of last minute entries, who were not used to riding their bikes, unlike Trish and I. It was a 5-6 hour stop-start ride of overtaking groups of riders, stopping at a traffic light when everyone caught up, and then overtaking. This was physically demanding as we never really got into a rhythm, and I think every single traffic light in London turned to red just as we approached it.
It was great fun though riding through central London at 2-3am on a Sunday morning seeing people returning home from pubs and nightclubs – I think we created quite a stir – a stream of pink women flooding past a crowd of drunken men. The London Eye was lit up in pink in our honour, and it did feel quite emotional as I cycled past. The food stops were great, with hot soup to keep us going, and there were 'Ride Angels' to help look out for women who were struggling. I must say that I was very glad I was doing it with Trish. Cycling by yourself down pitch black roads at times would have been quite lonely, and I think they're setting up groups on Facebook for next year so single women can partner up with others.
We finished at about 5.30, to a cheering crowd, and a medal, and a very well-earned bacon sandwich. I must say I was in a bit of a mess at the end. The sleep deprivation, made me feel like I'd just done a weekend on-call as a junior doctor, and at times I wasn't sure how I managed to concentrate and stay upright. Also, my back was killing me as I wasn't used to being on a bike for that length of time (thanks to chemo and radiotherapy), and my hands were frozen. We set off on a balmy evening but the temperature soon dropped and I wished I'd had long fingered gloves to change in to.
This was definitely a challenge for me, and I was pleased that I found it so hard. Normally when I sign up to enter charity sports events, its something I'd do anyway and I always feel guilty asking for sponsorship. This time, however, I'd definitely had to push myself. And I wouldn't have got around if it wasn't for Trish giving me a back rub at every feed stop.
Glutton for punishment
Obviously that wasn't enough, and when Breast Cancer Care asked me to write a couple of exercise blogs for them, I of course said yes. One blog was about how to train for their Pink Ribbon Walks (5, 10 and 20 miles). And then I realised I'd have to do one of the walks as well. Luckily, Nia, a close friend of mine, lives close to Chatsworth House, and she agreed to do the 10 mile walk with me. It was another lovely sunny day, and the route was deceptively hilly, especially in the first couple of miles, which was a shock to the system. We did the 10 miles, and it was a fabulous route, again surrounded by women wearing pink (and yes I did wear pink again in public – it's becoming quite a habit).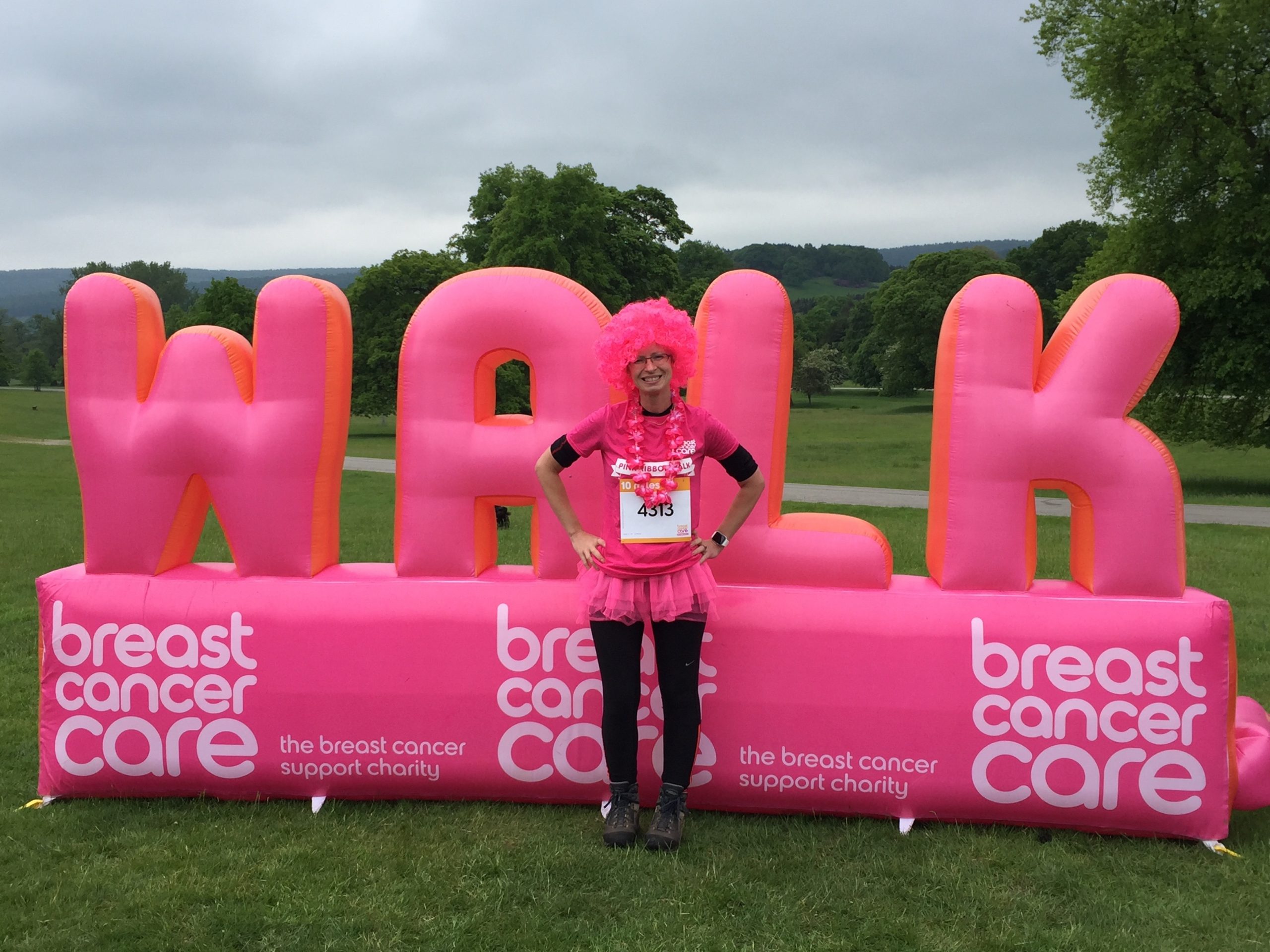 The end was rather emotional, as they had a row of ribbons which people had tied in memory of the women they were walking for. It suddenly made me realise that one day people might be placing ribbons for me, and I had to wipe away a tear or two.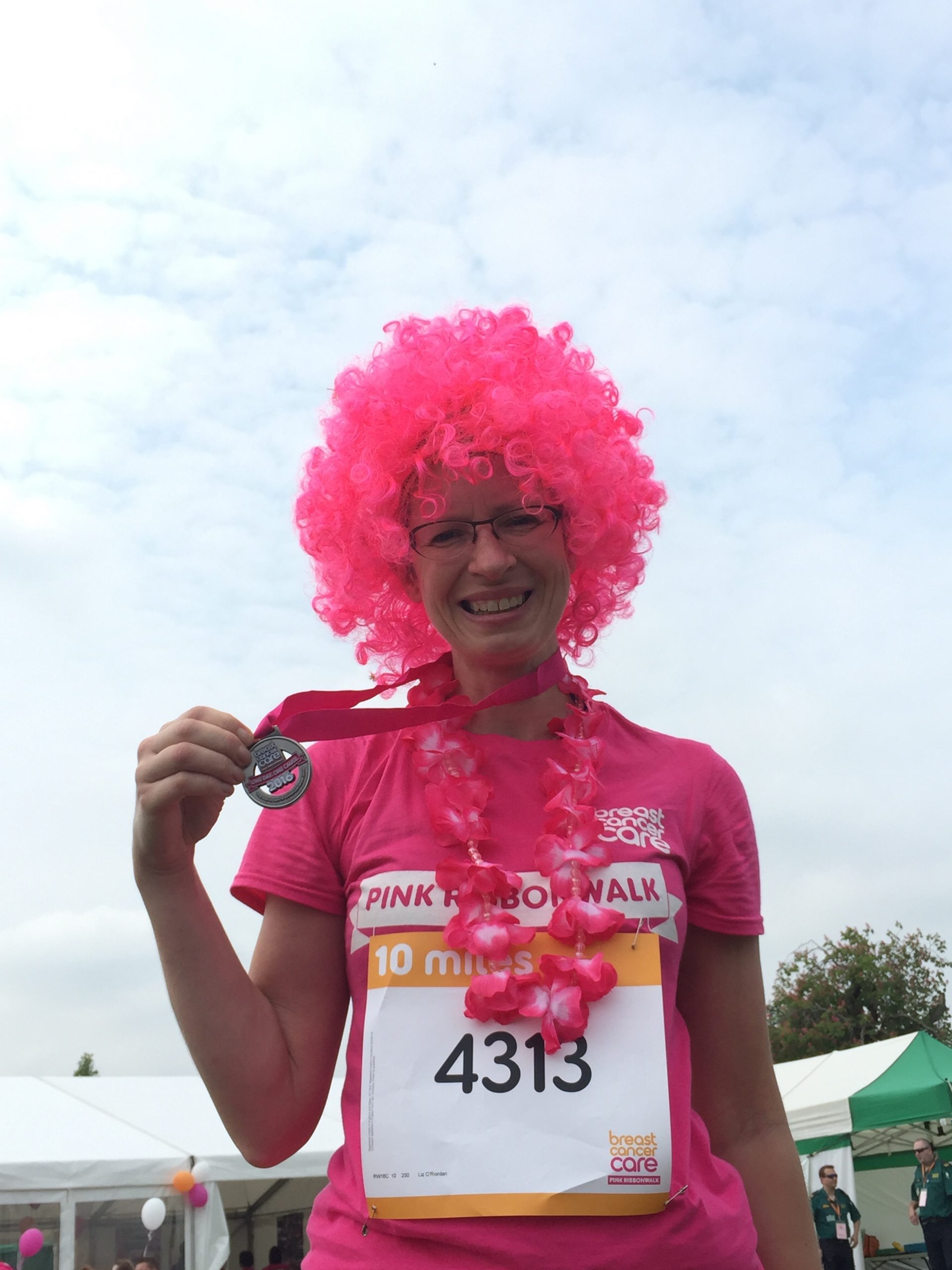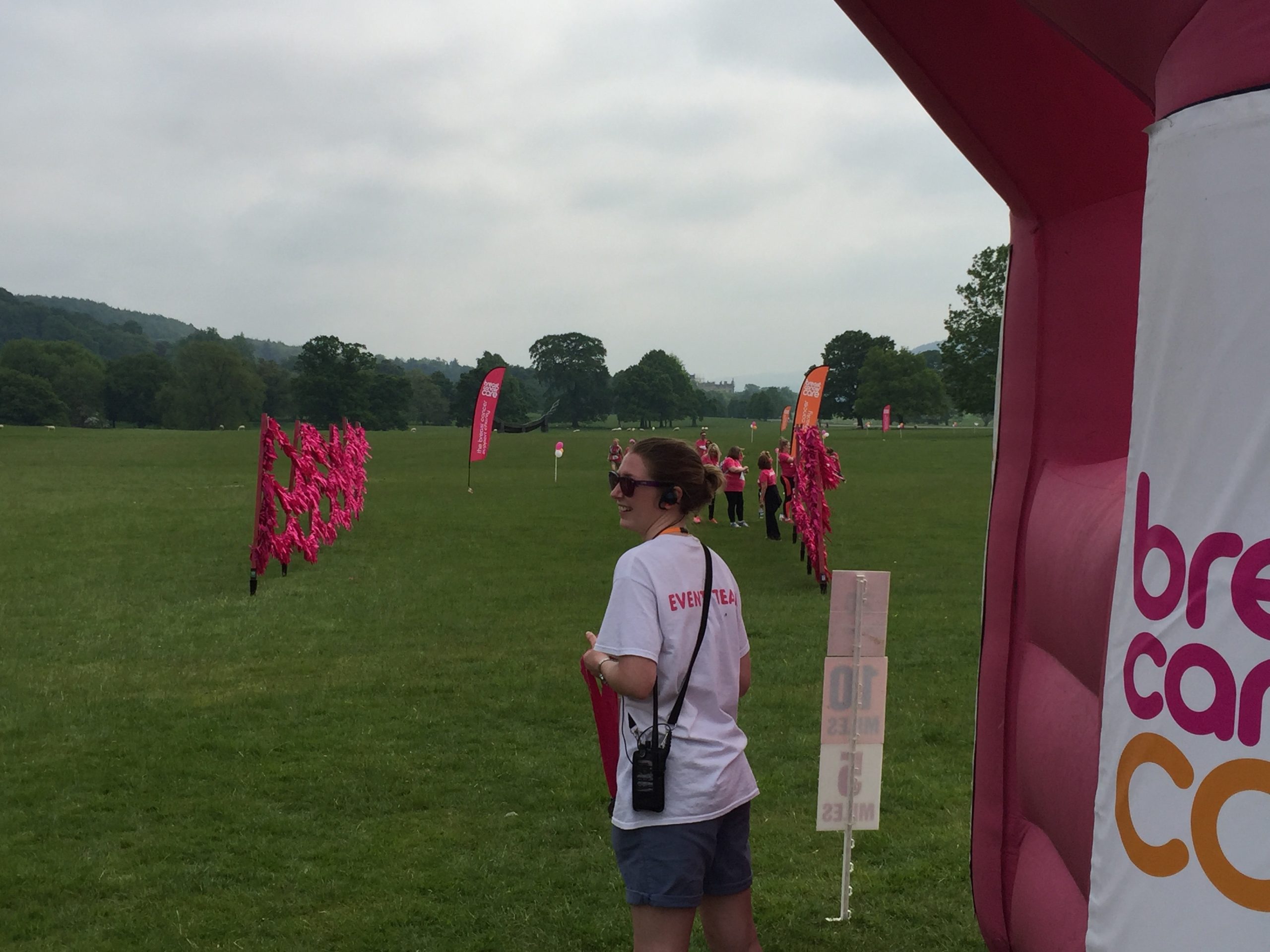 When will she learn?
It's been 14 months since I was diagnosed and I'm getting back to training again. In fact, I've signed up to do Ironman 70.3 in Staffordshire next June (1.2 mile swim, 56 mile bike ride and 13.1 mile run). I know, I know… It's madness. But I think, having gone through everything that I have in the last year or so, that life is too short to wait to do the things you've always wanted to do. Ever since I started reading about triathlons, doing an Ironman has always been a huge, unobtainable goal. But after breast cancer, I'm determined to do it. However, I need to get there in baby steps, rather than train in a year and then take 3 years recovering. My body isn't what it was, and I do need to be sensible.
The part of triathlons that I really don't like at the moment is the running. I've never got the bug, but I'm hoping it's going to bite me soon. To give the bug a heads-up, I've entered the Royal Parks Half-Marathon in aid of the Women's Medical Federation – another amazing organisation that supports female doctors. I'm fully prepared to pay the £250 sponsorship myself, but if any of you did want to help, the link is here.