Ever since I was a teenager, I've had an aversion to the colour pink. Now before you panic, I wasn't traumatised as a child, I just didn't think it suited me. So becoming a breast surgeon and treating breast cancer – which is permanently linked to the colour pink, was very frustrating at times. I somehow managed to get away without wearing pink at work charity events, And then I was diagnosed with breast cancer myself, and got to experience the joys of October – pink month.
This time last year I was halfway through chemo, and found it really upsetting to see companies advertising pink hair styling products when I had lost all of mine. When you dig a bit deeper, only a very small amount of money goes to breast cancer research. I would also get very upset at pictures of MPs and celebrities wearing pink at publicity events – they get the media attention, but do they, themselves, actually donate any money towards breast cancer research?
Why is October breast cancer month, and why is breast cancer pink?
It all began in 1985 as a partnership between the American Cancer Society and a drug company to promote mammograms as the most effective weapon in the fight against breast cancer. In 1993, Evelyn Lauder (of Estee Lauder) founded the Breast Cancer Research Foundation and established the pink ribbon as its symbol. So there you go. I always thought it was because Peggy from EastEnders got diagnosed in October. Shows how much I know!
Time to get over myself
Since my diagnosis last July, several friends of all ages (some in their 30s), have been diagnosed and some of my Twitter friends have died due to breast cancer. It really can happen to anyone. 1 in 8-9 women will get breast cancer in their lifetime. And that's why I'm getting behind Breast Cancer Care's Big Pink campaign.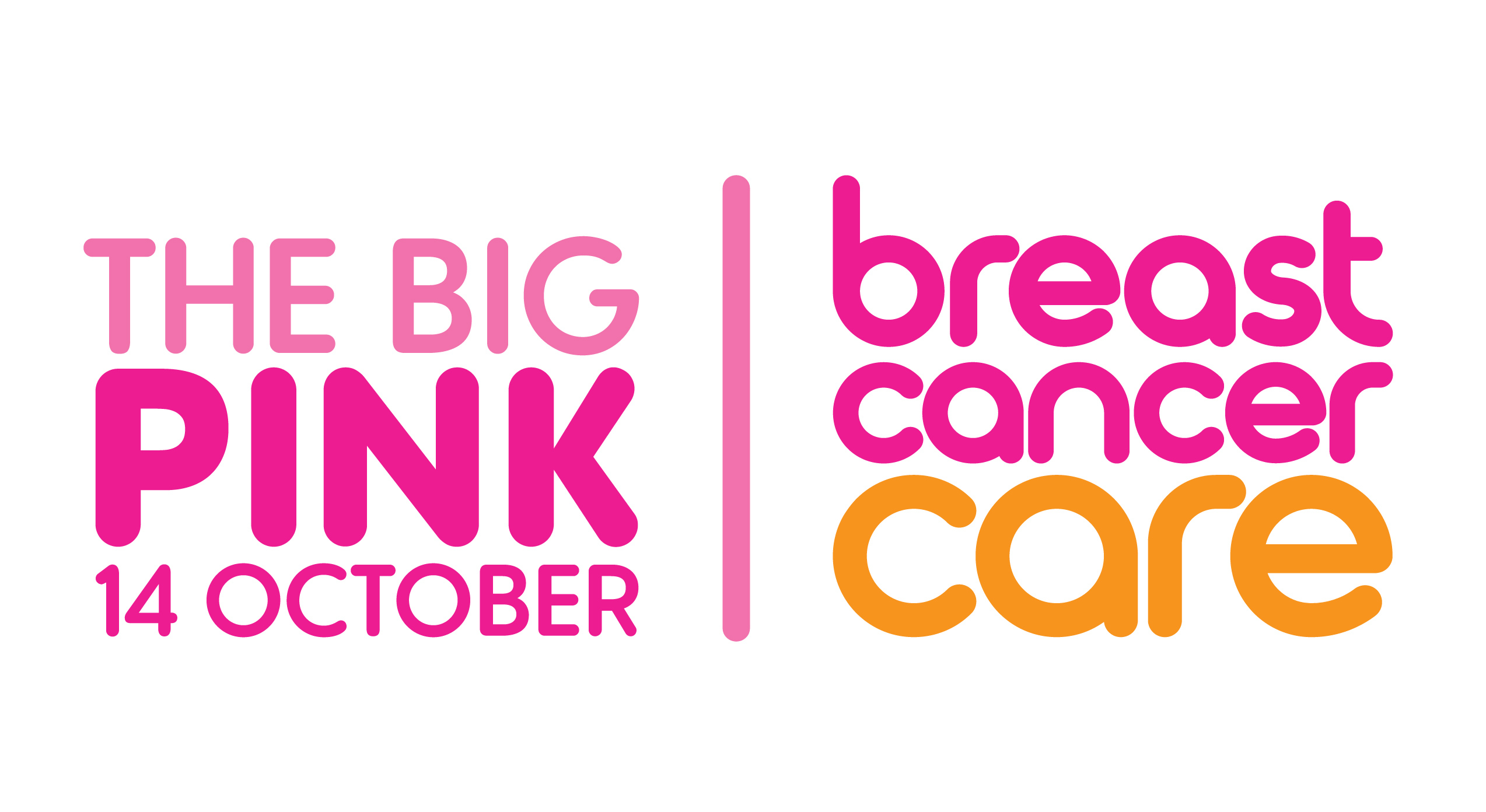 They want to help raise awareness, and if there's one good thing that can come out of 'pinktober', is getting men and women (because men get breast cancer too) of all ages to become breast aware. It really can happen to anyone. I just thought I had a breast cyst – and as a breast surgeon, I should know what breast cancer feels like, shouldn't I? There are currently 691,000 people living with breast cancer at the moment. If we can get everyone checking their breasts regularly, people would be diagnosed earlier and hopefully have a better outcome. But how would you know you might have breast cancer? Well, this diagram tells you what to look for.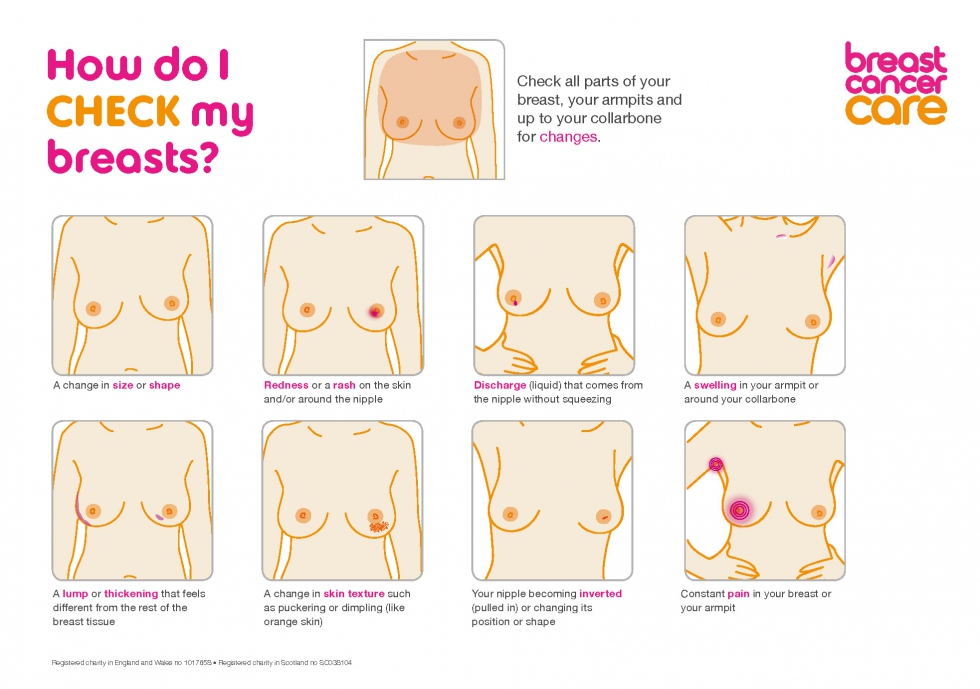 What can we do to help?
So what do we need to do? Well, this Friday, 14th October, Breast Cancer Care is holding it's 'Big Pink' Campaign. All they want is for people to get together, ideally wearing pink (although I've been assured it's not compulsory…), and raise a little bit of money. It could simply be having coffee together with everyone at work, or doing a pub quiz – it doesn't have to be huge. We could even have do an informal tweetchat – lets talk about breast cancer awareness on Twitter (#BigPink) and donate some money as well. But how do you donate money if you're not going to an event? And if you do go to an event, how many of us carry cash around these days? It's much easier to donate money online. You can donate below if you'd like
How can you help yourself?
As well, as checking your breasts regularly (try setting a reminder in your phone on a monthly basis, in the middle of your cycle), there are things you can do to lower your risk of getting breast cancer. And it's the boring healthy stuff, I'm afraid. There is a lot of evidence now that shows if you are overweight (especially after the menopause), if you don't exercise regularly or you binge-drink alcohol, then you are increasing your risk of getting breast cancer, and increasing the risk of it coming back if you did get it. Now statistics can be scary. That DOESN'T mean if you are overweight you are definitely going to get breast cancer. The biggest risk factor is getting old because your risk increases with age, and that's why we screen older women with mammograms to try and pick up cancers at an early stage.
However, weighing too much and not moving enough are things that we can all change to reduce our own personal risk. Maybe this will spur you on to do a little bit of exercise every day – you could do the couchto5k free app with a friend, do a parkrun, or nag a neighbour to go for a daily walk with you. Could you organise a 'Big Pink' walk with friends, before having tea and cake?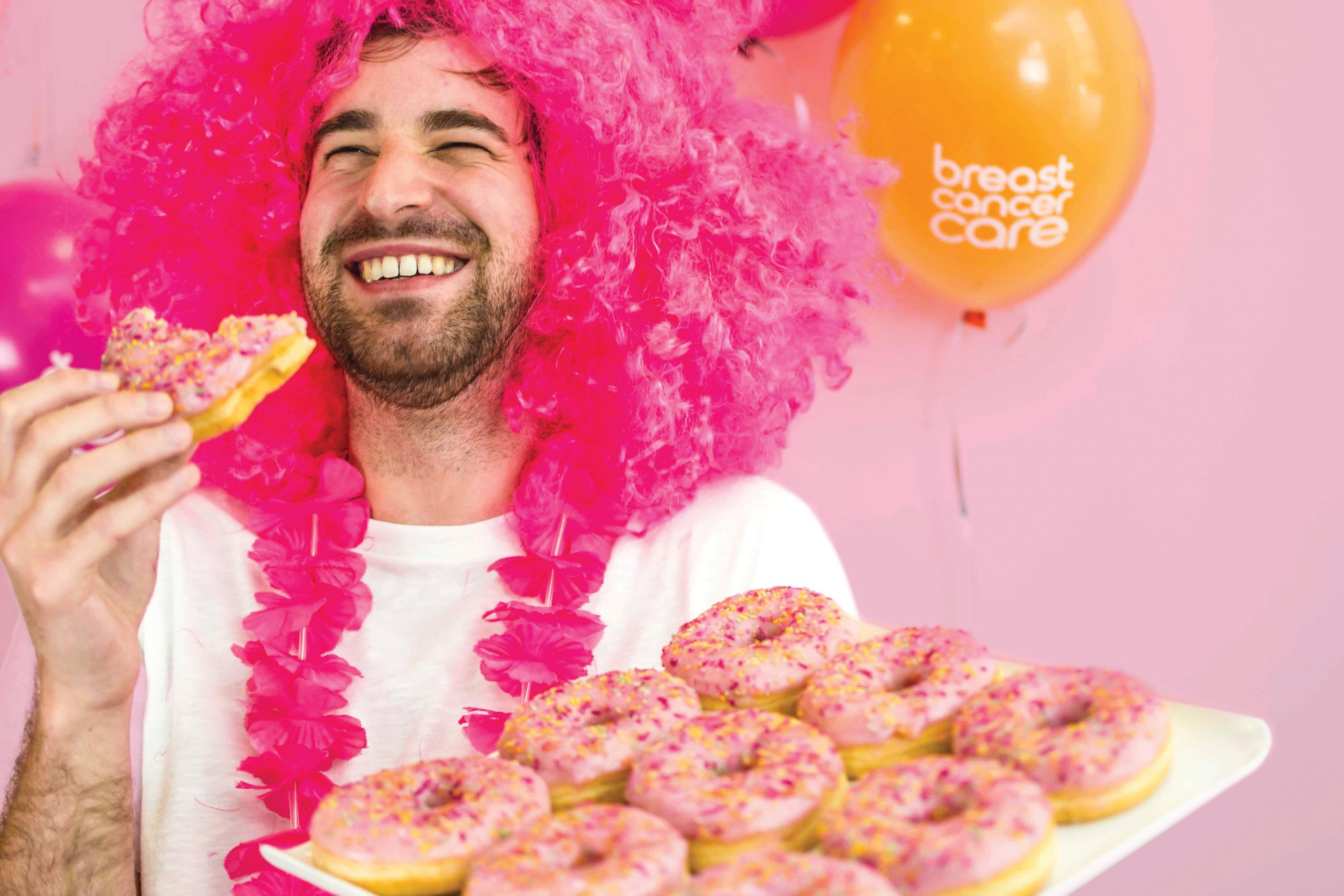 I must also say however that breast cancer isn't picky, and fit people get it too (look at me). However, I kept exercising during my treatment (because it reduces the side effects of chemo, reduces the risk of it coming back, but most of all, it makes me feel good and shows me what I can achieve despite everything I've gone through). I've even worn pink in public to raise money for Breast Cancer Care by cycling, running and walking in a pink wig and tutu.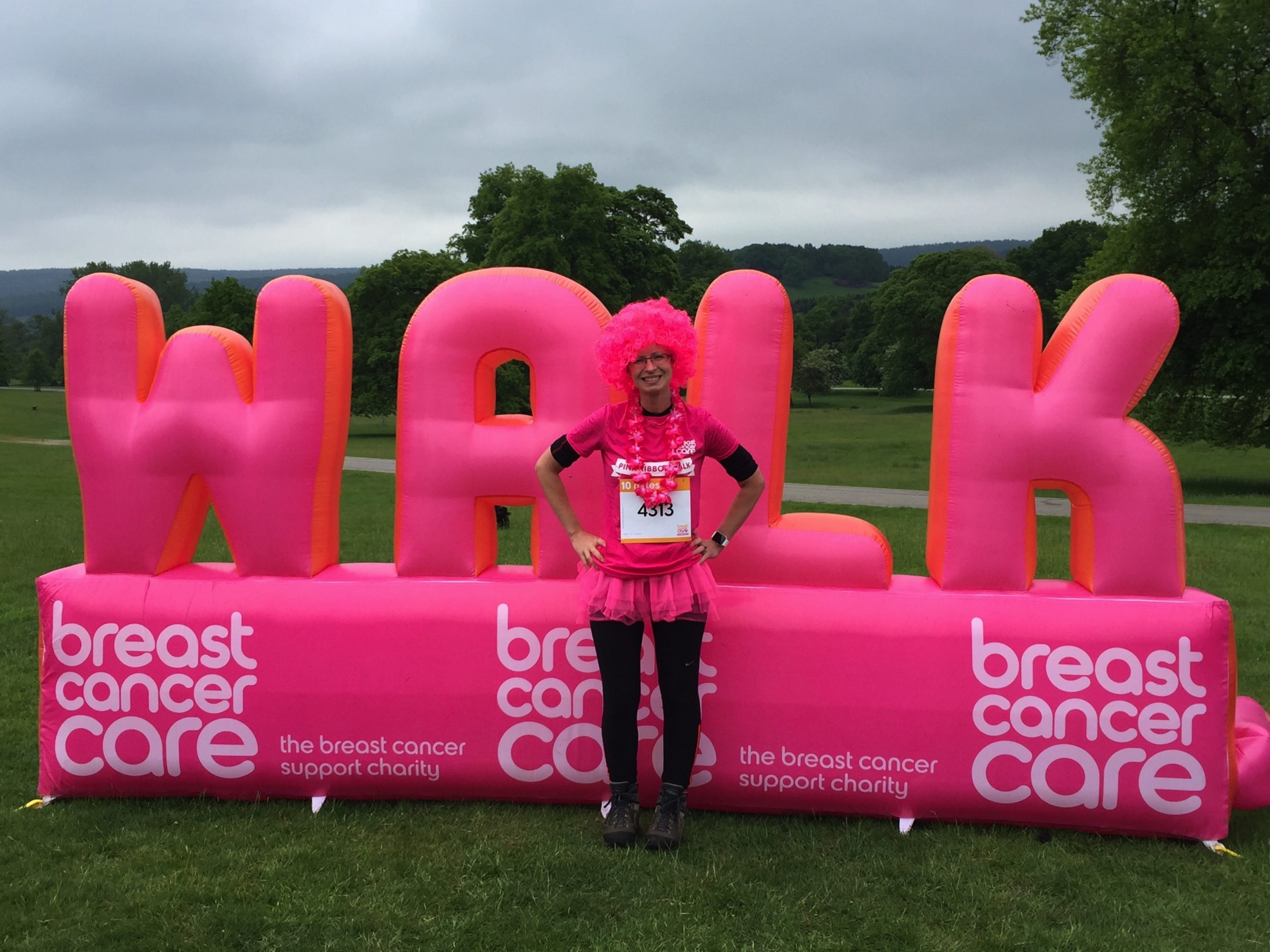 Why give money to Breast Cancer Care?
Breast cancer research is all well and good, but it takes tens of years and hundreds of thousands of pounds to develop drugs that might be suitable to prevent breast cancer, prevent it coming back or help those with recurrent disease live longer. And the majority of those drugs that are developed never make it – they're either too toxic to give to patients, or they don't work in trials.
Breast Cancer Care is different. They support all of us, right now, in real time. They give out helpful advice and have specialist information leaflets to help everyone – those who are worried they might have cancer, those of us with cancer, and for our families and friends who help to care for us. They run support lines with qualified nurses so there is always someone to talk to you when you're alone and scared about everything that is happening. For care, support and information from day one, you can call Breast Cancer Care free on 0808 800 6000 or visit breastcancercare.org.uk